"Who moved my cheese?": the best restaurants in Tel Aviv to veg out on vegan pizza
Say (cashew) cheese! Dig into these mouthwatering vegan pizzas piled with heaps of vegetables and cheese alternatives.
By

Time Out Tel Aviv Writers
|
"How am I supposed to give up pizza?" This is one of the first questions that those who take the vegan plunge ask themselves. Well, we're about to answer that question with our taste-test approved list of the best restaurants in Tel Aviv featuring show stopping, veggie loaded vegan pizzas. Scattered around Neve Tzedek, Florentin, Dizengoff, and the likes, these pies taste just like the real thing...actually, some might argue they're even better!
The very best vegan pizza in Tel Aviv
By trade, an all-star vegan restaurant in the heart of Neve Tzedek better sport an all-star vegan pizza. Meshek Barzilay's meat-less pizza is served up with cashews and nuts, plus Kalamata olives, roquette and artichoke or smoked seitan, onion rings (more like yum-ion rings) and green peppers. Both are so insanely pizza-licious you'll have to come back to try the other–or bring a date and go ham(-free) on both at once.
No vegan pizza list would be complete without a nod to Florentin's Shuffle Bar. Their delicious pie is no substitute teacher; this vegan pizza has already made tenure. It comes with a doubly delicious layer of cashew cheese and Cheesley cheese, two optional toppings, and a particularly luxurious dough.
3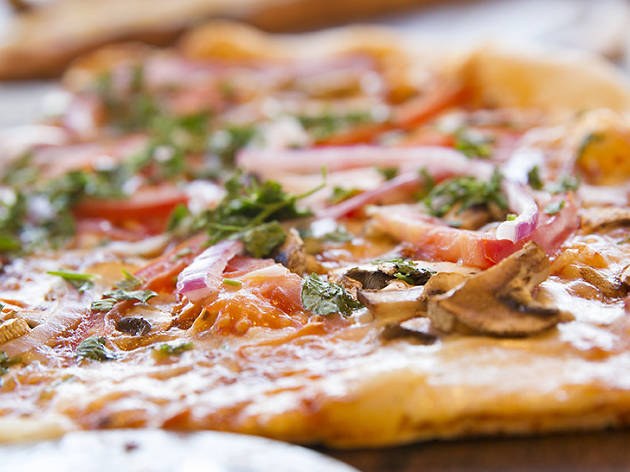 © Razi Avraham
About two months ago, Donattelo made its transition from Sarona to the Ibn Gvirol-Jabotinsky junction, and as part of the move, they decided to lavish the vegans with a delicious new line of vegan pizzas. Their cashew-based cheese is generously sprinkled (a rarity in the vegan pizza world), which makes for a melty, flavor-packed pizza. In addition, the variety of toppings piled atop their thin crust is among the widest in the vegan sector, and includes winning combinations such as spicy green pepper and pineapple. And yes, they do deliver.
123 Ibn Gvirol St, Tel Aviv
The Green Cat (Hatool HaYarok) opened in 2014 and was the first vegan pizza place in Israel. Offering thin-crust pizza with homemade cashew cheese that will warm the heart and soul, they bake each pizza to order, ensuring fresh hot pies every time. When you add a generous amount of artichokes and seitan to that, you won't be able to stop crying out in pleasure. The next best thing since the orgasm came along.
Neapolitan pizza in a brick oven, what more could one ask for? The pizzeria with the most appropriate name is as friendly to vegans as pepperoni lovers. Their menu boasts a variety of options, including a special vegan pizza topped with tomatoes, mushrooms, onions, marinated zucchini, roasted peppers, artichokes and chives, which you can get with or without vegan cheese. All this green goodness + a thin but resilient dough = a winning combination.
The friendliest Italian restaurant on Dizengoff has tossed together a vegan pizza with artichokes, tomato sauce, mushrooms, and kale, giving each bite an interesting twist that redefines the idea of ​​pizza. Paired with the bustling Dizengoff Street vibes, Piazza Café is as much about the experience as the veggie-topped paradise.
It's 3 a.m., a vegan's gotta eat too. At the same price as every other pizza calling to you from behind glass windows, comes Tony Vespa's vegan pizza. Offered with or without vegan cheese, the mushroom-zucchini-roquette-tomato combination is pure pleasure–strong enough to fend for itself against any bacon topped slice.
See more vegan restaurants in Israel