A hipster's guide to Florentin
While tourists flock to beaches, hipsters flock to Florentin. Here's our guide to this southern Tel Aviv neighborhood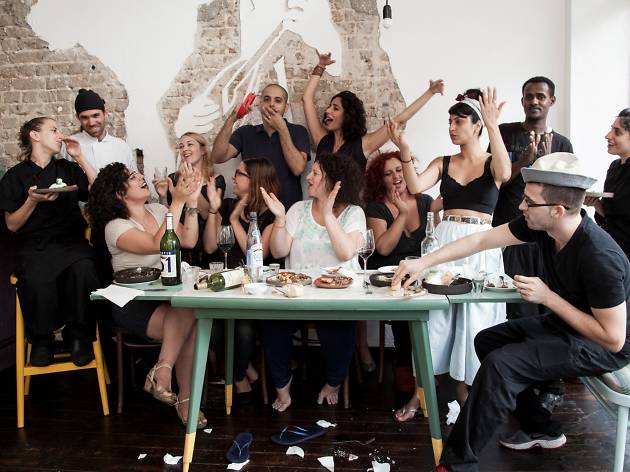 Tel Aviv is the ultimate hipster destination. The hip secular city is at the center of Israeli art and culture, making it the perfect place for Urbanites to cultivate their creativity. Whether in the form of street art, vegan eating, or booming underground nightlife, Tel Aviv is rife with young hipsters looking to chill outside the mainstream. While Neve Tzedek has the vintage clothing and boutique stores part down, if you want in on the true "too-cool-for-school" experience, head to Florentin in south Tel Aviv. With our hipster's guide to Florentin, you'll be able to oggle at Israel's first street art gallery, eat surprisingly authentic mexican food, check out Levinsky street and market, and stay at some funky hostels.
Florentin neighborhood guide
1
Themed like a Caribbean bar, Cocktails and Dreams is a super fun cocktail bar located in South Tel Aviv. While we love a good high-end bar, sometimes you need to let loose and this goofy and care-free spot is an awesome place to savor a delicious cocktail in a casual spot. If you are looking for more than a beer and you want something to really take care of your drinking habits (or problems, you name it), you should definitely visit this spot. After all it is named after Tom Cruise's bar in the 1988 film 'Cocktail' and that alone is reason enough… those looking for a fun and lively happy hour should check out Cocktails and Dreams on Friday afternoons between 14:00 and 19:00.
Read more
2
Florentin45 nurtures emerging talent and attracts leading Israeli artists from the national and international art scene. Its relocation to South Tel Aviv marked a paradigm shift in the artistic landscape. Florentin45 functions as a natural meeting place for artists and art lovers, and has become an integral extension of the vibrant Israeli art scene.
Read more
5
This sweet mezcal bar has been serving the hipster neighborhood of Florentin for years. It started as a small neighbourhood bar which then began to receive so much love that the owners eventually had to take over the next door shop to expand the much loved establishment. Mezcal has stood the test of time. The tacos are sensational and wash down wonderfully with the fully stocked variety of tequilas. From tequila tastings to delicious and authentic enchiladas, Mezcal offers a magical meal for all who come and embrace the Mexican cuisine.  
Read more
6
Located in the Florentin district in Tel Aviv, 600 metres from Suzanne Dellal Dance Show Centre, Neve Tzedek, Florentin House is a eco-friendly property with a restaurant, a shared lounge area with kitchen, and free WiFi throughout.The rooms are spacious and come with an en suite bathroom with shower. Some also have a terrace or a balcony. Towels and bed linen are provided free of charge.There is a 24-hour front desk, and the property features bike hire. The restaurant on the ground floor specialises in Asian cuisine.Florentin House is a 15-minute walk from Old Jaffa and the flea market. The beach and Rothschild Boulevard are a 20-minute walk away. Ben Gurion Airport is 12 km away.
Check prices
Read more
7
Situated on HaHalutzim Street in Florentin, adjacent to the authentically Israeli Levinsky Market,  HaHalutzim 3 creates simple and tasty dishes prepared with the freshest raw ingredients. The vibe and energy is unpretentious while the food is created with simple and quality methods, ultimately delivering a simply marvelous dish. The menu features an insanely awesome corned beef sandwich, homemade pasta, fine Italian wines, and the most delicious charcuterie plate in Tel Aviv. The atmosphere in this small one-room restaurant is laidback and unassuming, and the service is professional and simple, allowing you to focus only on the important thing: the food.
Read more
8
Chef Avivit Priel Avichai (formerly of Tapeo) and her partner Limor Lami opened Ouzeria less than ten years ago to much critical acclaim. Known as a modern "hamara", a meeting place to drink, play and discuss life, Ouzeria is the classic Florentin neighborhood joint. At Ouzeria Avivit and Limor serve original, Mediterranean-style cuisine accompanied by a simple decor and an appealing long bar offering a selection of anis beverages. Take a seat at the assorted tables beside large windows looking out on the colorful Levinsky district, and soak in the uniquely Israeli atmosphere of the neighboring market. The playlist of music travels from east to west, new to old, encompassing world music, Middle-Eastern music and on to innovative contemporary tunes. Avivit and Limor's goal was to create a refuge from the activities of the day, and they have successfully done so.
Read more
9
Located in the hip and cozy Florentin House Hotel, this fusion restaurant is an exciting new influence on the Israeli culinary scene. Set just beyond the lobby, this high class hipster spot is serving up some of Tel Aviv's most unique and clever asian fusion dishes. With authentic pork dishes served in a dining room featuring beautiful and natural wood tones, the environment is naturally calming. Seats line the dining room as well as the bar, giving diners a chance to watch how the food is created step by step. While reservations may be hard to make at this constantly popular restaurant, the delayed gratification in waiting is indisputable.  
Read more
10
From coffee in the morning to beers in the evening, Florentin 10 is great for laptop lounging. Bring your schoolwork and sip a coffee or bring a date and trade in that coffee for a glass of wine, however you choose to spend your time at Florentin 10, you cannot go wrong. Florentin 10's kitchen are busy preparing a variety of dishes that can fit any mood, time of day or level of hunger. From breakfast shakshuka, to sandwiches, salads, tortillas and pasta, to hamburgers or a big, juicy steak entrecote, you're destined to leave with your thirst quenched and your bellies full.  
Read more
Show more
See more in Florentine