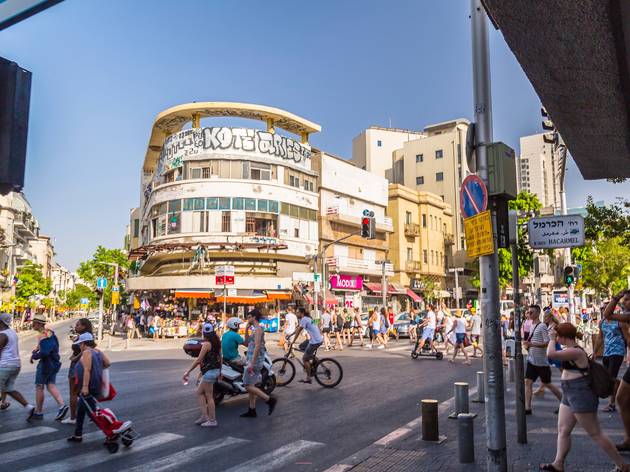 Killin' it on King George: where to hang out along Tel Aviv's bohemian street
An urban haven for eating, drinking, and hanging out on patios in the heart of Tel Aviv
Running from the Carmel Market on Allenby all the way towards Kikar Rabin, King George Street is packed with local gems, each with its own unique bohemian flare. From the most raved about Tel Aviv street food establishment, Miznon, to the hipsterest of hipster bars this side of Florentin, to vegan cafés and even an awesome park, it's impossible to get bored when wandering down King George. When in Tel Aviv, eat, drink, play, pay like the locals do. Heck, if you're feeling adventurous, you might even think about getting a tattoo at Kipod, one of Tel Aviv's top tattoo parlors.
Where to eat, drink and hang on King George Street
From the owner of vegan favorite HaShwarma HaTivonit comes Goodness, a vegan diner specializing in burgers. Omnivores and vegans alike will delight at the flavorful burgers, crafted to mimic the taste and texture of the real thing with a range of toppings and sauces available. For those looking for something different, try the crispy shawarma, fluffy crepe, juicy sloppy Joe, fish and chips, or one of the many delicious desserts. For vegans missing greasy, junk food and gooey, creamy desserts, Goodness is the place to try.
Located in the heart of Tel Aviv, on one of its main streets, Tepale has authentic Tel Avivian vibes. With Israeli music playing, cheap alcohol and a welcoming crowd, Tepale will bring you into the fold of becoming a regular. Known for offering guests sunflower seeds and arak shots, free of charge, this bar knows how to treat its customers. And don't miss their pitchers of cocktails.
See more things to do in Tel Aviv