The coolest tattoo parlors in Israel
Some things in life are permanent, like tattoos. With these Israeli tattoo parlors, you'll have no regrets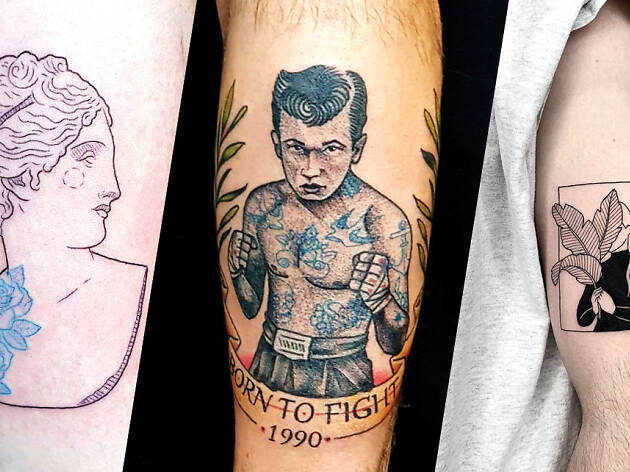 Cast those myths aside. The belief that Jews with tattoos cannot be buried in a Jewish cemetery is entirely myth. A tattoo doesn't prohibit you from being buried with your families or from participating in all synagogue rituals. On that note, think ink! Whether you're looking for symbolism or meaningless geometric shapes, black line shading or a full-on watercolor, or even a cheesy hebrew phrase (we won't judge, though your Israeli friends will make fun of you indefinitely), these tattoo parlors have got the best Israeli artists in town.
The best places in Israel to get inked
Shopping, Tattoos and piercings
Tattoo by @alexey_inkdonkey
Ink Donkey Tattoo is located in the Florentin hipster area of Tel Aviv. The shop is warm and inviting, with a friendly, knowledgeable staff committed to giving you the best tattooing experience possible. Working in many different styles, the creative artists at Ink Donkey will work to find you the design you've been looking for with the best possible placement. Never compromising on quality, your ink will be done with bold colors, sharp lines and a steady hand to create a beautiful piece of art.
Shopping, Tattoos and piercings
Noam Yona Tattoos is highly reviewed by clients who rave about the patience, professionalism, gentleness, and helpfulness of artists Noam Yona and Sara Kori. With a skill unmatched by other artists, they specialize in delicate tattoos with intricate line and dot work to create magnificent pieces of artwork. Noam is known for his extensively detailed, impressive designs, while Sara creates images whose beauty lies in their simplicity. Even tattoo skeptics would approve.
Shopping, Tattoos and piercings
Lev Tattoos Owners: Lior Lachman and Tamar Bar Tamar: "The studio opened out of my desire to create an alternative to the things I was exposed to at the beginning - the menacing and stressful places, the masculine, tough atmosphere, the metal music and the dark walls. It was a very closed and aggressive world, and I wanted to feel at home in my studio, to create a pleasant and positive feeling for people, where a tattoo is done together and in a fun way." Lior: "Also, there is something visually open here, clean and pleasant. We both came from the world of design and painting before tattoos became our creative medium. We have an aesthetic that is often similar but also very different, and something inside it is shaped every day into this thing called Lev Tattoos."
Shopping, Tattoos and piercings
Tattoo by @alsandlertattoo
Located in the heart of Tel Aviv, Kipod Tattoo is the perfect place for your next tattoo or piercing. With eight tattoo artists and two piercers available, Kipod offers a professional staff in a sanitary studio. Each tattooist specializes in a different style, making Kipod the perfect place for any tattoo design you have in mind. Among the staff is artist Michael Kozlenko, who has over 20 years of experience and has participated in many international conventions. Kozlenko specializes in cover-ups and loves Bio-Mechanic, Neo-Traditional and oriental tattoo styles. Alexander Yanitskiy is another senior artist at Kipod, who is known for his photo-realism tattoo work.
Shopping, Tattoos and piercings
Her name pretty much says it all. Sonia Tattoo Lady works out of a private shop by appointment only and has become a hit with her fresh outlook on traditional tattoo styles. Inking classic Sailor Jerry-inspired creations with a modern hipster twist, Sonia's style is as unique as it is familiar. With a look that is slightly gothic, using darker color tones and sharp black outlines, Sonia Tattoo Lady's designs project a feeling of power and rebellion. While geometric shapes and dainty flowers have become popular with the Tumblr and Instagram generation of tattoo fans, Sonia's work stands out as a nod to a different era.
Shopping, Tattoos and piercings
Tattooizm is a home for custom-designed tattoos offered in a wide range of styles. Owned by Daniel Gram and Gal Gershon, who doubles as an artist, the Florentine studio hosts guest artists from all around the world, along with home artists Liran Raskin and Shachar Ozery. They are driven by a love for art, stating that each and every dot inked at Tattooizm is fueled by a "lust for art." With something for everyone, their website features geometric styles, portraits, plants, traditional styles and more, with bold colors and intricate line work.
Shopping, Tattoos and piercings
Spring Tattoo is a professional tattoo studio, located in Tel Aviv. Maintaining the highest standards of sterile working conditions, combined with unique artistic visions and great people skills, Spring Tattoo is committed to helping you plan and get the perfect tattoo. The artists use bold color, sharp lines and dramatic designs in their work, ensuring your tattoo will look its best, and not fade in that blazing Tel Aviv sun. Founded and run by Aviv Rotshas, a highly recommended artist since 2005, artist Yaniv Goren and various visiting artists make the experience intimate and comfortable.
Shopping, Tattoos and piercings
Vision Tattoos believes that the quality of a tattoo should speak for itself, choosing to stray from the flashy social media age of art advertisement. Since 1998 they have been providing beautiful ink to Israelis in a variety of styles. Featuring artists Snir Rozensal, Boris Irisov, and Ronit Rozensal, they specialize in large pieces, attentively worked to create body art that can truly be considered a masterpiece. With preference for classic tattoo designs, Vision Tattoos is the spot for lovers of traditional ink.
Shopping, Tattoos and piercings
Tribal Tattoo is a tattoo and piercing studio located in the heart of Tel Aviv in Dizengoff Center. The studio has a pleasant and inviting atmosphere, with an attentive and reliable staff that are committed to helping you find your dream ink. With one of the largest flash books available for tattoo selection in the country, in a variety of themes and styles, it's impossible to leave the place unsatisfied. So whether you're looking for delicate black ink linework, colorful watercolor or something more traditional, Tribal Tattoo has just the thing.
See more arts and culture in Israel