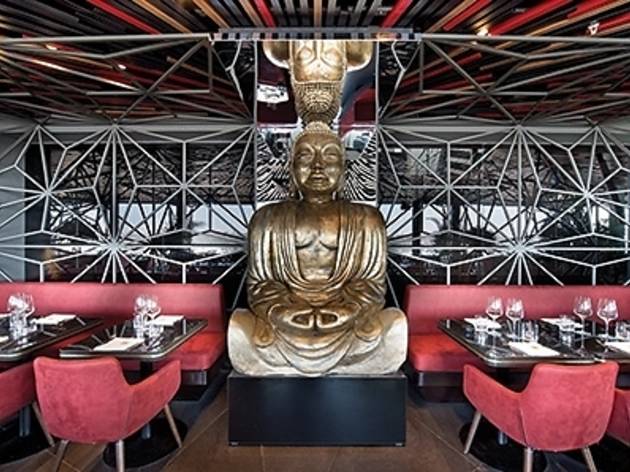 After X Restaurant closed down, there was a great deal of speculation as to which restaurant would take its place on the top floor of the İKSV building in Şişhane. We finally got to meet the new tenant: Saigon Istanbul. The restaurant serves what owners Fabio Suarez and his father Augustin Suarez are calling "Meditasian" cuisine. The elder Suarez spent many years working for international banks and traveling around the globe, during which time he observed a worldwide trend of moving away from the concept of ethnic restaurants. And he isn't off target – after all, when someone says "Japanese cuisine," most of us can't think beyond a few international favorites like tempura and sushi. At Saigon Istanbul, the aim is to offer what could be called the greatest hits of Asian and Mediterranean cuisines in a menu overseen by Luis Arévalo Navarro, who owns a Peruvian-Japanese restaurant in Madrid. The local talent holding down the fort is Hasan Basri Şahin, who previously worked in the kitchen of popular Bodrum hotel Maça Kızı.
One of our favorite dishes is the beef carpaccio with quinoa salad, an embodiment of the fusion concept in that the carpaccio is cooked tataki-style, which involves searing the corners ever so slightly. The restaurant is also meticulous when it comes to using sustainable, high-quality ingredients and bringing out the full flavor through inventive cooking techniques. The beef cheek marinated in wine is slow cooked for 10-14 hours, while the flour used in the shrimp tempura is brought from Spain. Saigon Istanbul takes on more of a club ambience after 22.30, when good music combines with a stellar view to keep the crowds happy long after dinner's over
Venue name:
Saigon İstanbul
Contact:
Address:
Sadi Konuralp Caddesi 5
İstanbul


Opening hours:
Mon-Sat 19.00-02.00.