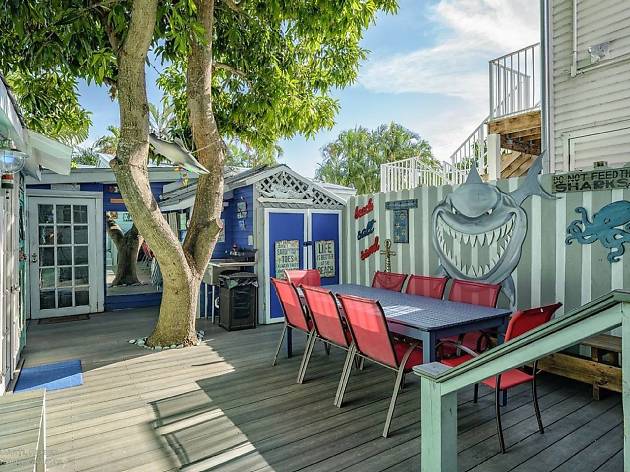 7 Best Key West Airbnbs near the beach
Rent a reality show mansion or a cute home just steps away from the ocean in Key West
If you're headed to Key West then you won't be short of great Airbnb options. Yep, for such a small Key, the city is covered in an amazing number of apartments as well as a plethora of hotels, making it easy to stop by and check out the many brilliant things to do in Key West.
And if you're already local to the area? A weekend jaunt to Key West is a trip that every Floridian should take at least once in their lives (especially if your idea of a good getaway is all about beaches, bars and restaurants). So pack your bags – here are some awesome places to rest up during your vacation.
1
Photograph: Courtesy Airbnb
This Airbnb listing is simply titled Namaste, and we can see why. The incredibly lush, natural landscape and sleek modern interior is relaxing enough just to scroll through on the website. Outdoor brunch and coffee at this place is the perfect way to start any vacation. Two guests can find their own zen in this one-bedroom estate. And, despite the peaceful vibes oozing from this rental, you're only a block away from Duval Street.
2
Photograph: Courtesy Airbnb
Vacationing with a big crowd? Get 16 friends together and you'll be able to rent the epic ten-bedroom Key West house used in the 2006 season of MTV's Real World. A '90s-style oceanfront mansion, this Airbnb comes complete with a gym, a tennis court, seven kayaks, five paddleboards, 20 bikes and so much more. Come evening, grab a beer and rest under the sun in a hammock with your besties – what could be better?
3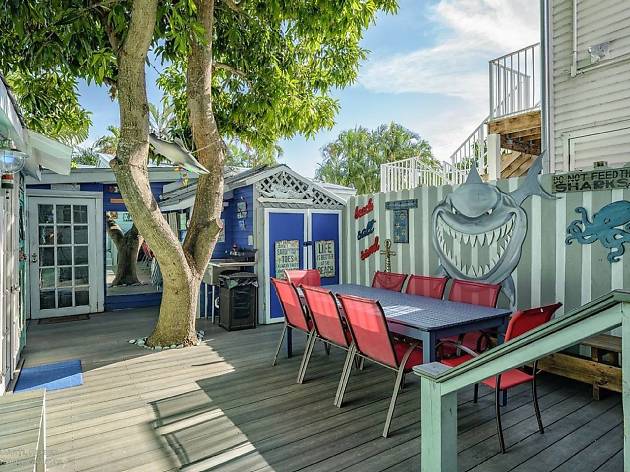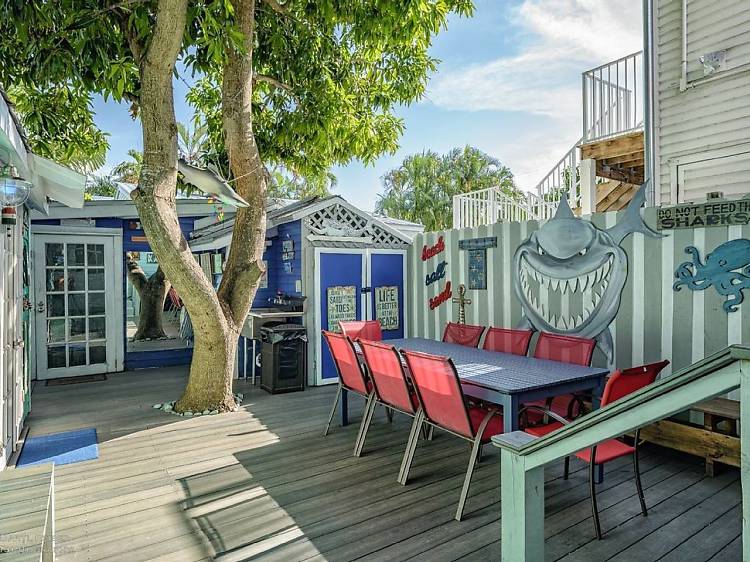 Photograph: Courtesy Airbnb
Mermaid Cove, as this rental is called, has the Key West aesthetic nailed. Its deck, complete with a smiling shark mural, feels like the best kind of beach bar and the blue and white color scheme won't let you forget that you're a short walk from the ocean. It can sleep up to 12, so this might be the bachelorette party pad you've been looking for.
4
Photograph: Courtesy Airbnb
A small but sunny apartment
One look at that deck/living room combo and we're swooning over this yellow condo. Only a short walk from the southernmost point buoy, this one-bedroom also has a sleeper sofa for the kids or an extra guest – but if it's just the two of you? Sounds perfectly peaceful. There's also a full kitchen to whip up breakfast and did we mention that deck? Happy hour awaits. We'll have a Margarita, please.
5
Photograph: Courtesy Airbnb
Just steps from the sand, this Key West Airbnb has the location and convenience that any big resort would long for. But what you won't find in a chain hotel is the sense of uniqueness that this bungalow has, thanks to the colorful although somewhat aged decor. The unit comes with a full kitchen, two beds and a private entrance – but it's really the location, not the look, that this spot has going for it.
6
Photograph: Courtesy Airbnb
If this couples suite was any more romantic, you'd have to leave your significant other and marry it. The intimate quarters are painted in a calming light blue and it's perfect for two people who don't mind being close to each other for a few days. Out back, a hot tub awaits and up on the rooftop deck, lounge chairs are perched ready for you and a bottle of wine. An outdoor shower, pools and a selection of beach cruisers are available to guests as well
7
A dog friendly family home
Available for long trips only (there's a non-trivial 28-day minimum stay), this contemporary pad is a home away from home. For things to do during the day, wander down to Higgs Beach Pier and Edward B Knight Pier and take in the uninterrupted sea views. Or, stroll through the Indigenous Park, where you'll discover a wildlife rescue center, a wildlife trail, a pond and a picnic area. And when you're done? This Airbnb's pool looks like a pretty great spot to cool off in the Florida heat…
Find more places to stay in Key West...
We've rounded up blissful private cottages, rollicking oceanfront resorts and historic mansions remade as luxury inns.