9 amazing Airbnb Key West homes you can rent
Rent a reality show mansion or lounge steps from the ocean at one of these Airbnb Key West rental units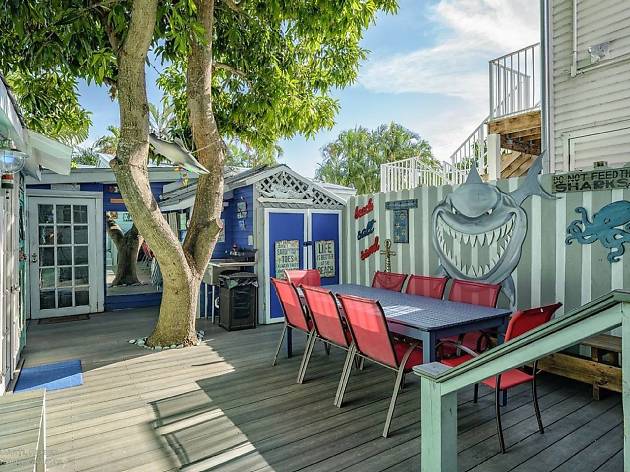 You've got options when it comes to finding an Airbnb Key West rental. A lot of them. For such a small Key, the city is covered in an amazing number of apartments alongside a plethora of hotels, making it easy to stop by and check out the many brilliant things to do in Key West. And if you're already local to the area, a weekend jaunt to Key West is a trip every Floridian should take at least once in their lives (especially if your idea of a good getaway is all about beaches, bars and restaurants). But, of course, step one in any Key West vacation is finding the perfect place to stay.
Amazing Airbnb Key West homes you can rent
1
Photograph: Courtesy Airbnb
This pad offers a modern touch with a gorgeous open-air design that makes it easy to transition from the pool to the living room (or just avoid getting the floor wet by passing the margaritas through the kitchen's own little cafecito window). A luxurious three bedrooms can accommodate up to six guests and the house's location is prime whether you're looking for nightlife, culture, food, beaches or all of the above.
2
Photograph: Courtesy Airbnb
This Airbnb listing is simply titled Namaste. And it's a fitting descriptor. The incredibly lush, natural landscape and sleek modern interior is relaxing enough just to scroll through on the website. Outdoor brunch and coffee at this place is the perfect way to start any vacation. Two guests can find their own zen in this one-bedroom estate. And, despite the peaceful vibes oozing from this rental, you're only a block away from Duval Street.
3
Photograph: Courtesy Airbnb
This is the true story—of you—who somehow scraped together $1,299 a night and 16 friends to rent the epic ten-bedroom Key West house used in the 2006 season of MTV's Real World. Up to 16 people can enjoy the oceanfront mansion, utilizing the gym, tennis court, seven kayaks, five paddle boards, 20 bikes and much more. You just might want to, you know, wash the sheets a few times. For good measure.
4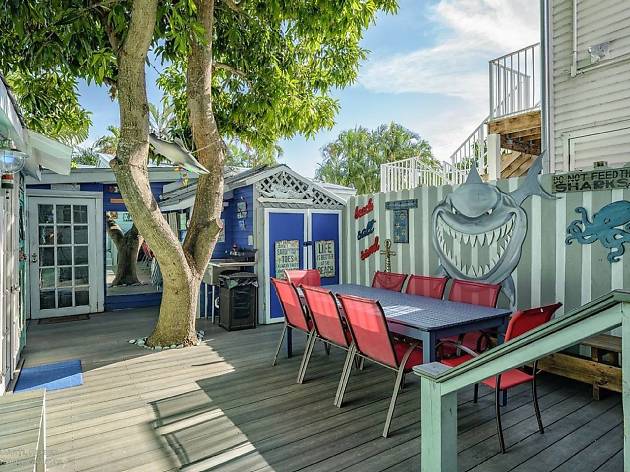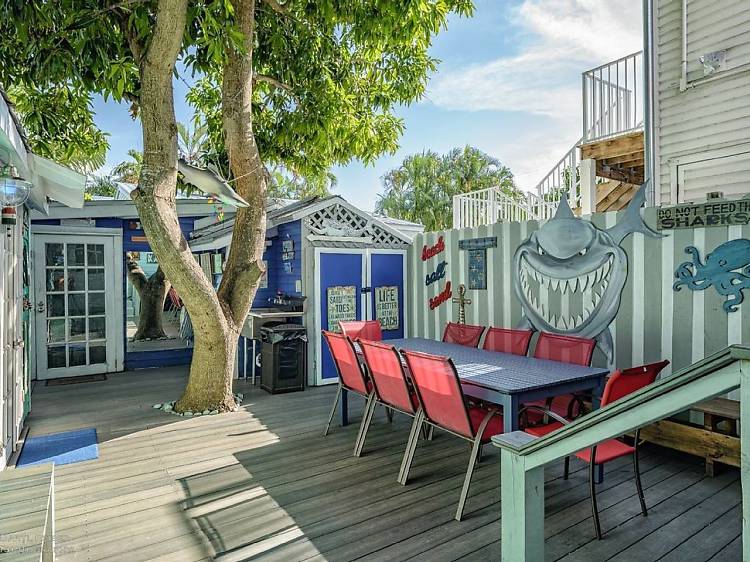 Photograph: Courtesy Airbnb
Mermaid Cove, as this rental is called, has the Key West aesthetic nailed. Its deck, complete with a smiling shark mural, feels like the best kind of beach bar and the blue and white color scheme won't let you forget that you're a short walk from the ocean. It can sleep up to 12, so this might be the bachelorette party pad you've been looking for.
5
Photograph: Courtesy Airbnb
The cottage is reason enough to book, with its warm wooden interior, cozy bungalow bed and full kitchen. But chances are you won't spend much time inside after you get a good look at the pool area. The wooden deck is piña colada ready, and just in case you need to relax even more, there's a hot tub only steps away.
6
Photograph: Courtesy Airbnb
One look at that deck/living room combo and we're swooning over this yellow condo. Only a short walk from the southernmost point buoy, this one-bedroom also has a sleeper sofa for the kids or an extra guest, a full kitchen to whip up a breakfast and—did we mention that deck? Happy hour awaits.
7
Photograph: Courtesy Airbnb
You are literal steps from the beach at this studio rental. The location and proximity to sand give you the convenience that comes with a big resort, but the unique bohemian decor provides a homey feel you won't find at one of the big chains. The unit comes with a full kitchen, two beds and a private entrance.
8
Photograph: Courtesy Airbnb
If this couples suite was any more romantic, you'd have to leave your significant other and marry it. The intimate quarters are painted in a calming light blue and it's perfect for two people who don't mind being close to each other for a few days. Out back, a hot tub awaits. Up on the rooftop deck, lounge chairs are waiting for you and a bottle of wine. An outdoor shower, pools and a selection of beach cruisers are available to guests as well.
9
Photograph: Courtesy Airbnb
This renovated stone church is certainly one of the more unique offerings on the list. Inside, you'll find all the amenities you could need: three bedrooms, a kitchen, ample lounging space, washer/dryer and a second floor loft. But the high ceilings, exposed beams and popping art collection (one of the owners is a galleries) offer a delightful twist for architecture and design buffs.
Find more places to stay in Key West...
We've rounded up blissful private cottages, rollicking oceanfront resorts and historic mansions remade as luxury inns.