Looking for things to do in Lisbon? How about a drink?
Here you'll find a list of things to do if you want to go to for a drink: from wine to coffee and even Portuguese beer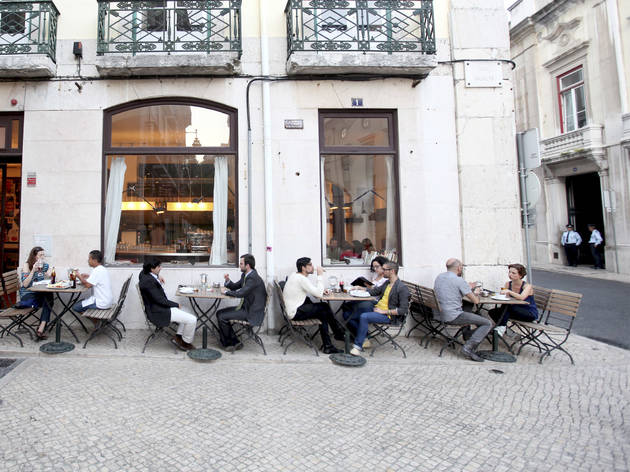 Looking for things to do in Lisbon? How about a drink?
Picture this: you have a whole afternoon to yourself and you feel like a drink, but you are not in the mood for going to a restaurant and bars are not yet open. If this is you, then head towards Vini Portugal's tasting room. On your way in, you acquire a card which you can load with money to use in a machine that serves glasses of Portuguese wines at inviting prices – as low as 0.50€.

Terreiro do Paço, 21 342 0690, Tue-Sat 11am-7pm.
This café is in the Chiado district, it is the fanciest place to be seen browsing a newspaper. Keep up with the news while drinking a kleiner Schwarzer – fear not, that's just German for espresso.

Rua Anchieta, 3
In Campo de Ourique you can peruse the magazine and newspaper rack at Rés Vés, including Monocle and other hip publications.

Rua do 4 de Infantaria, 26
Tartine is a pastry shop with fabulous cakes but also several Portuguese and foreign papers hanging from one of the walls (they're in demand, so you will have to hustle).

Rua Serpa Pinto, 15 A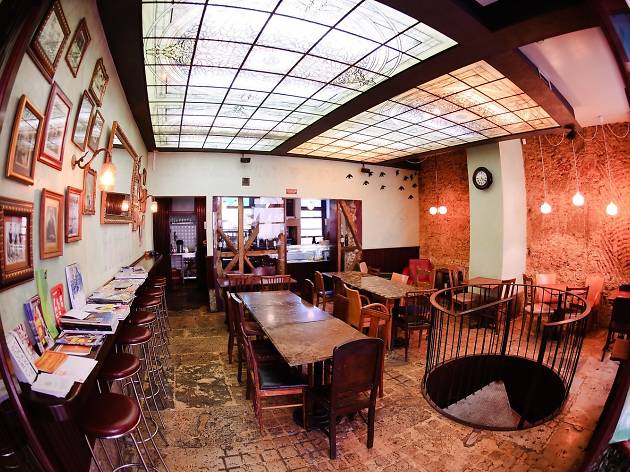 It is said that many writers set up their computer in Vertigo to let their imagination fly. The venue is intimate; the dark wood panels and the light filtered through the stained glass ceiling make it feel cosy. As for food, there's bagels, calzones, toasted sandwiches and a good chocolate cake.

Travessa do Carmo 4, Chiado. 21 343 3112.
A restaurant, a wine bar and a café all at once, and such a nice place that you will feel like hanging around the whole afternoon even if you are only sipping a cup of coffee. In old rooms with stone walls you will find sofas, armchairs and tables made from old sewing machines. They serve brunch on weekends, plus delicious hot and cold sandwiches and a mousse-like chocolate cake.

Calçada Nova de São Francisco 14, Chiado. 21 601 8472.
One of the pioneers of the cupcake trend – some seven years ago – turned into a cool spot for cakes, juices, teas and coffee. Right next to the gorgeous Praça das Flores, they also serve salads and quiches for lunch.

Rua Nova da Piedade 15, Príncipe Real. 21 596 2773.
You walk in and it looks like a lived-in home, with its big sofas, pillows and piles of books, games and children's books everywhere. That is deliberate: a café where you can feel at home while having a cake, a veggie snack or a sophisticated sandwich.

Rua de São João da Praça, 93-95, Sé. 21 886 2497.
One of the original brunch venues in Lisbon, and brunch is still a main draw. But they also cater to clients seeking a cup of coffee, a bruschetta or a salad. The ambiance is warm, so is the music, the interior design is full of movie references. After going there, check out the Senhora do Monte Viewpoint.

Rua de São Gens, Graça. 92 942 5156.
The first craft beer bar in Lisbon, which debuted about two and a half years ago, was also the first to bet on brands such as Mikkeller or Rogue. And what a bet it was. They have a vast selection of drinks and brands, both bottled and from 12 constantly flowing taps.

Praça das Flores 62, Príncipe Real.
They brag about having Lisbon's widest beer selection: around 250 different ones. True, not all of them are craft beers, but it is still a remarkable collection. Open for business since 2015, it is a pleasant location where smoking is still allowed.

Beco do Arco Escuro 1, Alfama.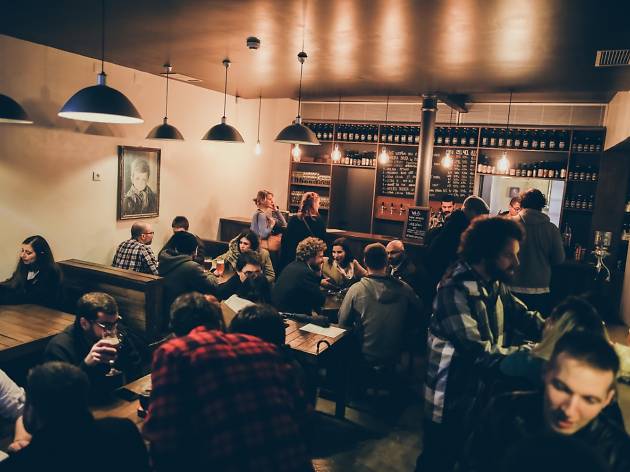 © Arlindo Camacho
The perfect place for those looking to restore their fluid levels with good craft beers. Not only do they sell the best Portuguese brands, they also have their own production – they are a lab of sorts for the Aroeira craft beer, owned by one of the proprietors.

Calçada do Duque 51, Chiado.