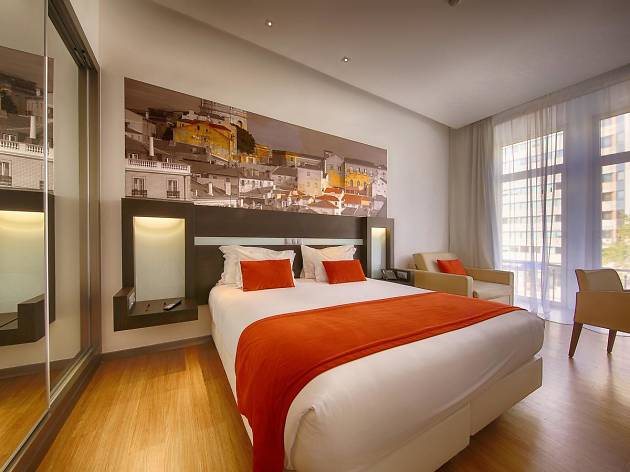 Jupiter Lisboa sits to the north of Lisbon's main tourist hub in a key commercial area. But commercial doesn't mean boring: Along with plenty of surrounding shops, you'll have a brilliant blue rooftop pool at your disposal and can kick back on a sun lounger with a panoramic view of the city.
The hotel is a relative newcomer on Lisbon's accommodation scene, but maintains a stylish façade created in 1906 by renowned architect Miguel Ventura Terra. Each of the seven floors were inspired by Lisbon's neighborhoods and traditions to help guests feel immersed in the city vibe. Giant photographs of Lisbon back the beds and big windows flood rooms with natural light. If you have family in tow you can opt for an interconnecting family suite, and if you've got a nagging deadline you can tap away at the work desk with high-speed wi-fi. For a hit of relaxation, book yourself in for an hour or two of treatments at the Blu Spa, and if you fancy keeping in shape on your holiday, you can pump some iron in the 24-hour gym. The Lisboa Amada lobby bar is open 24 hours a day, so you can swing by after dinner at the Dom Alimado restaurant, where the focus is on southern Portuguese cuisine from the Algarve region; expect to stuff yourself with some of Portugal's most sumptuous seafood.
Location: The hotel is located two blocks from the Campo Pequeno metro station in Lisbon's north. If shopping is on the agenda you'll be well placed to hit the stores around São Sebastião and stroll the shop-lined streets with a local crowd.
Nearby:
1001 Nights: Sample the best of Lisbon's Persian cuisine at this Iranian restaurant. It feels like a bit of a hike from the center of town, but if you're staying at the Jupiter, it's conveniently only one kilometer away.
Sam Croissants: A prized pastry shop hides unassumingly near the Entre Campos metro station, 1.5 kilometers from the hotel. As the name suggests, Sam does one thing and does it well, so grab a loaded croissant to kick your hunger.
Campo Pequeno Stadium: This is the official home of Portugal's bullfighting scene. Even if you're not into the gory sport, the red-brick building is a spectacle in and of itself, and you can catch other events here or wander the shops and food court downstairs.
Museu Calouste Gulbenkian: This museum includes both the founder's private collection as well as modern exhibitions showcasing Portuguese art from the end of the nineteenth century to the present day. Guided tours are available.
Jardim Zoológico de Lisboa: Lisbon's renowned zoo is 2.5 kilometers from the hotel. Here you'll find a diverse range of animals, including gorillas, elephants, dolphins and lemurs.
El Corte Inglés: Lisbon's major department store stocking high-end brands of clothing, accessories and homewares is located 1.5 kilometers away. The supermarket downstairs offers a wide variety of goods, including international foods.
Good for: The Jupiter is a great option for business travelers since it's only five kilometers from the airport, and is also well suited to those who prefer to be slightly removed from the inner-city hustle.
Amenities: Pool; sauna; room service; free wi-fi; minibar; restaurant; bar; gym; laundry service; concierge; spa
Time Out tip: Present your passport at the El Corte Inglés service desk to receive special tourist discounts.
Venue name:
Jupiter Lisboa Hotel
Contact:
Address:
Avenida da República 9
Lisbon
1050-185

Price:
€88.00 - €276.00