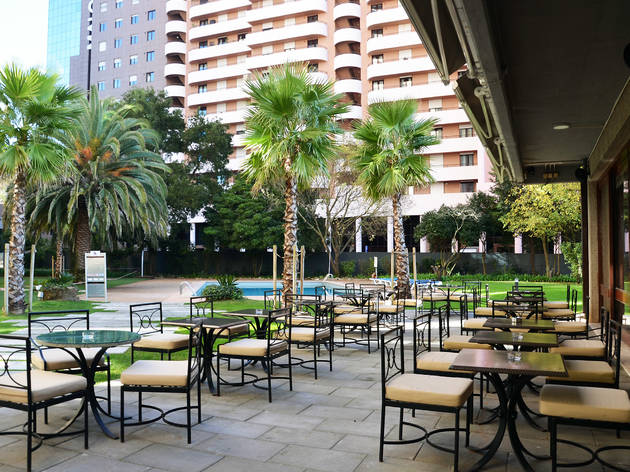 1/8
Fotografia: Matilde Cunha Vaz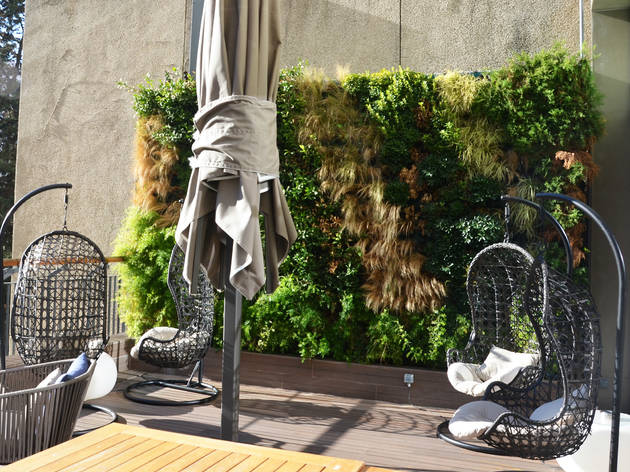 2/8
Fotografia: Matilde Cunha Vaz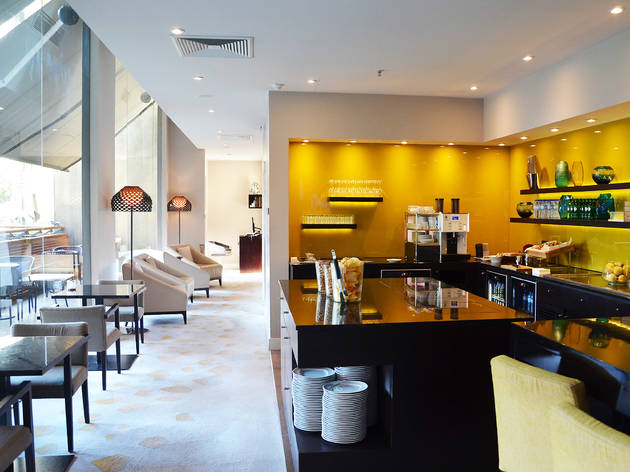 3/8
Fotografia: Matilde Cunha Vaz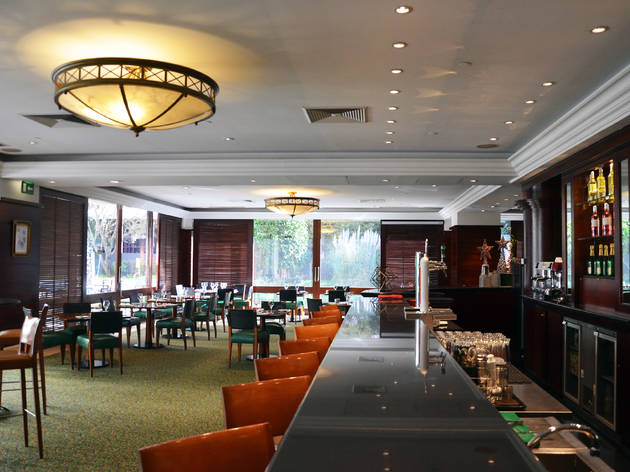 4/8
Fotografia: Matilde Cunha Vaz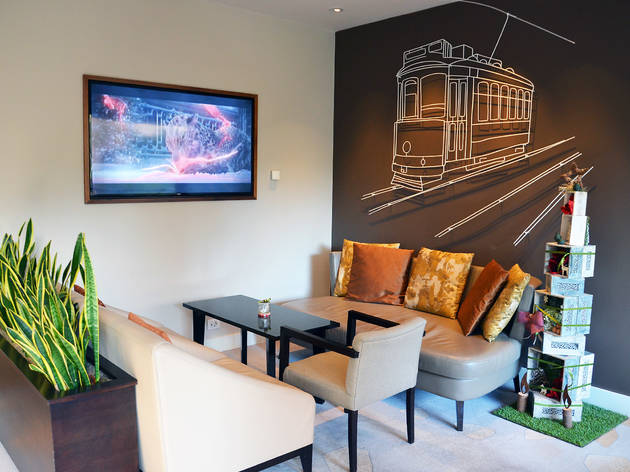 5/8
Fotografia: Matilde Cunha Vaz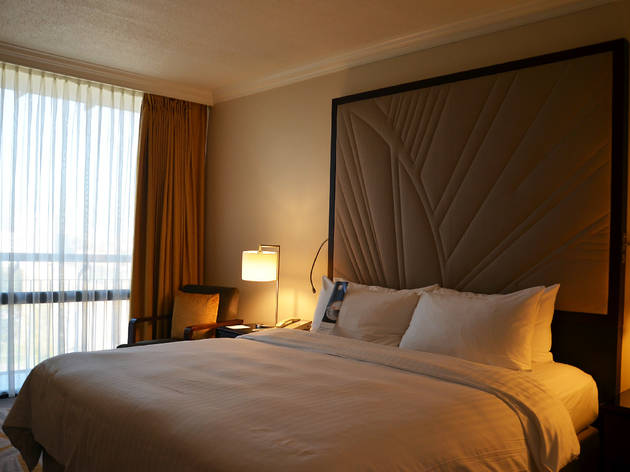 6/8
Fotografia: Matilde Cunha Vaz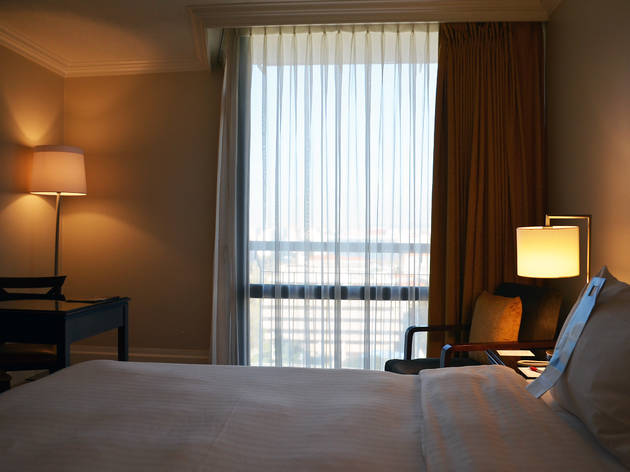 7/8
Fotografia: Matilde Cunha Vaz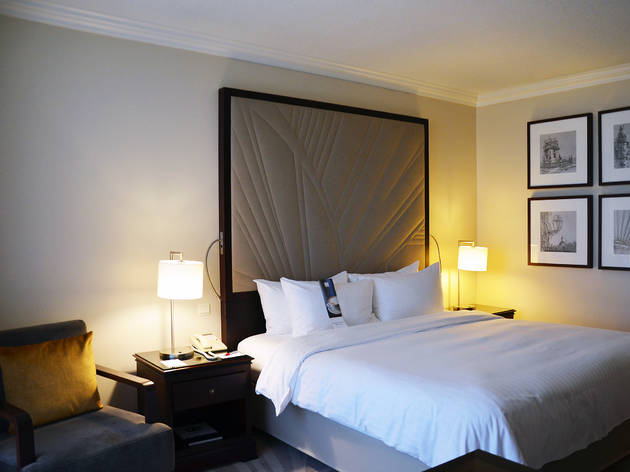 8/8
Fotografia: Matilde Cunha Vaz
Admittedly the car-dominated Avenida dos Combatentes, which parallels a highway, isn't the most inspiring location for a hotel, but the Marriott makes up for it with all the creature comforts inside.
First-up there's a tropical garden and pool to cancel out the chaos of a highway-side locale. Then there's a contemporary Portuguese restaurant, which serves meals poolside in summer to a soundtrack of chilled tunes. On top of that, there's the Mariott Greatroom, where you can relax on the lounges with a drink, or you can opt to sip a cocktail on the Citrus Grill terrace. The 577 rooms are spacious and are fitted out in a simple, classic style. Many have private balconies overlooking the city or pool. For extra comfort, book yourself into a suite that comes with a separate bedroom and living room. If you've got a furry friend they're welcome to bunk in with you. An onsite shop sells drinks and snacks, and there's a big gym to help you work off said eats. Overall, the place does feel rather 'hotelish', but if you're after predictable comfort and convenience it's all here.
Location:
The hotel has easy transport access with main bus interchange at Sete Rios nearby. The surrounding neighborhoods of Sete Rios and Benfica are a bit off the beaten path in relation to the downtown area, but position you right near the zoo and football stadium if that's your jam.
Nearby:
Sam Croissants: A prized pastry shop hides unassumingly near the Entre Campos metro station, 1.5 kilometres from the hotel. As the name suggests, Sam does one thing and does it well, so grab a loaded croissant to kick your hunger.
Jardim Zoológico de Lisboa: Lisbon's renowned zoo is one kilometre from the hotel. Here you'll find a diverse range of animals, including gorillas, elephants, dolphins and lemurs.
Museu da Música: Portugal's national music museum is rather oddly located in Lisbon's northern reaches, but if you're staying at the Marriott it's conveniently close. There are temporary exhibitions about Portuguese musicology and it also has one of the largest instrument collections in Europe.
Museu Calouste Gulbenkian: This museum includes both the founder's private collection as well as modern exhibitions showcasing Portuguese art from the end of the nineteenth century to the present day. Guided tours are available.
Good for: The Marriott has babysitters on hand so is a good option for families, particularly as the zoo is nearby too. The hotel will also suit business travellers.
Amenities: pool; room service; free Wi-Fi; minibar; restaurant; bar; shop; gym; laundry service; Concierge
Time Out tip: If you want peace and quiet, make your way to the Monsanto Forest Park three kilometers from the hotel. This big park, which is three times the size of New York's Central Park, has many walking trails and will make you feel a million miles from the city.
Venue name:
Lisbon Marriott Hotel
Contact:
Address:
Avenida dos Combatentes, 45
Lisbon
1600-042

Price:
€€€