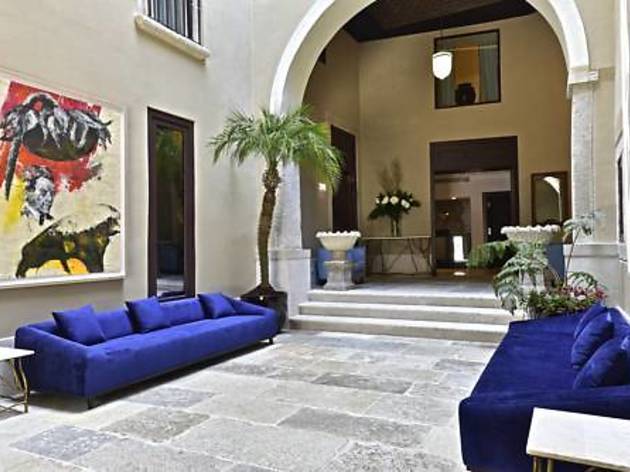 Time Out says
They say people are what's most important in a place, and they may be right. Santiago de Alfama might be valuable all by itself, but it would not be the same.
Without the management team's friendliness and good vibes, the experience would go from fabulous to very pleasant, and while this would not necessarily be a bad thing, it would just be unfinished. It owes its charm to architect Luís Rebelo de Andrade, who made a point of maintaining the layout of the 15th century building and restoring the Roman vestiges found during remodelling, fearlessly joining past and present under the same roof. From this quiet side street in Alfama – it seems impossible, but there are still a few quiet streets there –, right next to the Santa Luzia viewpoint, one of the few that haven't yet been invaded by the tourism tsunami, you have an unobstructed view of the Tagus, especially if you pick the Santiago suite, which boasts an unbelievable panoramic view over the city and the river. The 19 rooms all have different typologies, but even the most economical have attributes that are not commonly found in boutique hotels: space, a large bed, a closet and a bathroom with a bathtub – even an antique clawfoot tub in some rooms. There's no swimming pool or garden but the lack of open spaces is well justified by the anatomy of the terrain. But because the hotel is gifted with a naturally spacious building, allowing some logistical extravagances, the food and drinks offering is abundant, with three different spaces with distinct vibes and purposes. At Café Audrey, obviously inspired by the diva's glamour, breakfast is served à la carte from an enormous menu of eggs, pancakes, toast, tea, yoghurt and fruit. For lunch and dinner, two good options: Fábrica de Santiago and Manny's Bar which, despite its misleading name, is the hotel's official restaurant, with a Mediterranean menu created by Chef Carlos Robalo.
Time Out tip: Check out Alfama's new star café, Copenhagen Coffee Lab. As the name suggests, it's a Nordic-inspired venue that specialises in coffee, though it is also a bakery. The coffee beans are selected from Ethiopia, Brazil or Guatemala and roasted in Denmark before being sent to Portugal. The filtered coffee is made using a French Press, AeroPress or V60, and there's also flat whites, cappuccinos and chai lattes to choose from.
Details
Users say