The best of Lisbon nightlife
The city's best nightspots, for whatever you're into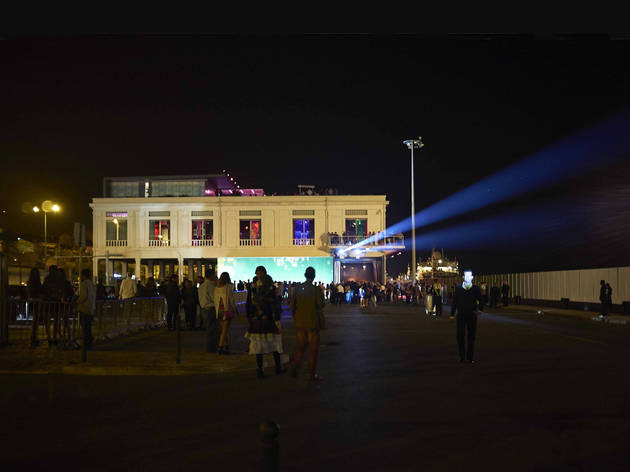 Whether you're a rump shaker, a motormouth or a wannabe sommelier, you can't fail to find something to suit your tastes in Lisbon's rich and diverse nightlife. Suppin' on a cocktail by the River Tagus comes highly recommended, as does losing yourself on the dance floor at Lux, but they're just two unforgettable experiences you can expect to have among many others in the Portuguese capital.
Drink here
Once a brothel – hence the name, 'Love Boarding-house' – this place has now gone straight and has become one of Lisbon's kitschest bars. It has retained its slightly seedy air, hosting cabaret shows as well as concerts and DJ sets, and is a veritable warren of spaces with an off-the-wall decor. Let's hope it never loses the love.
Read more
When the 'Independent House' opened in a palatial old building in 2012, it coincided with the transformation of the Largo do Intendente into a trendy nightlife destination that it has helped make one of the city's most popular. It hosts concerts, DJ sets, workshops and all kind of cultural activity. The ambience is laidback, with the vintage furniture and a shabby-chic decor that has won many fans. As has the inner patio.
Read more
New bars open in Lisbon every month, but few make their mark as quickly as has DAMAS, which opened in April last year just off the Largo da Graça. During the day and in the early evening it is a restaurant, but at some point hour it turns into a bar and concert venue with dancefloor. There is music for all tastes in the course of the night and always a good atmosphere.
Read more
In a large former apartment is this bar named after the Portuguese title for the Sergio Leone film The Good, The Bad and the Ugly. A stylish space with regular programming from jazz jam sessions on Mondays to DJs spinning funk, Afrobeat, soul, disco-sound, indie rock and the like at the weekend, it won the 'golden crow' award from Time Out Lisboa for 2014 nightspot of the year.
Read more
Dance here
A building that was once part of the Ministry of Finance, on the east side of Terreiro do Paço, has in recent years housed this appropriately named nightclub. Its opening hours are limited, but some big- name DJs have passed through here, from Ricardo Villalobos to Carl Craig, and including Maya Jane Coles and Miss Kittin, as well as some fine local DJs, of course.
Read more
You won't find many places like this. Open every day except Mondays – making it a great refuge on Sundays, when other bars are closed – it sets great store by music, with carefully chosen DJs (mainly local) and regular high-quality live music. And the most important thing: admission is always free.
Read more
You may well have already heard of Lux even before arriving in Lisbon. You should make sure to visit this nightlife colossus near Santa Apolónia, which turns 18 in October. The programming here is select and outstanding, and includes regular live music, guest and resident DJs, both Portuguese andforeign.The space itself is fantastic, as is the decor, and it draws a very varied crowd. Coming to Lisbon and missing out on Lux is, as the Portuguese would say, be like "going to Rome and not seeing the Pope."
Read more
MusicBox was quick to make its mark. Inaugurated in 2006, this blend of bar and nightclub is the beating heart of Rua Nova do Carvalho (otherwise known as 'the pink street' after its painted asphalt). Few Lisbon venues can rival its programme of live music and DJ sets for strength and consistency, with known local performers and up-and-coming foreign names.
Read more
This building right on the riverbank with a large patch of sand in front of it is part of the K group, which has run some of Lisbon's leading nightspots over the years. It comprises bar, restaurant and nightclub with various dancefloors. Here you can hear EDM, house and the like, including slightly less commercial sounds on the more alternative dancefloor.
Read more