Heaven can wait: things to do in Arrábida
White-sand beaches lapped by crystalline blue waters, backed by a dramatic range of hills. It could be paradise. And it really is. Here are the best things to do in Arrábida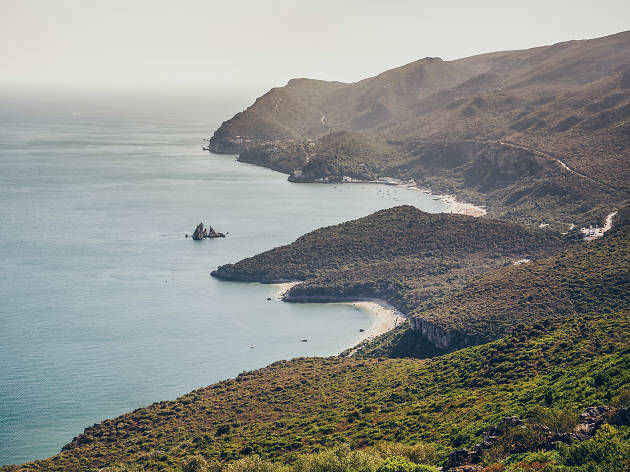 If you're looking for paradise, guess what, we have the key. The secret word is Arrábida and if you're staying in Lisbon it will only take you 41 minutes to get there by car. And besides this free tip of how to reach heaven on earth we've also selected what you can do while there. Here's is our guide with the best things to do in Arrábida. And, you'll see when you get there, heaven can perfectly wait, especially if it's sunny and warm.
Heaven can wait: things to do in Arrábida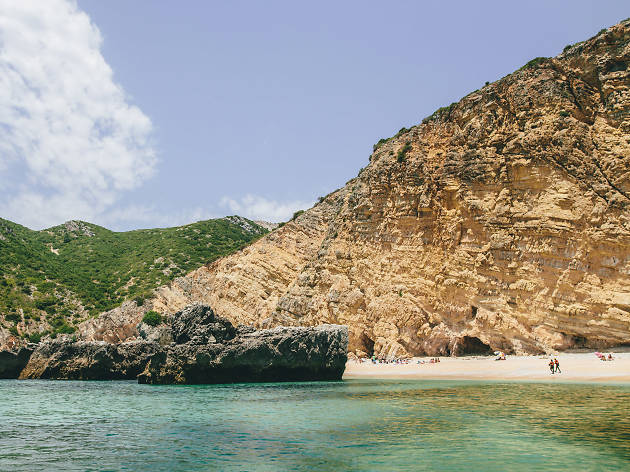 Fotografia: Arlindo Camacho
Ribeira do Cavalo
For a long time this place was a secret, but now it is becoming popular. Even in colder days, the path down to the beach makes for a fun trek. This is one of the first wild beaches west of Sesimbra, and the ways to get there are: 1) use Google Maps, then get creative when it's time to climb down; 2) follow these steps: after the harbour, go past the parking lot next to the Clube Naval, take the clay road on your right. You can drive till the path is blocked by boulders. Leave the car and walk. It will be 2.5 kilometres of bush, a good half-hour of trekking, and the path is not always obvious, but it is doable. Just be patient and use common sense.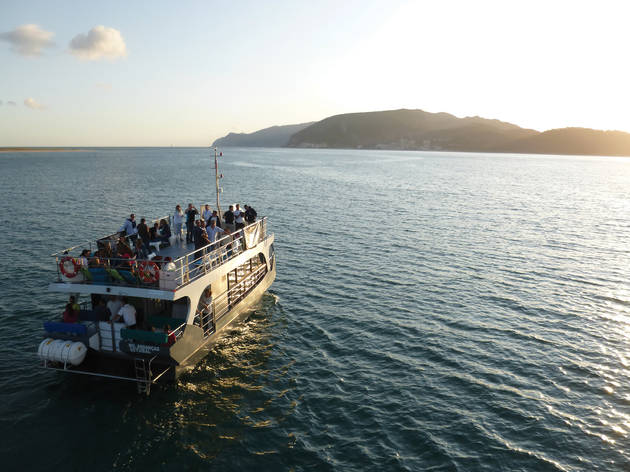 ©Sado Arrábida
Vertigem Azul
A three hour ride on a catamaran to see... Dolphins. You have a 95% chance of seeing one, and the team running the tour is so expert they will even tell you the name of each dolphin.
Edifício Marina Deck - Rua Praia da Saúde 11D, Setúbal. Marina de Tróia, Carvalhal. 30€ per person. 26 523 8000. www.vertigemazul.com/en

Sado Arrábida
This company has offered tours in the Sado for several years and their list of options is so long that the hardest part is picking the nicest one. You can have a shellfish meal on board, make a trip to a desert island, watch the sunset, go canoeing or even ride a boat to Sesimbra and then make the return trip on 4-wheel drive vehicles through the mountain range.
26 549 0406. www.sadoarrabida.pt
Fotografia: Arlindo Camacho
Espichel Cape

In 1410, Our Lady went up the Espichel Cape on a mule. This legend, based on donkey tracks engraved one the Mua rock, led to the construction of a small hermitage and a huge shrine. Thousands of believers made pilgrimages there. Centuries later, Steven Spielberg's research team dropped by while they were preparing the first Jurassic Park movie. Turns out they weren't mule tracks at all – they belonged to theropods and sauropods. A pedestrian track around five kilometres long lets you learn about the history of the place. After you leave the cape, head towards the Cretaceous limestone deposit, where you can compare your feet with the enormous dinosaur hooves.
Rota da Baleeira

The company behind these tours is named Vertente Natural, and they go to every nook and cranny in Arrábida. If you like wild beaches and trekking, the Baleeira path is a fabulous way of spending half a day, or even a whole one. The tour goes through an old whale-hunting observation post and through an abandoned fishing harbour.
Prices from 10€. www.vertentenatural.pt
Fotografia: Manuel Manso
Farol
In the middle of the Portinho da Arrábida, Farol is a temple to fresh fish and shellfish, which are caught in the vicinities. The restaurant fills up quickly in warm days, so it is better to make a reservation.
Portinho da Arrábida, Setúbal. 21 218 1177/ 93 908 1780.