Heaven can wait: things to do in Arrábida
It could be paradise. And it really is. Here are the best things to do in Arrábida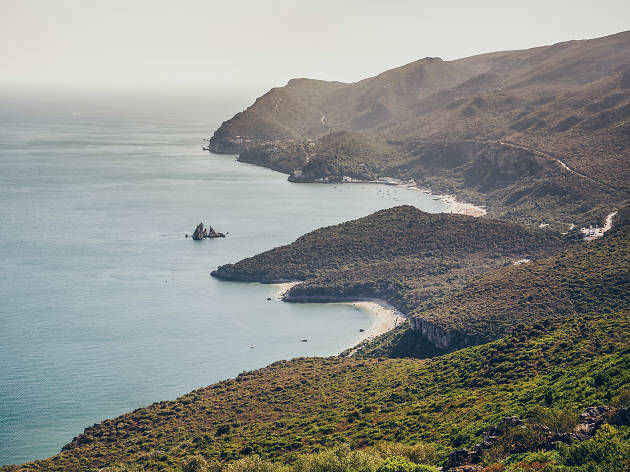 White-sand beaches lapped by crystalline blue waters, backed by a dramatic range of hills. If you're looking for paradise, guess what, we have the key. The secret word is Arrábida and if you're staying in Lisbon it will only take you 41 minutes to get there by car. And besides this free tip of how to reach heaven on earth, we'll also share with you the best things to do while there. Here is our guide with the best things to do in Arrábida.
Recommended: The 33 best things to do in Lisbon
Heaven can wait: things to do in Arrábida
That isn't a corny hyperbole: Praia do Paraiso, which means heaven, is what Porto da Baleeira is known as, being the last wild beach before Cabo Espichel. It is one of the many incredible spots for snorkelling and having a go at scuba diving in Serra da Arrábida. The half-day adventure will cost you 30€ per person and requires a minimum of four people, with everything included, from diving gear to insurance, boat trip and guide.
There are other fantastic places for real diving, some of them at the edge of Parque Natural da Arrábida's integral reserve (a sanctuary for virtually every species but our own, as humans aren't allowed there). From four metres deep, the seabed is a mixture of rock and sand, making it a perfect spot for less experienced divers and for underwater photography. You can also snorkel there and even deep-dive to 18 metres. If you have never scuba-dived before, a beginner open water diving course costs 395€, with gear included, and it is three to four days long. To get a taste for it, try the half-day scuba diving baptism for 75€.
Various operators in Sesimbra. Reference prices are from Vertente Natural, loja 6, Porto de Abrigo. 21 084 8919.
Coasteering is like the Vitamix of mountain and sea adventures. It encompasses hiking, swimming, sliding, abseiling, climbing, visiting grottoes and diving into waters from as high as eight metres. You can do it all in one four-hour and three- kilometre long circuit along the coast, through waters that waver between green and blue. If you are more of a scaredy-cat, don't give up yet – coasteering combines two unlikely elements, adrenaline and tranquility, without you needing to push your limits. Don't want to jump from such heights? Jump from lower. Don't want to be hooked to a rope and slide through rocks? Swim instead. Don't fancy swimming anymore? Walk on the rocks or atop the cliffs. You will be equipped with a wetsuit, sturdy shoes, helmet, harness and inflatable vest. You will even get some toasted flour at the end.
From 35€. Various operators in Sesimbra. Reference prices are from Vertente Natural.
Two people per canoe, a paddle each and half a day of cruising through the blue-green tranquil waters of Arrábida. Simple. There are canoeing circuits spanning Portinho da Arrábida, beaches on the western side (towards Sesimbra – get your bearings please) and beaches on the eastern side (towards Setúbal), or along Sesimbra's coast. They take half a day and are perfect for groups, as prices decrease drastically the more friends you bring along, from 50€ down to 25€ per person. There is a slightly wilder, full-day alternative, the Sesimbra Selvagem expedition, which will take you west and through many a grottoe, stopping in various wild beaches along the way. It costs 38€ for a minimum of eight rowers.
Vertente Natural, loja 6, Porto de Abrigo, Sesimbra. 21 084 8919.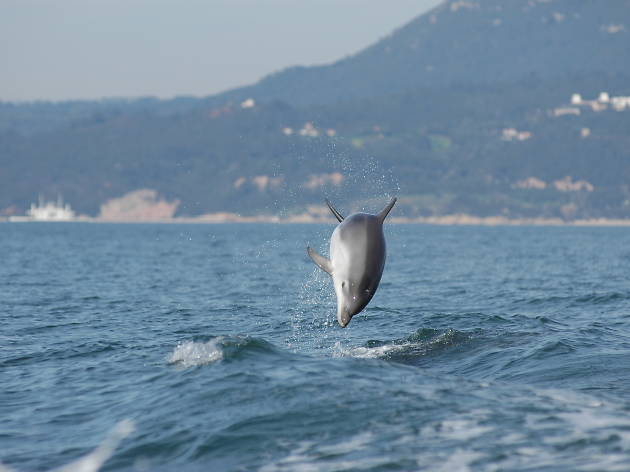 We could have said bottlenose dolphins, or just dolphins, but we wanted to get your attention (that's the mammal's scientific name). It is true that dolphin- spotting trips in Arrábida are old news, that the dolphin community in the estuary is growing (around 40) and your chances of spotting them in the Sado river, on the ferryboat to Tróia, are just as high as your chances of spotting a jellyfish. Sure. But this is different. Besides dolphins, you can also see common, tiger, hammerhead and white sharks.
Various operators in Sesimbra and Setúbal. Reference prices are from Vertente Natural. Duration 3 hours, 35€/ person, minimum 4 people. Vertente Natural, loja 6, Porto de Abrigo, Sesimbra. 21 084 8919.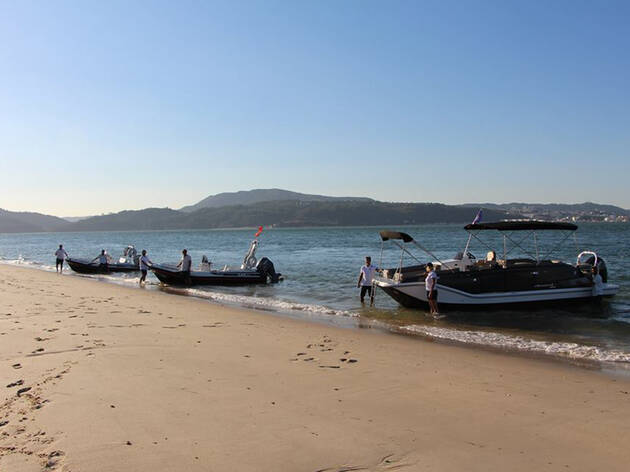 ©DR
It works like a taxi, but it offers more perks than an Uber. From Setúbal to Galapos, the trip will set you back 7€ per person. But you can also get to Tróia for 4,90€, or to Alcácer do Sal for 31,50€. The fare allows you to hop off at any of the stops in Arrábida and the estuary. If you add the value of the experience to how much you save in petrol, you will quickly realise that it's worth it.
Aquataxi by Lady Lara, 91990090; Mon-Fri 9am-7pm, Sat-Sun 9am-10pm. Minimum two people.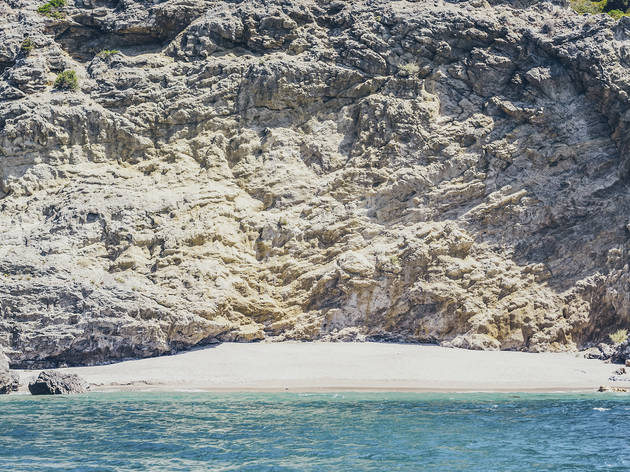 Fotografia: Arlindo Camacho
It is called Praia do Penedo, but it is better known as Praia do Inferno. Only in the winter can you see why, and it's simple: it is the only beach in this stretch of the coastline where you will see sizeable waves when northern winds hit. Of course, in Arrábida, hell isn't quite so hellish and during the hot months, in this little cove, even when the tide is in, there is plenty of sand to stretch out on. Besides, if like Sartre you believe that hell is other people, welcome to paradise. Boat transfers can take you to this or any other of the wild beaches hiding in coves and nooks all the way to Cabo Espichel, and back again (just set a time). Prices range from 20€ to 25€ per person, depending on distance.
Various operators in Sesimbra. Reference prices are from Vertente Natural.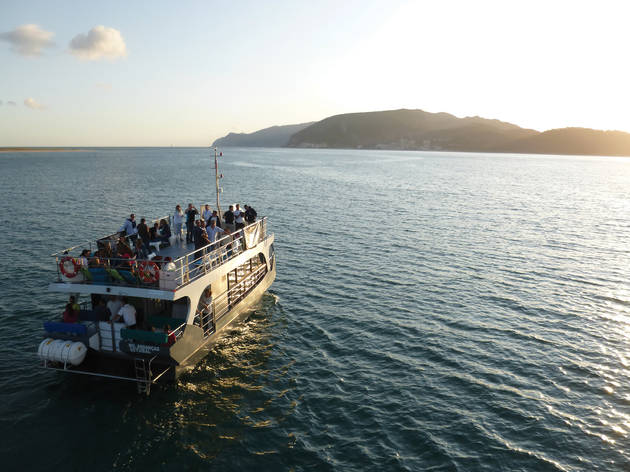 ©Sado Arrábida
Drown in wine, on the water
Every Saturday between May 25 and September 28, Sado Arrábida organises wine and dining experiences (combining seafood platters and regional wines) and wine sunset parties. Both adventures take place on the river. A local wine producer and the winery's oenologist will talk you through what you are sipping on. Lunch includes lobster, whelks, goose barnacles and those little Sado spider crabs that everyone should try at least once in their life. During tastings, you can try cheese and tortes from Azeitão and the vibe shifts. As the sun goes down, so does the wine, and spirits rise.
Wine and dine: from Marina de Tróia 1pm & from Doca das Fontainhas, Setúbal, 1,30pm; duration 4 hours; 50€/person, 25€ under 12s. Wine sunset parties: from Setúbal 6.30pm & from Tróia 6.45pm; duration 2h30; 35€/person, 20€ under 12s (yes, they can go too). 915 560 342. Check the calendar at sadoarrabida.pt.