How to disappear completely in Lisbon
These are the places in Lisbon where you can get away from (other) tourists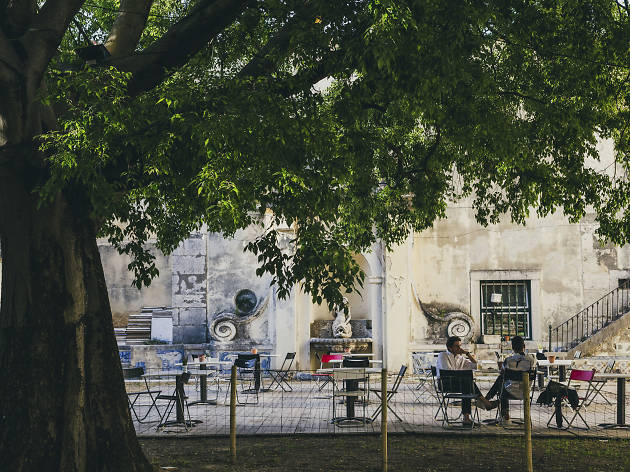 How to disappear completely in Lisbon
It is located in the Pombal Palace, at the Rua do Século; the courtyard of this contemporary art centre has a beautiful,quiet cafeteria. The good news get even better when you check the prices: 50 cents for an espresso, 1€ for a half-pint of beer. Don't tell anybody, ok?

Rua de O Século 79
Among the last regional holiday clubs in Lisbon, it recent years it became a big name in group dining. Prices are super-competitive (12,5€ per person), the staff is friendly and the food is of above-average quality.

Rua do Benformoso 224.
You don't see that many map-carrying foreigners in the Marvila and Beato area. That might not last. Warehouses in Lisbon's eastern riverside area are being converted into cowork spaces, art galleries or restaurants. There you will find some of the city's most unusual offerings, such as a parkour school, a climbing centre or a beer factory.
One of the city's best vegetarian spots, but you need a map, schematics, a GPS tracker and a divining rod to get there. You need to get to the basement of a temple, after working your way through a winding parking garage, until you reach the dining hall. No alcohol, no meat, no menu; but there is a buffet loaded with spicy dishes. Look for it in the Telheiras area.

Alameda Mahatma Gandhi.
Shopping, Department stores
The department store Pollux has everything you could want for the home, but also a rooftop terrace with an amazing view that is unknown to most visitors. Just walk into the store and take the lift to the top floor. But make sure no one is following you!

Rua dos Fanqueiros 276.
Too far from the centre to be much frequented by tourists – it is on the part of the map with less detail – the Fundação Calouste Gulbenkian has a great museum, a lovely garden, a nice café and a very nice ice cream vendor.

Avenida de Berna 45, Praça de Espanha.
A snack bar in the Largo de São Rafael, right at the heart of Lisbon's most typical/touristy district in Lisbon. The same square has a fado restaurant, with plenty of outdoor tables; in warm weather, there is live music. The trick is to take a seat at the Medrosa terrace, order something to eat and drink, and listen to the neighbouring establishment's music. Free fado, how cool is that?

Largo de São Rafael 6.
It's the panda bear of Lisbon's restaurants: charming and endangered. The venue endures and should be cherished and protected as a unique specimen. Here you will find good grilled food, an excellent "cozido", fine black pork strips and a wonderful crème brûlée, all at affordable prices: 7,50€ to 8€ per plate.

Rua do Capelo 8.
This place has repeatedly won the competition for Lisbon's best pastel de nata (custard cream tart). Skip the queues at the more famous pastry shop in Belém and escape to the less touristy Campo de Ourique neighbourhood.

Rua Francisco Metrass 67.
It looks like a canteen, works like a canteen and has the prices of a canteen (€6.50 for a meal). It also has one of the best terraces on which to lunch in the city centre.

Travessa do Ferragial 1, Chiado.