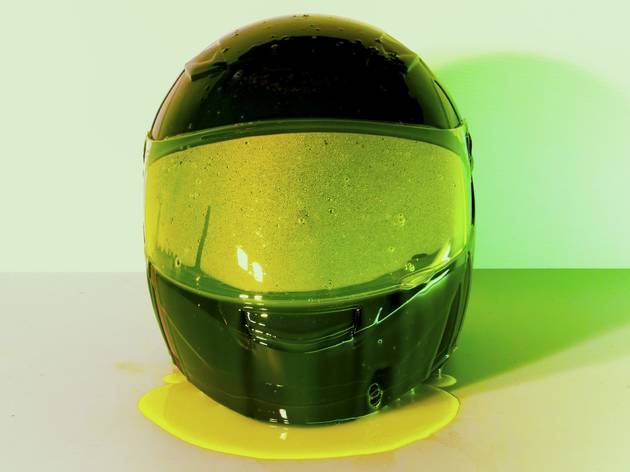 1/8
'Heads May Roll' (2014)
© the artist, courtesy Matt's Gallery
2/8
'Heads May Roll' (2014)
 Installation photograph by Peter White, courtesy the artist and Matt's Gallery, London
3/8
'Heads May Roll' (2014)
 Installation photograph by Peter White, courtesy the artist and Matt's Gallery, London
4/8
'Heads May Roll' (2014)
© the artist, courtesy Matt's Gallery
5/8
'Heads May Roll' (2014)
© the artist, courtesy Matt's Gallery
6/8
'Heads May Roll' (2014)
 Installation photograph by Peter White, courtesy the artist and Matt's Gallery, London
7/8
'Heads May Roll' (2014)
 Installation photograph by Peter White, courtesy the artist and Matt's Gallery, London
8/8
'Heads May Roll' (2014)
© the artist, courtesy Matt's Gallery
Young British artist Benedict Drew's installation is a total headfuck of flickering screens, pulsating lights and ear-splitting sounds. The first room is brutally minimal: a white space with just a row of wireless headphones and an LCD TV. 'Let's imagine, for a moment, out there is gone and there is only in here,' instructs the screen, before an assault of strobing neon colours, images of pink goo, convulsing hands and a barrage of piercing digital sounds leaves you queasy with motion sickness. Drew is hypnotising you, trying to make you feel totally disconnected from the day-to-day world.
Dazed by that first video piece, you walk through a foil-lined corridor, like a homemade sci-fi movie set, before entering the final room. An animatronic hunched figure covered in silly string taps a snare drum, a huge pink blob vibrates and purrs and microphones are jammed into rocks. Two screens show a bike helmet doused in fluorescent yellow liquid, flickering rainbows and a clip of that astronaut who everyone thought was brilliant for covering David Bowie in space.
It's not until the word 'exhaustion' blazes across the screen that everything gets tied together. Drew is using a barrage of colour, sound and light to make a simple point: that modern life, with all its relentless imagery, is knackering. You probably knew that already, but the whole thing is so unhinged, you're going to walk out of this Mile End gallery feeling a hell of a lot more uncomfortable than when you went in.
Eddy Frankel
Rating Breakdown
5 star:

1

4 star:

0

3 star:

0

2 star:

0

1 star:

0
It's a beautiful, sensual show about the disembodiment of the internet and the embodiment of art. From knobbly knees to astronaut's tears, a monster drummer and a red-glazed escape hole. It dazzles and seduces and unsettles, and it forces you to take time to navigate it, demanding we stretch our ever-shrinking concentration span.