Art
Art reviews and listings for London's best museum exhibitions and art galleries
Five thing to see at 'Banksy, Greatest Hits: 2002-2008'
Street art maverick Banksy is the nation's graffiti sweetheart. For decades now he's been covering walls around the world with his razor-sharp political observations. From kissing coppers to Molotov cocktails filled with flowers, Banksy – whoever the mysterious man is – has created images intended to both entertain and make you think. He's divisive, though. Some people despise him with hatred so powerfully and overwhelmingly all-consuming that it makes them wish they didn't have eyes. Other people adore him, and are desperate to plaster their flats with prints and editions of his wry observational art. Now Lazinc gallery in Mayfair has pulled together a show of his greatest hits from the years 2002 to 2008, in many ways one of Banksy's golden eras – his equivalent of Picasso's Blue Period, perhaps. Here are just five highlights from this small but packed exhibition.  Image courtesy of Lazinc  'Tesco Value Soup'  A play on Andy Warhol's classic Campbell's soup can, but with a Tesco twist. His Waitrose version isn't quite as good.   Image courtesy of Lazinc Sunflowers from Petrol Station' Van Gogh's famous flowers have been left to wilt, a cathartic statement on the inevitability of death, surely. Image courtesy of Lazinc 'Bronze Rat' Here, Banksy has rendered one of his trademark rats in bronze, alluding to the famed bronzes of Edgar Degas, perhaps.    Image courtesy of Lazinc 'Kissing Coppers' It's impossible to tell you how disappointing it is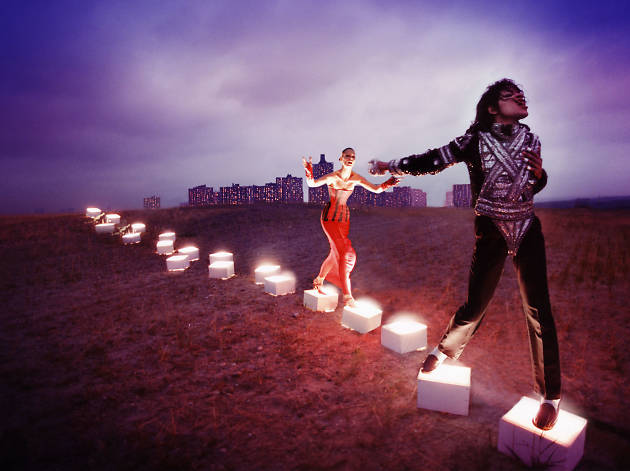 Michael Jackson: On the Wall review
HIs every crotch grab sent jolts of ecstasy across the globe, his every spasmodic hip thrust left the world reeling. That's an inhuman level of power for one human to have.
Buy tickets
Must-see art exhibitions in London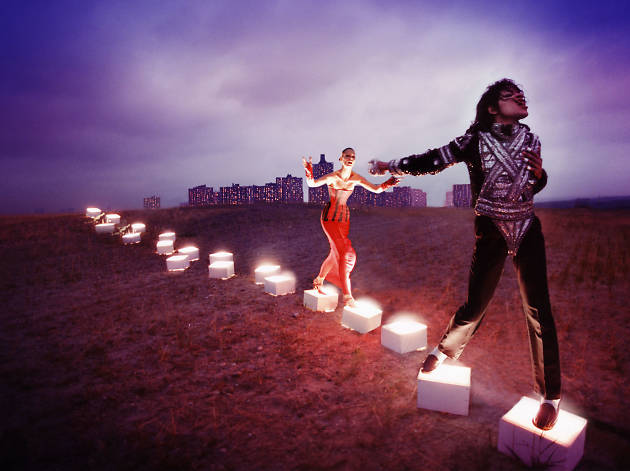 Michael Jackson: On the Wall
HIs every crotch grab sent jolts of ecstasy across the globe, his every spasmodic hip thrust left the world reeling. That's an inhuman level of power for one human to have. It ended up being too much for Michael Jackson, and maybe too much for the rest of us too, which may explain how the National Portrait Gallery can put together a whole show of art inspired by MJ and without it being mega-cheesy or ultra-dull.
Buy tickets
Cindy Sherman review
Cindy Sherman is a film star. Actually, she's loads of film stars. She's a reclining blonde looking wistfully into the distance, a slight redhead in a robe, a blushing bride and a raven haired beauty. She's also three country sisters and their mother, she's a group of four near-identical stars. It's seriously creepy. For 35 years, Sherman has been the subject of her own work. She's transformed herself into an endlessly rotating series of characters. She mocks, twists and undermines femininity and gender roles, and in this show of recent work, she's become a bunch of fictional pre-war film stars. Each character sits against a digital background, like they're posing in a promo shot for a non-existent film. They have all the hallmarks you think old female film stars should have. Some are homely, gentle, safe and cutesy – geriatric Judy Garlands – but most have a menace to them. They look like old alcoholic stars, long past their prime, wishing their lives away on a divan, dreaming of their departed lovers. Their star quality has dimmed. Are these photoshoots goodbyes? You imagine a big bottle of piles and a glass of whisky waiting in the background. Tragic figures, nostalgic and vain. By mocking those ideas, by dragging them out into the open by the hair, Sherman is giving a good two fingers up at the idea of all of that. Those boohoo classic tragedies are dismantled here, dismissed outright. It's classic, humorous, creepy, angry Cindy Sherman.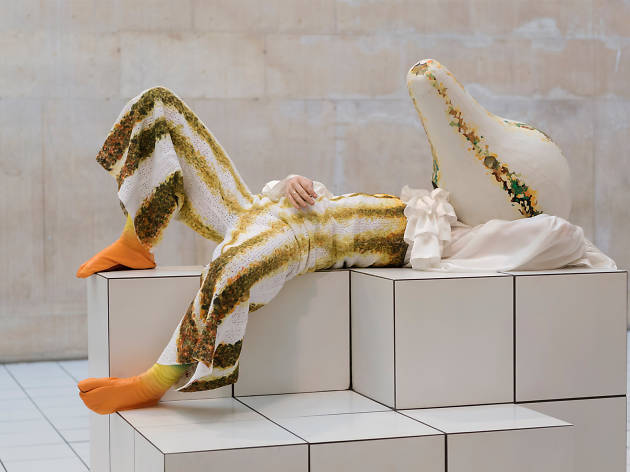 Anthea Hamilton
Imagine you're a squash – as in, a butternut squash. Now imagine what kind of art you would most like, based on your squashy-brained characteristics. For her 2018 Tate Britain Commission for the Duveen Galleries, Anthea Hamilton has created a squash-human hybrid, performed each day by an individual dressed in one of seven outfits inspired by various strains of curcubita (that's for you, 'Gardeners' World' fans). She then picked a collection of nine sculptures from the Tate's existing collection, plus one from The Hepworth Wakefield, that might be of liking to the squash. The pumpkin-friendly artworks are bulbous, ballooning mounds of sculpture – the kind you want to sneakily squeeze. Because, the artist reasons, squashes can't see well so choose their art based on touch. Bonkers, right? But ridiculous as the idea sounds, Hamilton's takeover is a brilliant and irreverent response to basically everything the Tate, as the grand old dame of establishment art, represents and displays. The dark floor of the pretty, neoclassical gallery is covered with over 7,000 white squares, with the sculptures inside various tiled blocks. It looks like a high-end swimming pool, which is the last place you'd expect to find some hard-skinned vegetables (technically fruit, but shh!) doing whatever the hell they want. There are no rules: they can even take a nap. Which is the attitude that makes the whole thing so much fun. The mishmash of sculptures shoves the modernist curves of Henry Moore
Dorothea Lange: Politics of Seeing
You can see why the Barbican is running these shows of Dorothea Lange and Vanessa Winship together. There's plenty of overlap in their work: dislocation, displacement, the way that women, children, buildings, landscapes and even cars reflect societal collapse. But I would seriously advise that you buy your ticket, check out one of them, then go and play crazy golf with a few beers or something before you come back and tackle the other. They're both pretty heavy. Dorothea Lange is revered as a giant of twentieth-century documentary photography. Her 'Migrant Mother' – an image she took in 1936 of one of the 300,000 Americans who fled the starvation and poverty of the drought-stricken Midwest – is so celebrated that it gets its own little sort-of-chapel here. A woman stares bleakly into the distance, apparently removed from her plight, her family and the act of being photographed. It's an image of loss: loss of property, prospects, hope and self. Lange called the effect 'human erosion', mirroring the over-cultivated farmland soil that had blown away, taking these people's bit of the American Dream with it. It's only part of the story, though. Although the Depression and the Dustbowl spurred Lange to give up taking arty society portraits and hit the road, the rest of her work – less often seen – extrapolates from that experience of the USA on its knees. She shoots the dire racial poverty of the Deep South that existed before, during and after the Midwest droughts. She shoots t
Lee Bul
A huge, gloopy, multi-limbed, fleshy monster stares you out as you enter Lee Bul's exhibition. And it's not alone. Suspended from the ceiling are more of its blobby buddies and a battalion of pure white cyborgs. In the corner sits a silver and black behemoth among a landscape of shattered mirrors and blinking lights. It's up to you to figure out if the Korean artist's sci-fi dreamscape is actually a nightmare.
See more recommended art exhibitions in London