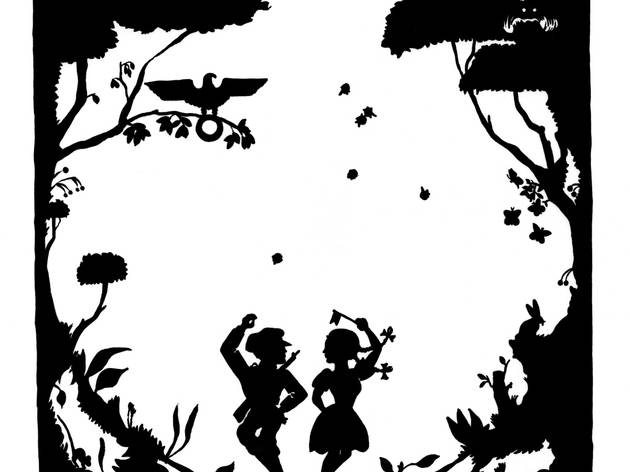 Although Roee Rosen's film,' Out (Tse)', begins as a seemingly straightforward, if sexually frank, documentary – its talking-heads format featuring two Israeli women explaining their involvement in the bondage-domination-sadomasochism scene – it soon transforms into something else entirely. For a start, there's the women's terminology – 'domination' and 'submission', 'oppression' and 'subjugation', 'top' and 'bottom' – that metaphorically echoes the social and political power structures within the artist's native Israel (also alluded to in the show's anagrammatic title).
Next, there's the spectre of the country's controversial Minister of Foreign Affairs, Avigdor Lieberman. One of the women claims to be spiritually possessed by the belligerent spokesman for the right-wing settler movement – leading to a graphic and disturbing exorcism. A scene involving, yes, nakedness and paddling, as well as guttural outpourings of extremist political diatribes. By the time the final scene rolls around, featuring two male musicians performing a lugubrious, Tom Waitsian folk song, the feeling has become one of a curious, symbolic unfolding of ideas to do with identity and foreign occupation, and with boundaries being dangerously transgressed.
There's a similarly dreamlike conception in the ground floor installation, 'Live and Die as Eva Braun', which posits the viewer as a participant in a virtual reality reenactment of the last moments of Hitler's lover. But the piece comes off as rather heavy-handed, hampered by the purple prose of the narrative texts, the endlessly overwrought descriptions of the Fuhrer's flabby veiny carnality. What ultimately redeems it are the accompanying monochrome works on paper, which are fantastic – in both senses of the word. Grotesque, folkloric, Struwwelpeter-esque amalgamations of German Romantic and Nazi imagery, they suggest slippages in the historical order of things, the darkly fecund power of imagination.