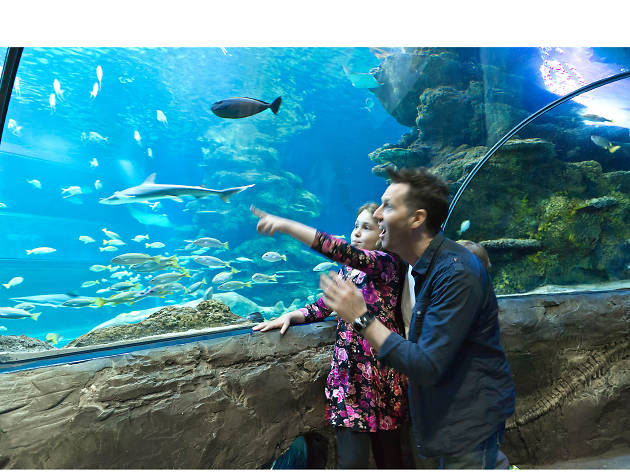 1/4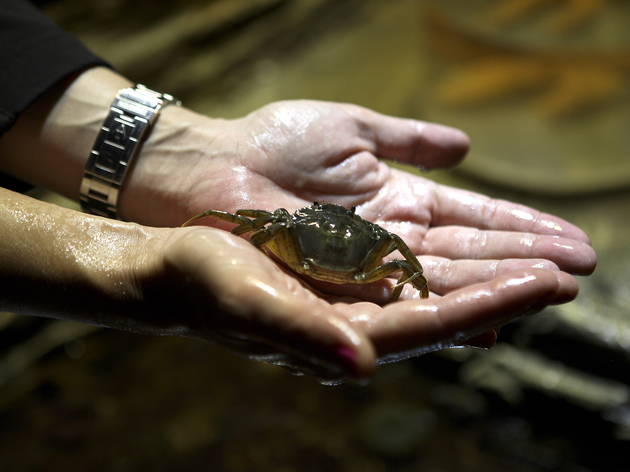 2/4
Michelle Grant / Time Out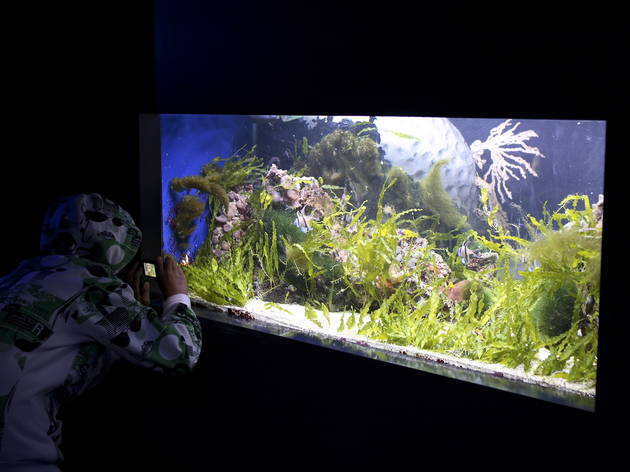 3/4
Michelle Grant / Time Out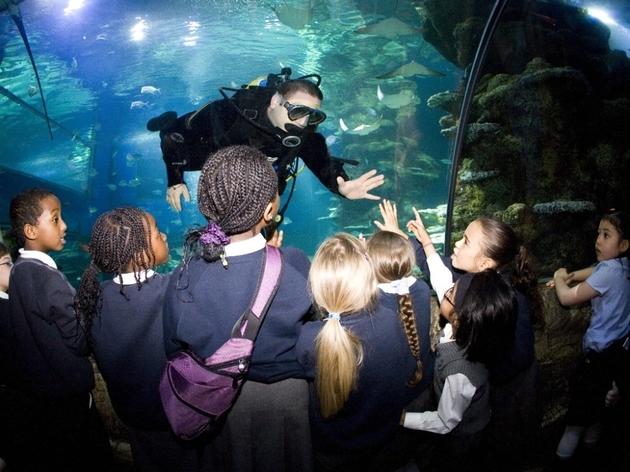 4/4
© Sea Life London Aquarium
Walk through, over and under colourful aquatic worlds from the tropical to the Arctic at one of London's busiest attractions
It's hard to imagine, when you're standing outside County Hall, that you're going to find sharks and penguins inside what used to be a boring old council building. But give them their dues – Sea Life has created a pretty impressive aquatic wonderland right here in Zone One, and within easy reach of Waterloo and London Bridge stations.
You can go at your own pace, but Sea Life London Aquarium follows a set route, so you won't miss anything. Start with a walk over the glass window that peeks down to the Pacific waters display. This section is called Shark Walk – the clue's in the name. You then come to the 'Atlantic Depths' – with its sand eels and octopus – and the 'Tidal Reach' collection of creatures from British waters. You have to feel for the jellyfish and pipefish here. Life in our seas and rivers just doesn't seem as exciting as the colourful exotica you get when you move through to the Ray Lagoon and the fabulous purple tangs, triggerfish and stripy snapper of the Dive Discovery tropical waters.
Along with rockpool displays of brightly coloured anemones and the gliding green sea turtles that swoop past overhead as you walk through the Ocean Tunnel, there's a chance to get down deep with the sharks as you peer into the Pacific Wreck gallery and see if you can find Nemo among the clownfish in the Coral Reef zone.
There is a lot to take in here, especially if you visit off peak, when the crowds aren't too bad. The route continues with a display dedicated to seahorses and an area that reflects the humid setting of the rainforest, where you'll see piranhas, a Cuban crocodile and poison dart frogs. Nothing causes a stir quite like a meal time, so check the website for the many different feeding sessions, which are hosted daily during visitor hours, and time your trip so you catch the ones you want to see most.
There's also a new permanent exhibition, 'Ocean Invaders', in which you'll also be able to learn more about the weird, wonderful and wobbly world of jellyfish. Visitors can discover the most dangerous species and even create their own digital jellyfish. Sea Life also carries out research and conservation work, and the Thames Walk experience (opened in summer 2015) reveals some of the insights into life in the waters that flow just outside the aquarium, and the work done to make them a cleaner environment in which fish can thrive. The Breed Rescue Project display invites budding marine biologists of all ages to find out more.
Tickets can be purchased on their own or as parts of packages that include other London attractions. Group tickets and annual passes are also available, as well as very cool looking VIP behind the scenes tours, granting you access to areas of the aquarium usually closed to the public, and a snorkeling with sharks experience which more or less does what it says on the tin.
Venue name:
SEA LIFE London Aquarium
Contact:
Address:
County Hall
Riverside Building
Westminster Bridge Rd
London
SE1 7PB

Opening hours:
Open Mon–Fri 10am–7pm (last entry 6pm); Sat–Sun 9am–7pm (last entry 6pm). Closed Dec 25. The aquarium opens for longer hours during school holidays, check website for details
Transport:
Tube: Westminster or Waterloo
Price:
From (adv online) £19.50, £14.50 under-16s, free under-threes. Tickets on the door will cost more
Do you own this business?
Average User Rating
3.1 / 5
Rating Breakdown
5 star:

4

4 star:

14

3 star:

16

2 star:

1

1 star:

9
I didn't get to see the whole aquarium because I came for a Time Out Silent Disco but what I did see I really enjoyed. The new jellyfish exhibition was hypnotic. It was an incredible venue for a silent disco. I would definitely come back during regular hours to see more
Media is no longer visible.
WORST AQUARIUM EVER VISITED ANYWHERE IN THE WORLD. ALSO TOTALLY NOT KIDS FRIENDLY.


It all started with a family weekend plan to keep our daughter entertained and do something different. This is my view of the facilities and the overall experience as a parent with a 19 month old child.
The main entrance is hardly buggy friendly as only equipped with stairs. The only way to use the non-stair entrance is to purchase the priority entrance pass, which costs extra!
Secondly, about a quarter of the attractions were closed due to renovation work being carried out. Yet, the full admission price was charged. Also no mention of the work being carried at the ticket desk.
Thirdly, the aquarium was extremely crowded causing long queues at almost every stop.
Forth, hardly any bathrooms and only ONE baby changing room. Amazing.
Last, but not least, the penguins are kept in an enclosure which I can only guess is meant to simulate their natural habitat the Antarctic, amongst other places. Although, it reminds one more of a mental institution with a lack of fresh air/wind, sky etc. The penguins appeared lifeless and not happy at all. London Zoo is doing a much better job at keeping penguins outside, with a large outdoor pool and lots of interaction with nature.
Overall, the facility is run down and lacks everything a world class aquarium in a city such as London SHOULD offer to its visitors.
So if you are considering a family-day out which involves long queues, horrendously high ticket fees, unfriendly staff, a crowded aquarium where you have to force yourself to the front to get your kid to see anything and by default have a strong bladder to overcome the lack of bathroom facilities and baby changing rooms then you should visit.
Otherwise, stay away!
The tiny penguin prison is the most depressing sight. No natural light, with penguins slipping about on a fibreglass ice berg. I don't understand how it's allowed. Go to London Zoo instead - large animal enclosures wirh penguins on a naturalistic beach.
Lots to see but unable to see most of it as they don't limit the number of people in there. Had my son's buggy with me - impossible. Only care about the takings, not about visitor experience. My daughter enjoyed the parts she did manage to see but will not be returning anytime soon. The ones outside of the city are much more user-friendly.
The tiny underground enclosure for the gentoo penguins is heartbreaking.
Very cheap, only for millionaires.
Very very fun the aquarium is.It has loads of amazing animalls.Its very fun when you get to tuch a star fish and a crab!Plus if you go to the London zoo it is very cold in the winter so you should go to the London aquarium in the winter.
Amazing place where you can go with family and friends!! Excellent
overpriced tourist trap-avoid and go to London zoo instead. shuffle around in tight corridors and end up in the shop of all places, couldn't wait to get out!
This provided a fun afternoon in London for two students waiting to see a play!
We went for my housemates 21st birthday, were allowed to touch starfish and anemones also given stickers.
I loved the `rays`.....they were really sweet, not what i imagined, very inquisitive ....Sea horses have to be another firm favourite.....but unfortunatly for larger animals i feel the tanks vast as they are still need to be a lot bigger and I also feel that these wild animals should maybe be left in the wild....to be free , not to be gawped at by 100s people daily......We got a 2-4-1 offer off peak rate so it wasnt too expensive. The penguins looked really `hacked off` standing there with the painted scene of the arctic? in the background......i felt they really should`nt be there!! a member of staff commented that the penguins were the main attraction so no chance of those guys getting their freedom soon then....i really dont know now where i stand in this day & age about Zoos, unless its `vital conservation` and even so species will come and go through the ages as they`ve always done so. ...similar stuff around circus`s...who now have Very few animals as acts......a sign of changing consciousness
Do yourself a favour, give it a miss and go somewhere else like London Zoo (same price but much more variety and pleasanter) or the Museums (free). This place is overpriced, over-rated and a blight on the landscape. £70 to for a family to queue up for an hour then get shuffled around quickly looking at fish in glass tanks.
rather expensive, but definitely fascinating, especially the giant sea turtle, the sharks and the underwater tunnel.