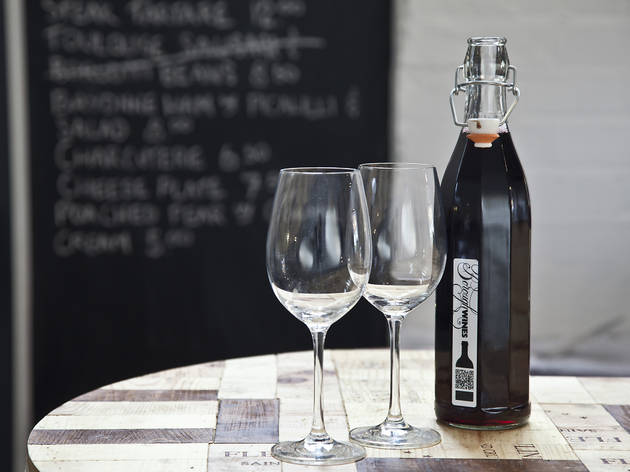 L'Entrepôt is much better than it looks. Which isn't to say that this eastern outpost of Borough Wines doesn't look promising: it does, with its shabby industrial chic, and wine for sale in the barrel and bottle. On weekdays, the kitchen is open only in the evening (grazing aside) and Saturdays and Sundays focus on brunch; add the fact that the group is best known as a small, fiercely independent wine merchant and you would be forgiven for assuming the food was merely a bolt-on.
Wrong. From interesting egg dishes to a three-course rotisserie menu, via a few French and Modern Euro bistro dishes, the kitchen staff know how to put an appealing menu together and deliver it to restaurant standards. Eggs benedict was so perfectly judged that we regretted not trying the oeufs en meurette (in red wine). Mallard breast with beetroot and potato gratin was flavour-packed; chips, bread and butter were, importantly, spot-on.
The wine list, sourced directly by Borough, is predominantly French and Spanish, with recognised appellations complemented by more off-piste bottles that the staff are delighted to contextualise – the seldom-found aramon grape in a sulphur-free Coteaux d'Ensérune from Languedoc did indeed deliver Rhône-like depth. A slightly older, laid-back Dalston crowd have adopted the place as their hangout.
More
Less
L'Entrepôt says
Restaurant, bar, cafe and events space with great music. Casual dining in an open lively warehouse setting. Perfect for small intimate bookings and group bookings.
European/British cuisine and a wonderful selection of cheese and charcuterie. World wines, local craft beers, cocktails and spirits.
More
Less
Venue name:
L'Entrepôt
Contact:
Address:
230 Dalston Lane
London
E8 1LA

Opening hours:
Open 1-11pm Mon-Fri; 11am-11pm Sat, Sun. Lunch served 11am-4pm Sat, Sun. Dinner served 6-10.30pm Mon-Sat
Transport:
Tube: Hackney Downs rail
Price:
Main courses £13-£15. House wine £14 bottle, £3 glass
Menu:
View Menu
Do you own this business?
You may be interested in:
Average User Rating
3.9 / 5
Rating Breakdown
5 star:

10

4 star:

1

3 star:

0

2 star:

1

1 star:

3
These guys have obviously upped their game since the last review.
Great staff were very attentive and helpful so our group of 6 had a really nice evening with good food and ver nice wine and cocktails. Look forward to visiting again soon.
Too Expensive for the value! and the wine... I'll never come back !
been there one nice place quality food

fast line mini cab service 0208 5332727

I was really excited to see this place and whilst I haven't yet had the chance to eat the food (which smells amazing by the way), I love the wine selection and visit there as often as I can. I think it's a diamond in the rough & well worth checking out!
For what you pay the food is not good enough, the staff was not very friendly. We celebrated our friends birthday in there and they wanted to charge us 15 pounds to have a birthday cake there even though we have been spending nearly 70 pounds on food and wine before, this because that they would have to wash up the plates afterwards. Didn't make it a very nice evening and we all agreed that it is not a place we would visit again.
Splendid place, quite buzzy on a Saturday evening but still felt intimate enough to share the latest gossip with my friend. We took the tartar and it was amazing! Excellent service, all in all a very pleasant evening! :-)
If the phrase 'fur coat and no knickers' ever applied to a restaurant, this is it. Entire place is too cool for school. Borough wines - dont make promises you cant deliver. Very disappointing.
Shame that Timeout is trying so hard to be cynically down with the kids in this review, especially when they are one of the magazines constantly talking up the trendy areas of London. Anyway, this is a lovely place, good food, quite cheap for what it is. Very nice wine. Friendly staff. Delicious broad bean bruschetta. Recommended if you are in the area.
The moronic characterisation of the area notwithstanding, the review is reasonably fair, although does underplay the quality of the food: I can't, for example, recall that I've eaten a better steak tartare anywhere, and the eggs benedict on the brunch menu is also outstanding. There have been a few occasions when the unpredictability of the daytime opening hours has pissed me off a little, and at weekends it can fill up with rather tedious Hackney hipster types, but these are minor gripes indeed. I've lived around here for years here for years, and I still have to pinch myself at the thought that a place like this could exist on my doorstep. It's a really great place.
I have also moved in juyst around the corner and stumbled accross this place when I was wondering around. I've been back three times and have found the same excellent, unfussy food, friendly chatty staff and great table wine. Bustly on the weekend and very chilled out in the daytime. My new favourite.
Just moved in around the corner form L'Entrepot. Its amazing. Has a great laid back vibe inside, amazingly friendly staff and the filling of your own bottles is a great and reasonable way of drinking decent everyday wine at home. Big thumbs up.
Just back in London after almost 30 years in France. Delicious, unpretentious food - and portions just right in my opinion, not skimpy at all. It's as good as the best bistros I've ever been too in Paris and Provence. I had been missing the delights of honest house wine and fresh unfussy food until I discovered this. And given the price it'd be my regular - if I only lived a bit closer!
3 stars is way off the mark, it's comfortable friendly, relaxed, unpretentious and really inexpensive. The food is lovely, the place is spotless and the waiters are incredibly attentive. I'm not sure what else you could want...? Extra little touches like candles, flowers, water for the table and a burgeoning garden with chairs in the front all help to give this place an excellent ambiance, it feels like it's been here for years already. I look forward to them extending the menu...
I moved back to London after over 20 years in France, and although I've eaten in some good places in East London and Clerkenweel, something was missing, until I discoved this place by chance yesterday. Simple, fresh, honest unfussy food. Here it was at last - served with chunks of good, solid tasty bread washed down with a reliable vin de table. Had a confit de canard on a bed of fennel. Melt-in-the-mouth delicious. I'm going back to refill the carafe from the keg of good red - and will eat there again. Dare I say, it's better than Jamie Oliver's bistrot - because it's still small and not part of an industry.