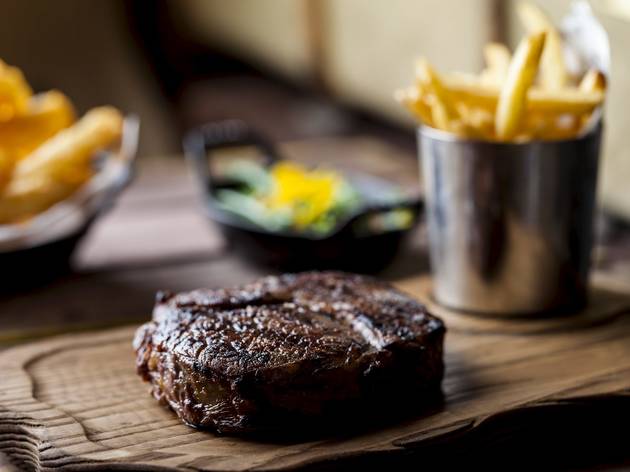 New bars open all the time in the City, but they're usually the inoffensive sort in which deals can be struck, expense accounts can be rinsed and clients' arses can be kissed. It's not that this vast new bar-restaurant-club is actually offensive, but its boldness stands out a mile in the Square Mile. In a real sign of the times, the former starched and formal Prism restaurant has been converted into… well, it's a bit of a mash-up.
What I can tell you for sure is that it's a joint venture fronted by former topless model and actress Kelly Brook and her business partner, serial bar-opener Nick House – the man behind the gloriously kitsch Mahiki and Whisky Mist.
And the bar's every bit as eccentric as that collaboration makes it sound. There's a vaguely 1940s US theme (the building used to house the Bank of New York), which somehow involves upside-down Statues of Liberty, a mechanical bull, railway carriage seating, massive Stars and Stripes, a menu of lobster, burgers and other meat-heavy treats, loud live music and taxidermy. Cocktails range from the classics such as Sazeracs to the frankly ridiculous: some are served in spurred boots garnished with a sheriffs badges, or in fake-money-stuffed briefcases, or come with sparklers atop like the '80s never went away. Steam & Rye hasn't so much jumped on the US food-and-drink bandwagon as done it up like a carnival float and driven it away at high speed.
The basement, however, is comparatively restrained, a long, dimly lit space where, as long as you avoid the novelty receptacles, you can drink with dignity. Service, from waistcoated staff, is accomplished. But Steam & Rye is intended as pure, unabashed entertainment – it's the sort of place to loosen your tie and pretend tomorrow's 9am start isn't happening.
Reviewed by Euan Ferguson
PS in April 2014 Steam & Rye added a bucking mechanical bull to the attractions - making this the first bar in London where watching bankers being tossed off is a spectator sport.
Venue name:
Steam & Rye
Contact:
Address:
147 Leadenhall St
London
EC3V 4QT

Opening hours:
4pm-3am Mon-Fri; 6pm-3am Sat.
Transport:
Tube: Bank tube/DLR
Price:
Drinks and dinner for two with service: around £60.
Do you own this business?
You may be interested in:
Average User Rating
2.9 / 5
Rating Breakdown
5 star:

3

4 star:

4

3 star:

3

2 star:

0

1 star:

6
I had high hopes for Steam and Rye. The food is American style - steaks, burgers, chips, etc. I don't deny that these are tasty, but it's very simple food. Anything grilled will taste good. There are some Amazing Instagram-worthy cocktails though!

RUDE CLOAKROOM STAFF, RUDE WAITRESSES, RACIST ANGRY BOUNCERS.

Absolutely awful service, very rude staff from door to back of the house.
Terrible, paranoid, rude and racist security staff.
Disgusting place to go to. Avoid at all costs.
Absolutely awful service, very rude staff from door to back of the house.
Terrible, paranoid, rude and racist security staff.
Disgusting place to go to. Avoid at all costs.
Steam and Rye doesn't take itself too seriously, and caters well to large groups who flock to it in droves. The food was surprisingly good, and the service excellent. The weekend crowd was decidedly bridge-and-tunnel, so over-dressed and over-tanned is the order of the day. But a nice atmosphere and suitably cheesy band make it a great 'one stop shop' for dinner and an evening out.
I have been to Steam and Rye on numerous occasions and it's always a great and fun-filled night out in a beautiful, unique venue. The food is cooked to perfection and the steaks are absolutely beautiful. The portions are very generous and you get a lot of food for the price you pay! I have also tried the BBQ ribs, who are very tender and authentic. My friend had lobsters, and said they were delicious! The service is great and the waiting staff fun, charismatic and attentive. Some of the waitresses were even dancing in the aisles - which is something you definitely won't come across in your average steak restaurant! To accompany our dinner we had some amazing, quirky cocktails. They are served in all kinds of unique and creative ways, everything from boots via popcorn cups to shark heads! Later in the night they have dancers, great live music and bartenders doing fire breathing - there is always something to look at! Only downside I would mention is that the music is louder than you would imagine in a normal restaurant, so it isn't the place to go for a romantic date, but if you want a fun, impressive dinner out with friends, it is the perfect place to be! You will certainly never get bored! Overall; Great food, quirky cocktails, good service in a one-of-a-kind venue with the full package! Absolutely worth checking out!
Just had lunch here with 12 of my team for Christmas after only booking it a couple of days ago. It was a set menu, all correspondence was fast and easy thanks to the staff from the restaurant. We picked what we wanted beforehand, sent it back and turned up to sit in a room upstairs (Which is fabulous, you feel like you're on the set of a movie!!! Love the stuffed animals, suitcases and general interesting things to look at) Service was fast, food amazing, drinks good and reasonably priced for the Christmas period. Well done for getting it right. All of my team said they loved it -Thanks Steam and Rye!!!!!!!!!!
I had the pleasure of enjoying lunch here with a friend on 10th December. This was only the second day that this place was open for lunch sittings, so I expected it to be below par, but you know what........... it was fabulous. The waiter chatty, the food was great, fast service, lovely cocktail and good atmosphere. 4 stars rather than 5 because as great as everything was, I think some items are a little over priced (Or you had to add chips to a burger, for example which I think is a bit of a con) But still, I'd recommend it - Not really that much else like this in the city, so I'm happy to report it's worth the trip
Amazing night at Steam and Rye. The place was very, very busy, but our waiter was attentive and super friendly. The food was great - sharing platter, rib eye and, surprisingly, the Mac n' Cheese were highlights! Had an amazing cocktail that was served in cowboys boots, among others. There was live music which really gave the place a unique feel for dinner/drinks. Will visit again for sure next time I am in the city!
Great atmosphere, and superb service (The reviews below must be for somewhere else, they couldn't have been better when I visited). Lots of novelty (sparklers and drinks props are order of the day), but well placed here and offers something that the city was totally devoid of. Particularly like the US lagers, fresh cocktails and the food, which is top notch (pork ribs alone are worth trying). Curmudgeonly city types will inevitably hate it ,but it is a hugely welcome alternative to the very limited offerings of years gone by for those with a lighthearted attitude and loose tie knot. Long may it prosper.
Absolutely awful. Avoid at all costs!!! Bad service. Rude workers and waste if time and money. The only thing that's nice is the decor but everything else is diabolical. My advice go on look around then run out while you can get away
Just A.N.Other city pulling joint, indistinguishable for all the others only by the incredibly poor music policy. It's also virtually identical to it's predecessor, a new bar frontage and some American flags seemingly the only change. Depressing.
I went to Steam and Rye with a group of friends to celebrate an engagement. It was an awful dining experience, probably one of the worst I have had in London. From 7:30 onwards a band started playing but the volume was ridiculous, we were unable to have a conversation and the waiting staff couldn't even hear us to take our orders. After trying to complain to a member of management (I don't think she heard half of what I was saying), I was told it was a "loud music venue". If this is the case I would recommend they edit their website which gives the impression that the venue is a restaurant/bar. The food was tasty but our money could definitely have been better spent elsewhere.