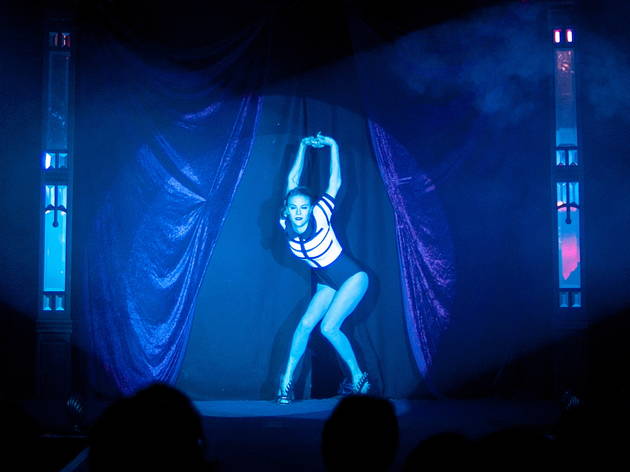 Once you've seen a couple of the big top-style circus shows so much in vogue at the moment, you know what to expect from them: contortionists, trapeze artists and balancing tricks.
But I'd wager it's unlikely you would plan for a man crawling up and falling down a Chinese sticky pole in a bear suit.
Yaron Lifschitz, director of the leftfield Australian company Circa, makes his troupe sport large, spooky rabbit heads and the aforementioned bear costume at regular but seemingly random intervals. It's presumably an effort to spice up the formula, but he needn't have bothered.
Even though the 60-minute 'Beyond' features all the usual suspects seen in this type of act, it's still exhilarating. It is a display of the supreme strength, flexibility and grace of the three women and two men onstage and there's no need for the gimmicky animal outfits.
A goldfish bowl, complete with fish, teeters on heads and is passed between acrobats' bodies without spilling a drop; a Rubik's Cube is solved by one of the women while she clambers over the rest of the cast. Bridie Hooper, who is able to bend in the most incredible ways, performs an eye-popping solo suspended on a rope, writhing and rolling like a fly caught in a spider's web. During a different set, she wraps herself around another performer who literally shakes Hooper off and to the ground.
Wow-factor production values are nowhere to be seen. With its bare stage and minimal props, 'Beyond' is more low-key than 'Limbo', the other, similar show on at the Southbank's Wonderground venue this summer. But that doesn't mean it is an inferior younger sibling. 'Beyond' is just as brave and just as exciting.
By Daisy Bowie-Sell
Rating Breakdown
5 star:

1

4 star:

0

3 star:

0

2 star:

0

1 star:

0
Just had my attention drawn to this after the Telegraph posted a similarly lacking review on another Circa show. (http://bit.ly/1dpR1yK) It's depressing enough that theatre reviewers are sent to cover material they have no critical language for but, with circus shows more and more frequently employing dramaturgies that overlap those of contemporary theatre and dance, I'm at a loss to understand why these can't be acknowledged in a review by a theatre critic! This lack of critical discourse around circus arts is slowly being broached, with residencies and symposia appearing for cultural journalists to learn about writing on circus. Europe has http:unpackthearts for example, and this week sees Circus Now present 'Speaking Circus' in New York (http://circusnow.org/events/speaking-circus/) Onwards and upwards! (If you're interested, hop along to visit me and my take on 'Beyond' at http://thecircusdiaries.com !)