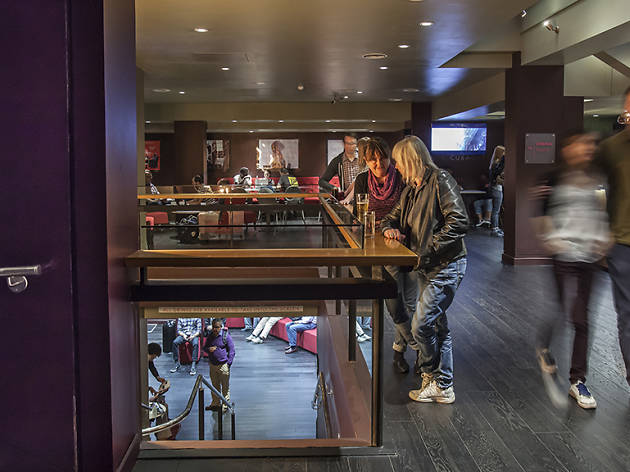 Arthouse film fans have been known to go weak at the knees at the mention of the Soho Curzon, which has some of the best programming in London – a mix of arty new releases and documentaries, often introduced by the filmmakers themselves. Watching a film at the Curzon always feels special, surrounded by film lovers without it being pretentious. The coffee is good, the bar relaxed, and if you're watching a British film, you'll likely be seeing the finished product a stone's throw from where it was edited in Soho. Perfect for whiling away a rainy afternoon.
Venue name:
Curzon Soho
Address:
93-107 Shaftesbury Ave
London
W1D 5DY

Opening hours:
Box office 0870 756 4620
Transport:
Tube: Leicester Sq
Do you own this business?
Music sounds better when you're on the road. In 'Baby Driver', 'Shaun of the Dead' director Edgar Wright takes the car-chase action film – loaded with tyre squeals – and weds it to a cracking jukebox playlist. The result is the most supercharged p...

Read more

Sofia Coppola's 'The Beguiled' is an exquisitely crafted drama of seduction, survival and sexual awakening in Civil-War era Virginia, with especially strong performances from Kirsten Dunst and Nicole Kidman as two teachers trying and failing to se...

Read more

Armed only with their cameras and a commitment to peace, Syrian citizen journalists take on the might of Isis (here seen swarming into occupied Raqqa) in Matthew Heineman's inspiring documentary. As frontline, on-the-ground journalism goes, the fi...

Read more

This nerve-shredding thriller from 28-year-old director Trey Edward Shults joins the esteemed company of Cormac McCarthy's 'The Road' and the handful of intimate post-apocalyptic stories that puncture through to our deepest fears with tales of civ...

Read more

In the five years since she died, there's been little homage paid to Whitney Houston – the New Jersey kid who sang in the church choir and became a megastar chanteuse (she broke The Beatles' record for consecutive US Number Ones). This doc from N...

Read more
You may be interested in:
Average User Rating
4.6 / 5
Rating Breakdown
5 star:

12

4 star:

8

3 star:

0

2 star:

0

1 star:

0
There is always something to see here and the staff are wonderful
A good range of movies and THE BEST CAKES in London. A great bar too! This place must stay.
Anyone who works in film sees this place as their sprritual home. Anyone who is a real fan of cinema feels the same. I'd do anything to keep it open.
This venue is a huge part of my life. It makes cinema going an absolute pleasure. Currently I am making a documentary about fighting to save the Curzon Soho in it's current awful predicament. I love this place.
Curzon Soho Cinema has had a historic role in the development of arthouse cinema in the UK, and it's to me the flagship of art cinema in London. I value the significance of cinema culture and the role it plays in the identity, politics, society and economy of a country, especially in the UK where the creative and
cultural industries compete with the financial sector.
I can't believe it is under threat. London should learn to better protect historic and cultural spaces, especially from developers.
A hive of quality cinema.
A brilliant and pioneering cinema with an excellent bar and coffee shop.
A great venue. Fantastic films and a great place to hang out too. Their programme of director and cast Q&As is especially strong.
I love every floor of the Curzon, from the cafe selling delicious red velvet to the bar and popcorn floor and, of course, the screens. You can tuck away in a corner and have a quick drink with your fancy man before hot footing it to watch the latest independent and international films. If you're into film then this is definitely the spot for you.
Probably my favourite cinema in central London. Film-going aside the bar is a good spot for a date!