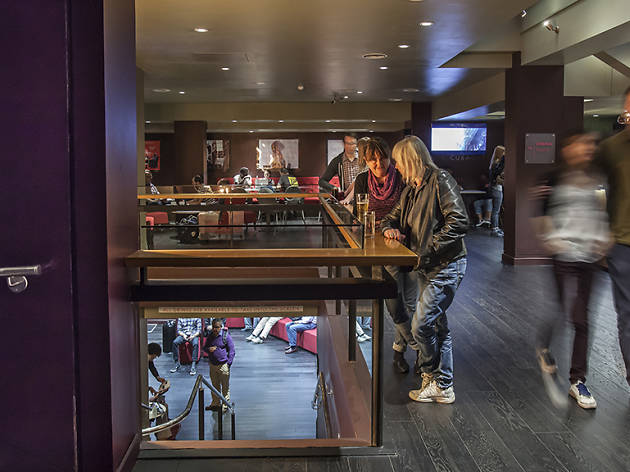 Arthouse film fans have been known to go weak at the knees at the mention of the Soho Curzon, which has some of the best programming in London – a mix of arty new releases and documentaries, often introduced by the filmmakers themselves. Watching a film at the Curzon always feels special, surrounded by film lovers without it being pretentious. The coffee is good, the bar relaxed, and if you're watching a British film, you'll likely be seeing the finished product a stone's throw from where it was edited in Soho. Perfect for whiling away a rainy afternoon.
Venue name:
Curzon Soho
Address:
93-107 Shaftesbury Ave
London
W1D 5DY

Opening hours:
Box office 0870 756 4620
Transport:
Tube: Leicester Sq
Do you own this business?
British filmmaker Andrew Haigh ('Weekend', '45 Years') hits the American highway for this touching, if slightly underwhelming, tale of a troubled boy who strikes up a rapport with an ailing racehorse called Lean on Pete. This good-nature four-legg...

Read more

Immaculately composed yet skittish, edgy and surprising, a chill emanates from this impressive Jersey-set debut by writer-director Michael Pearce that will have you hugging your sides. In the sense that there's a serial killer at large in it, it's...

Read more

Not every animation can tackle cruelty, injustice and institutionalised misogyny and still be a must-see for kids and parents alike, but the latest hand-drawn gem from Cartoon Saloon is no ordinary animation. In the spirit of Studio Ghibli, the Ir...

Read more

Argentina's Lucrecia Martel hasn't released a feature in 10 years: 2008's unnerving The Headless Woman, about a cell-phone user who hits something with her car—an animal?—and goes crazy thinking about it. But if Martel needs that kind of time to p...

Read more

If Wes Anderson's 'Fantastic Mr. Fox' was a joyful slice of whimsy, his latest foray into stop-motion creature features is a more complex beast. Set in a near-future Japan, it's a dystopian, fitfully funny tale in which crusading young people take...

Read more

A fey young woman drifts around Paris, fluffy white cat in tow, searching for love and purpose. French director Léonor Serraille's debut film could easily have been unbearably twee. The fact that it isn't, at all, is a tribute both to her unsentim...

Read more
You may be interested in:
Average User Rating
4.6 / 5
Rating Breakdown
5 star:

13

4 star:

9

3 star:

0

2 star:

0

1 star:

0
The thing I like the most about Curzon Soho is the great selection of films that they always have on show. The cinema also deserves a thumbs up for keeping its 'independence' in a part of London where gentrification demands more and more of businesses. Prices are high, which is expected given its location. The cinema has an ok bar and an overall artsy fartsy hipster crowd (the face of gentrification, ironically). The seats in the actual cinema screen were comfortable and the screen was designed in a way that the person sitting in front of me did not obscure the view. A good cinema.
There is always something to see here and the staff are wonderful
A good range of movies and THE BEST CAKES in London. A great bar too! This place must stay.
Anyone who works in film sees this place as their sprritual home. Anyone who is a real fan of cinema feels the same. I'd do anything to keep it open.
This venue is a huge part of my life. It makes cinema going an absolute pleasure. Currently I am making a documentary about fighting to save the Curzon Soho in it's current awful predicament. I love this place.
Curzon Soho Cinema has had a historic role in the development of arthouse cinema in the UK, and it's to me the flagship of art cinema in London. I value the significance of cinema culture and the role it plays in the identity, politics, society and economy of a country, especially in the UK where the creative and
cultural industries compete with the financial sector.
I can't believe it is under threat. London should learn to better protect historic and cultural spaces, especially from developers.
A brilliant and pioneering cinema with an excellent bar and coffee shop.
A great venue. Fantastic films and a great place to hang out too. Their programme of director and cast Q&As is especially strong.
I love every floor of the Curzon, from the cafe selling delicious red velvet to the bar and popcorn floor and, of course, the screens. You can tuck away in a corner and have a quick drink with your fancy man before hot footing it to watch the latest independent and international films. If you're into film then this is definitely the spot for you.
Probably my favourite cinema in central London. Film-going aside the bar is a good spot for a date!