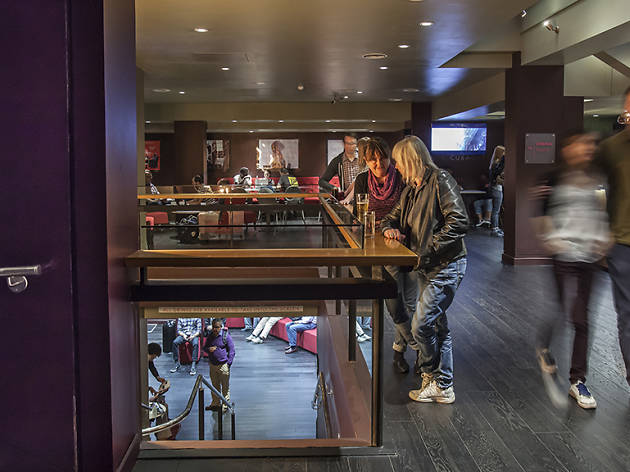 Arthouse film fans have been known to go weak at the knees at the mention of the Soho Curzon, which has some of the best programming in London – a mix of arty new releases and documentaries, often introduced by the filmmakers themselves. Watching a film at the Curzon always feels special, surrounded by film lovers without it being pretentious. The coffee is good, the bar relaxed, and if you're watching a British film, you'll likely be seeing the finished product a stone's throw from where it was edited in Soho. Perfect for whiling away a rainy afternoon.
Venue name:
Curzon Soho
Address:
93-107 Shaftesbury Ave
London
W1D 5DY

Opening hours:
Box office 0870 756 4620
Transport:
Tube: Leicester Sq
Do you own this business?
Decadence is both the subject and the style in 'Oldboy' director Park Chan-wook's elegant, intensely romantic adaptation of Sarah Waters's spicy bestseller 'Fingersmith'. Shifting the action from Victorian England to pre-war Korea under Japanese r...

Read more

Director Pablo Larraín is already having a stellar year with his psychologically adventurous drama 'Jackie'. So the fact that he has another movie for us is impressive in itself. An unconventional drama about the revolutionary and Nobel-prize winn...

Read more

At the start of 'Elle', the final credit to appear in the darkness (over the sounds of fucking) tells us that we're about to watch a Paul Verhoeven film. Really? Call it a delicious redundancy. 'Elle' might just be the most Verhoeveny film yet, du...

Read more

Tilda Swinton is the perfect choice to read the letters of force of nature Gertrude Bell – archeologist, explorer, mountaineer and spy. Bell became the first woman to get a first in history from Oxford, then taught herself Persian and rode off int...

Read more

Dissociation turns deadly in this sombre not-quite-vampire movie, as a disturbed boy's obsession with the undead drives him to murder. When we meet Bronx teenager Milo (Eric Ruffin) he's already a killer, sucking the blood from a businessman's nec...

Read more

This American horror film has more fun playing with racial tensions than with scaring us to death, which for some will be a bit of a letdown. The problem with 'Get Out' is that it is perhaps a touch too in love with its big idea: that for a young ...

Read more

Have you got what it takes to sit through 'Raw'? Last year, a festival screening of this French arthouse cannibal movie, directed by 33-year-old Julia Ducournau, turned into a bit of a medical emergency when audience members passed out. No ambulan...

Read more
Average User Rating
4.6 / 5
Rating Breakdown
5 star:

12

4 star:

8

3 star:

0

2 star:

0

1 star:

0
There is always something to see here and the staff are wonderful
A good range of movies and THE BEST CAKES in London. A great bar too! This place must stay.
Anyone who works in film sees this place as their sprritual home. Anyone who is a real fan of cinema feels the same. I'd do anything to keep it open.
This venue is a huge part of my life. It makes cinema going an absolute pleasure. Currently I am making a documentary about fighting to save the Curzon Soho in it's current awful predicament. I love this place.
Curzon Soho Cinema has had a historic role in the development of arthouse cinema in the UK, and it's to me the flagship of art cinema in London. I value the significance of cinema culture and the role it plays in the identity, politics, society and economy of a country, especially in the UK where the creative and
cultural industries compete with the financial sector.
I can't believe it is under threat. London should learn to better protect historic and cultural spaces, especially from developers.
A hive of quality cinema.
A brilliant and pioneering cinema with an excellent bar and coffee shop.
A great venue. Fantastic films and a great place to hang out too. Their programme of director and cast Q&As is especially strong.
I love every floor of the Curzon, from the cafe selling delicious red velvet to the bar and popcorn floor and, of course, the screens. You can tuck away in a corner and have a quick drink with your fancy man before hot footing it to watch the latest independent and international films. If you're into film then this is definitely the spot for you.
Probably my favourite cinema in central London. Film-going aside the bar is a good spot for a date!