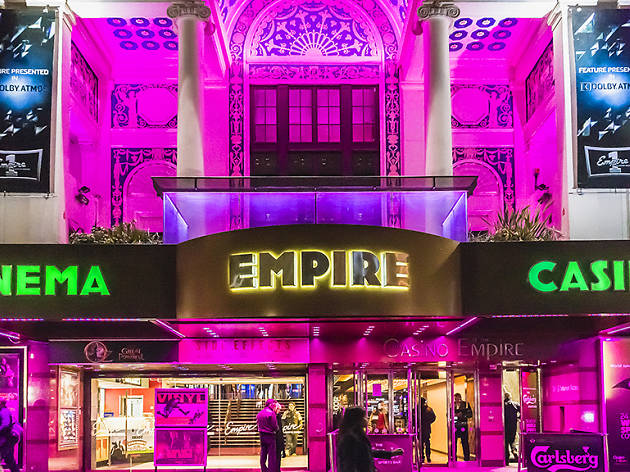 One of London's oldest cinemas (it opened as a theatre in 1884, and as a cinema following World War II) the Empire in Leicester Square was until recently home to London's biggest non-Imax cinema screen. It's now been refurbished, with its massive main auditorium separated into one full Imax screen and one smaller, 400-seat Impact (ie, big but not quite Imax) theatre. There are also a number of smaller screens tucked away throughout the building, making a total of nine. Don't come here to watch an award-winning three-hour Turkish drama. The programme is as mainstream as you'd expect from a central London multiplex, with all the big Hollywood hitters. The prices, too, reflect the cinema's tourist-friendly location. Snacks are the usual hot dogs, nachos and popcorn.
Venue name:
Empire Leicester Square
Contact:
Address:
Leicester Sq
London
WC2H 7NA

Do you own this business?
"It's morphin' time!" fans will yell, as waves of light explode, color-coded armor creeps onto bodies, and tears of recognition are wiped away. Rarely has a franchise dominated childhoods as thoroughly as the '90s-era live-action 'Mighty Morphin P...

Read more

'Humanity is our virtue,' says a character in 'Ghost in the Shell' — but you don't get that feeling from the film, which is a slick, overly-digitised piece of weightless future schlock. It's a remake of a 1995 Japanese anime, which itself was main...

Read more

Michael Caine, Morgan Freeman, Alan Arkin: the triple-whammy veteran cast that heads up this light-hearted Brooklyn-set heist caper (a remake of a largely forgotten 1979 movie starring George Burns) is just about distracting and charming enough to...

Read more

Jessica Chastain has long harboured an inner Meryl Streep: you can see that defiance, mixed in with a glossy, almost remote delicateness, in movies ranging from 'Take Shelter' and 'Zero Dark Thirty' to her coiled turn in 'A Most Violent Year' (a d...

Read more

In the wake of the huge commercial success of Alien, almost all attention has perversely focused on the provenance of the script (was it a rip-off of It, the Terror from Beyond Space? Of Van Vogt's fiction? Was former John Carpenter collaborator D...

Read more

Hollywood legend and legendary playboy Warren Beatty has used his fame to direct and produce a clutch of daring movies, all of which would have languished without him. The latest is this long-gestating passion project about the eccentric pioneer a...

Read more

America lies on the brink of ruin in this bleak and bruising comic-book road movie. It's 2029 and Logan aka James Howlett aka The Wolverine (Hugh Jackman) is working as a limo driver in El Paso, Texas, occasionally hopping over the Mexican border ...

Read more

This American horror film has more fun playing with racial tensions than with scaring us to death, which for some will be a bit of a letdown. The problem with 'Get Out' is that it is perhaps a touch too in love with its big idea: that for a young ...

Read more

Do you have a six-year-old? Are they conversant in office politics? Do they love intricate, mind-scrambling existentialist narratives that lead nowhere? Then hurry them along to this deeply strange but somehow also very dull family cartoon comedy....

Read more
Average User Rating
3.7 / 5
Rating Breakdown
5 star:

0

4 star:

2

3 star:

1

2 star:

0

1 star:

0
I went there just a couple of times but I think is one of the best cinemas in London. The rooms I saw are little and intimate, the seats incredibly comfortable. The staff was very friendly, they helped us to find our seats and also the food is amazing, you can find everything in the shops inside.
I loved the fact that you can book online and then collect your tickets at the machine. After the film, a little walk in the centre of London is simply necessary! :D