Heads up! We're working hard to be accurate – but these are unusual times, so please always check before heading out.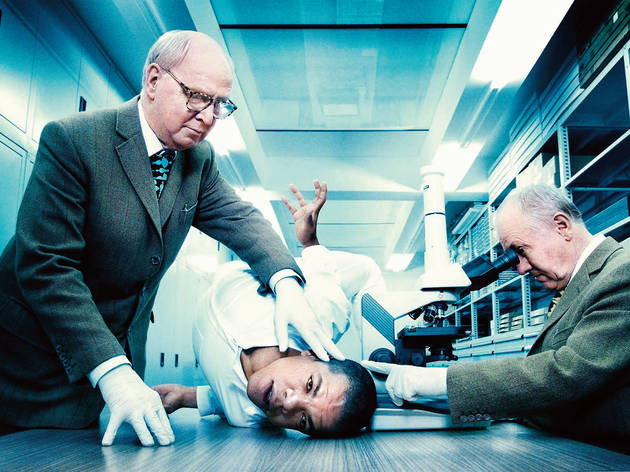 Gilbert & George and Jean Abreu get 'Blood' on the dancefloor
Gilbert & George's bodily-fluid-focused artwork is about to be used on stage for the first time. We meet the instigator, Jean Abreu
Abreu's solo, '
Blood
', uses works from 'The Fundamental Pictures', 'Rudimentary Pictures' and 'New Testamental Pictures' series – images depicting bodily fluids in microscopic detail. For someone who works so closely with the body, the subject matter really resonated. 'The images immediately send me back to my own body,' says Abreu. 'Like I'm entering my own cellular universe.' It's the first time Gilbert & George have allowed anyone to use their work on stage. 'I must have said something right,' says Abreu. 'They must have thought; "Okay, he's not going to mess this whole thing up."' Except that Abreu is purposefully messing up their work, because he will be digitally manipulating the projections, using infrared sensors and motion-capture technology to control and interact with them as he moves.
Abreu is a captivating dancer, whose work takes influences from capoeira and Latin dance, and his powerful body moves in fluid, organic phrases. For 'Blood', he tried to choreograph from the inside out. 'The starting point was looking at the body and how I would imagine my veins or my breathing,' he says. 'Trying to visualise my body internally. It sends you almost into a trance state.' Abreu is also experimenting with text and his voice for the first time in this piece, on top of all the complicated technology. Although as a solo it's small-scale, it's also hugely ambitious.
Throughout the whole process, Gilbert & George have been completely hands-off. 'They said, "We don't want to know what you're doing. The work is yours. Do what you have to do,"' says Abreu. The pair are, observes the choreographer, two totally lovely and ordinary men. 'They are the most normal people you could imagine,' he says. Two normal guys who like a bit of spunk mooning, that's all.