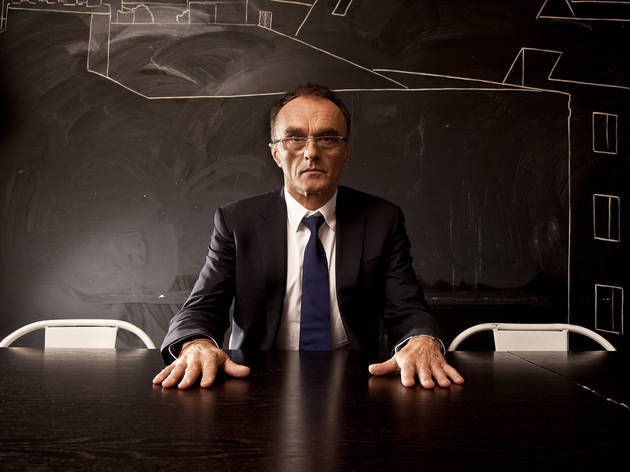 Danny Boyle goes back to the day job
The director with the Olympic spirit talks about his new film, 'Trance'
Last year, it took a smiley bloke from Lancashire to wipe the grimace clean off London's face. Danny Boyle was in charge of the national anti-depressant that was the Olympics Opening Ceremony. He's the film and theatre director best known for movies including '
Trainspotting
' and '
28 Days Later...
', and for winning an Oscar in 2009 for '
Slumdog Millionaire
'. But for one night only, this 56-year-old was the nation's entertainer-in-chief. We feared watching through our fingers at 'X Factor'-style theatrics and a guest appearance from Status Quo. Instead, Boyle gave the world dancing nurses, flaming rings and an enormous clip of the lesbian snog from 'Brookside'. He became a national hero overnight.
Did Boyle feel the love on London's streets afterwards? 'Yes, it was lovely to be honest,' he says, beaming at the memory as we sit in a members' club in the West End. 'People would look you in the eye and say thank you. They didn't want an autograph. It was genuine. It wasn't because you're famous, but because of what you've done.'
Seven months after the ceremony, Boyle is still hard at work: he has a new film, '
Trance
', in cinemas this month, which he's promoting. When we meet he's wearing a black suit with a smart shirt and tie. 'I'm dressed for a shoot with the Daily Mail, of all papers,' he laughs. He's hardly Middle England. Boyle is outspoken on the coalition government's arts cuts and he has an unfancy background. His parents were Irish immigrants: his dad a labourer, his mum a dinner lady. But he scrubs up well.
He had to be just as dapper when he turned up at Buckingham Palace last summer to film the Queen and Daniel Craig. 'You couldn't wear jeans,' he remembers, 'and it was shirt and jacket.' Was Her Maj a pro under his direction? 'She was great. She deals with cameras all the time, it's part of her life. She's sharp. She astutely judged that the Jubilee would be very formal and this could be less so. But it was insane trying to get them in the same room. There was a feeling that we should shoot them separately, but I was like, "No, we've got to do them together!" She also wanted some of her people to be in it – like this guy Paul, who's a footman and has been with her for donkey's years. I thought: That's cool.'
So, was he offered a gong in the New Year's Honours List? 'It really isn't my cup of tea,' he says. 'It's a personal thing. It's no reflection on anybody else. What we did wasn't meant to promote anybody's career. I'm privileged enough as it is. I didn't think it was right.' If he's a little uncomfortable, you can see why: declare that you've turned down a gong and you're sanctimonious; say nothing, and you leave everyone else to chatter about you. 'I didn't want any publicity. But I also don't want to be distortingly coy. I'm proud of what we did and it belonged to all those people. That's enough for me. The other thing is, I'm not a man of the people. People say: "Oh, he wants to stay a man of the people." Ridiculous!'
Now that Boyle has marshalled such a huge project as the Olympics Opening Ceremony and had 007 perform for him, can he see himself directing something on the scale of a Bond movie? 'I love people like Christopher Nolan and Ridley Scott, and I love watching their films. But I like a smaller crew. And it might sound a bit naff, but I like it being a little more guerrilla, which you can only get with a small team.' His movie debut, '
Shallow Grave
', made in 1994 after more than a decade working as a director and producer in TV, and as a director for the Royal Court and RSC in theatre, was just such a guerrilla film. 'Trainspotting' followed in 1996, and since then he's applied his zesty, loud and frenetic style to the zombie movie '28 Days Later...', sci-fi '
Sunshine
' and souped-up fantasy-realist film 'Slumdog Millionaire'.
The new film, 'Trance', is a London-set psychological mind game of a movie that sees James McAvoy as a slick employee at a high-class auction house who's dragged into a fast-moving conspiracy when he's hit over the head during a robbery at work and loses his memory. The thieves – including a vicious Vincent Cassel – need him to remember where a painting is hidden – which in turn leads to hypnotherapy sessions with Rosario Dawson and plunges the film into a tricksy storytelling vortex.
For Boyle, 'Trance' has had the happy effect of leading to a romantic relationship with female lead Dawson, but it's not easy to write about a film that hinges on some key twists (Boyle sent me a letter before a screening, asking me to help him 'protect the film's most intimate secret'). When he talks about it, he mentions films like '
Memento
' and '
Eternal Sunshine of the Spotless Mind
'– films unafraid to take a story somewhere a bit head-scratchy. It's very much a Boyle film: choppy, fast, inventive, with pumping music and colourful performances. It's also violent: there's a scene where we see a bullet blowing apart someone's head in slow motion and in close-up.
Boyle says 'Trance' emerged from the dark side of the Olympic dream. 'It's what happens to your brain when you're trying to do the Olympics,' he laughs, 'the savagery you're not allowed to depict when you've got the job of being family-orientated and celebratory!' He shot it right in the middle of planning the Opening Ceremony. 'On paper, the Olympics was two years' work, and if you want to sit around a table for two years, you can. But it will drive you insane.
'So we negotiated two sabbaticals, one for "Frankenstein" at the National Theatre, and the other to shoot "Trance". They were the antithesis to the celebratory nature of the Olympics. You look at them and think: There you go. That's what you really want to do.' On some days he'd pop into the office after filming. 'We'd have bizarre days where you're blowing someone's head off on set, and then you'd go into a meeting about the Queen.'
Somehow Boyle pulled it off, and along with '
Skyfall
' director Sam Mendes, he made 2012 the year when British film directors became household names. 'There's a wider issue here,' he insists, as we prepare to leave. 'Mendes, Stephen Daldry [the '
Billy Elliot
' director who oversaw all the Olympic ceremonies] and me: we all came out of the theatre. So when politicians suggest that culture shouldn't be core to the new baccalaureate exams [planned to replace GCSEs, but recently abandoned], it's insane.
'The other danger at the moment is to regional theatres and their funding. All three of us came from them. You risk something very valuable by letting them decay. One of the things people think we're good at – and fucking cool at – in this country is culture.' And no one is more responsible for that at the moment than Danny Boyle.

'Trance' opens in the UK on Wed Mar 27.
A guide to Danny Boyle's London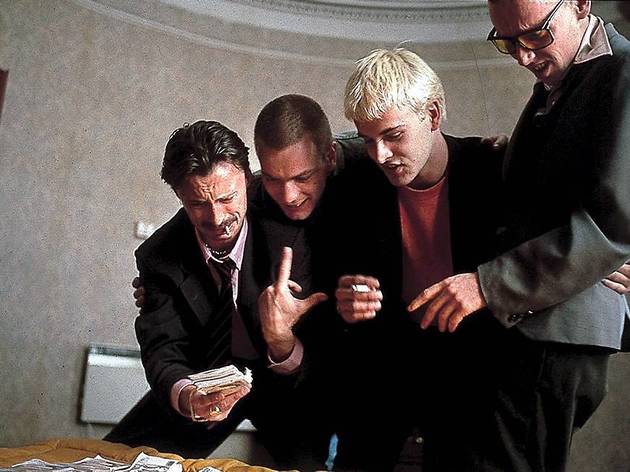 It's a Scottish tale through and through, but Boyle's big-screen adaptation of Irvine Welsh's skagtastic era-defining novel winds up in the capital. Ewan McGregor moves to London and his ne'erdowell junkie pals join him to pull off one last big heroin deal.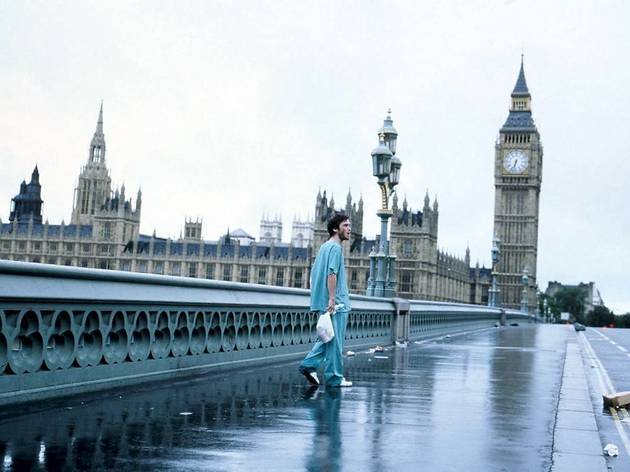 It's become one of the iconic images of modern British film. Cillian Murphy, in hospital garb and holding a plastic carrier bag, wanders across a litter-strewn but otherwise deserted Westminster Bridge in the aftermath of a viral apocalypse in Boyle's contemporary zombie movie.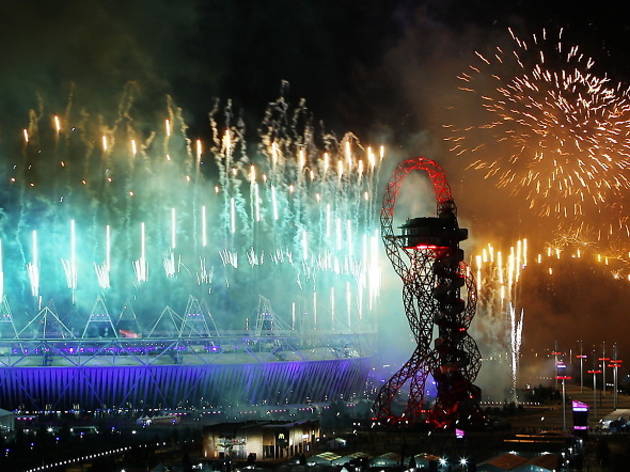 London 2012 Opening Ceremony
The Olympics was Boyle's biggest gig yet: telling the rest of the world what's so great about our city, our country and our history. He had the nation eating out of his hand as the National Health Service danced and the Industrial Revolution was reborn as musical theatre.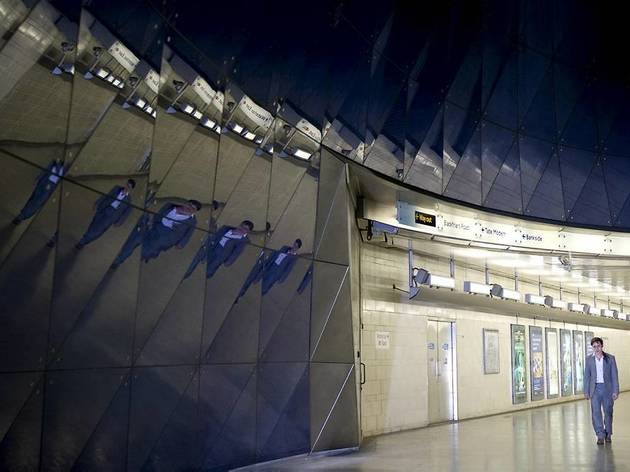 Boyle's new psychological thriller is set entirely in London and mostly shot around east London and the Docklands. The locations make for an evocative capital backdrop, and were handy for the director's evening job: he juggled the film's shoot with his work on the Olympics.
More Time Out film features