The 50 best romcoms of all time
Love – it's a funny old game. Or at least it is in these films. Here's Time Out's definitive list of the 50 best romcoms.
Like cargo pants and saying 'as if!' to people, romcoms were huge in the '90s, but fell sadly out of fashion in the 2010s. Now, though, that drought looks to be over. Thanks in part to Netflix, we're in the middle of a romcom revival, with films like 'Always Be My Maybe' and 'Set It Up' inspiring mainstream Hollywood to start making romantic comedies again.
From Nora Ephron classics to Richard Curtis movies that are so-very-British (and so-very-funny), we've put together 50 of the most hilarious romantic comedies and bittersweet romances that'll leave a lump in your throat and tears rolling down your cheeks.
RECOMMENDED: The 100 best romantic movies
'Bridget Jones, wanton sex goddess, with a very bad man between her thighs…'
Double-Oscar-winner Renée Zellweger did her very best British accent for this adaptation of Helen Fielding's newspaper-column-turned-bestselling-book about a loveable but perpetually single thirty-something living in London. It features Hugh Grant as a slimy love rat and Colin Firth as an uptight lawyer, and the script was co-written by Richard Curtis, so it obviously checks all the oh-so-English romantic comedy tropes, from incongruous shots of London to an outlandish garden party (tarts and vicars, fyi). But it's Zellweger who drives this vehicle, bringing more charm and verve to the film than both those Brit romcom royalties. Long may she reign (although not for the sequels…).
'I will swear by it that you love me, and I will make him eat it that says I love not you.'
It was 'all back to Whedon's' for an artful and romantic black-and-white Shakespeare adaptation that was filmed entirely at the director's house. It's the kind of thing you can only pull off if you're a Hollywood big-shot with a massive pad. If the rest of us tried it, the neighbours would shut us down before the first 'quoth'.
'It's amazing the clarity that comes with psychotic jealousy.'
Julia Roberts' career-focused food critic is the perfect foil for bubbly law student Cameron Diaz in this love triangle romance. The real highlight is Rupert Everett, though, who plays Julia's trouble-making gay best friend with devilish flair.
'Here comes your ex-husband. Uh-oh, not the best time to be feeling groovy!'
It was refreshing to see three older actors – Meryl Streep, Alec Baldwin, Steve Martin – dominating this story of a well-heeled suburban woman and matriarch caught between her charming but hard-to-trust ex (Baldwin) and a potential sweet new love (Martin).
'You're terrible, Muriel.'
This Australian movie seems frothy on the surface, but its story about an ugly duckling who's obsessed with Abba also deals with darker issues like psychological abuse and low self-esteem.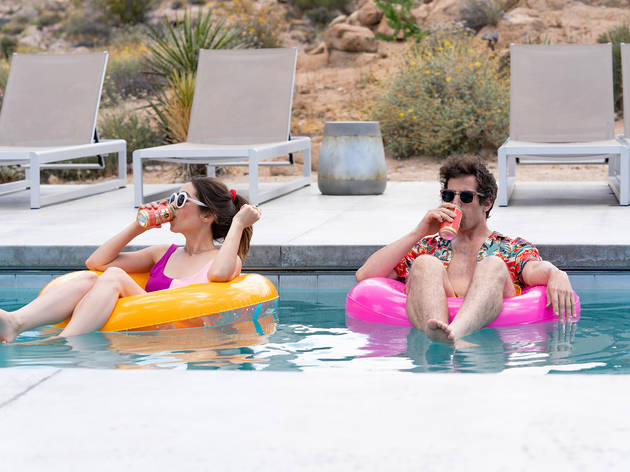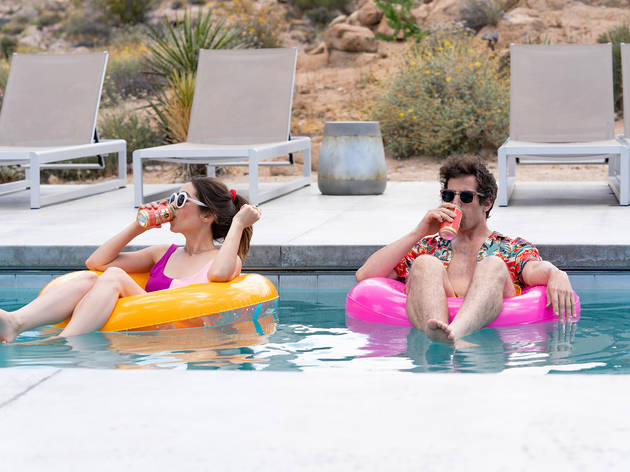 Photograph: Jessica Perez, Hulu
'One time, I smoked a bunch of crystal, and made it all the way to Equatorial Guinea. It was a huge waste of time.'

A new addition to the romcom canon but a worthy one, this Groundhog Day-ish comedy ticks all the boxes. It's funny, sharply written, and, by the end, offers a genuinely soulful examination of the mysteries of human connection. Andy Samberg is a wedding guest permanently stuck in a one-day time loop and Cristin Milioti is the fellow he accidentally lures into his own personal Palm Springs purgatory. They hate each other, then they don't, then they do again, then JK Simmons's coked-up lunatic turns up with a bow and arrow.
'You don't have to walk me home.' 'You block the wind.'
There's something comforting about basking in the comfort of clichés, and this sugary sweet movie is full of them. Sandra Bullock plays a commuter who saves a guy from falling in front of a subway train then falls for his brother. It's very sentimental, but in a good way.
'You don't want to be in love. You want to be in love in a movie.'
Written by Nora Ephron, the brains behind 'When Harry Met Sally...', this weepy comedy was a massive box office hit in the early '90s. It stars Tom Hanks as a heartbroken widower who falls in love with a girl (Meg Ryan) on the other side of America.
'I'm a virgin. I always have been.'
'Lonely middle-aged guy meets single mum' is well-trodden ground in the romcom kingdom, but this Judd Apatow take on the narrative is anything but predictable. Steve Carrell plays the titular loser and Paul Rudd and Seth Rogen star as the mates helping him get laid.
'Finally, a man who can satisfy two women at the same time!'
Steve Martin's finest hour as a romantic lead – which is impressive, considering he's saddled with a four-inch prosthetic conk. Wittily reinventing 'Cyrano De Bergerac', this graceful comedy has all kinds of fun exploring the complex nature of desire, and comes out firmly on the side of the unconventionally attractive.
Support Time Out
We see you're using an ad-blocker. Ad revenue is Time Out's main source of income. The content you're reading is made by independent, expert local journalists.
Support Time Out directly today and help us champion the people and places which make the city tick. Cheers!
Donate now