The best horror movies on Netflix UK
From cult classics to scary slashers, these are the best horror movies streaming on Netflix UK now
Horror movies aren't just for Halloween. In fact, as Ari Aster's 'Midsommar' proved, the summer can be just as scary as the rest of the year. There really is no bad time to settle down on the sofa and scare the bejesus out of yourself by watching something frightening. Thankfully, Netflix has loads of brilliant and bonkers horror movies available to stream, no matter whether you're into gorefests, the paranormal or heart pounding psychological scares. From genre classics like 'The Blair Witch Project', to modern favourites like 'The Conjuring' and 'Hereditary', there's bound to be something for you on our list of the best horror movies streaming on Netflix UK right now.
Recommended: The best horror films of all time.
Ethan Hawke stars in this chilling horror about a true crime writer who moves to a new home with his family only to discover a box of Super 8 home movies in the attic that depict the grisly murders of the family who lived there previously. Deciding that these murders should be the topic of his next book, Hawke's character, Ellison Oswalt, soon begins to realise that there's something far more sinister and possibly supernatural at play, something that ultimately threatens the lives of his own family.
Given this was his debut feature film, writer and director Ari Aster really knocked people's heads off with this horror-cum-tragedy about a grief-stricken family haunted by a mysterious presence. Toni Collette gives a career-best performance as matriarch Annie Graham, dragging audiences with her as her character spirals into madness, while the world Aster weaves around his cast is so fully realised that you'll be left gasping by the film's hair-raising final act.
It might not have the bite of 'Get Out', but Jordan Peele's follow up film, a barbed critique of the American Dream, is still a totally terrifying ride. Starring Lupita Nyong'o, it's part body double horror part home invasion thriller, one that questions America's class system and the ramifications of social and economic privilege. It's also brilliantly made, Peele combining comedy, horror and social commentary into something that's genuinely fun and entertaining.
You'll think twice about booking a holiday in the middle of nowhere after watching Bryan Bertino's home invasion horror. Now something of a cult classic, 'The Strangers' is tense and nerve-shredding, its grim realism subverting any usual slasher tropes to suggest that there's not always a reason why human beings commit acts of senseless violence on each other.
Based on the novel by Susan Hill and starring a post-Harry Potter Daniel Radcliffe, this traditional but chilling ghost story might not have all the jump scares and gore that modern horror fans have come to expect. But the film is soaked in an eerie, clammy dread, aided by a murky visual palette, and provides enough creaky, old-fashioned scares that it's still likely to keep you up at night.
This lithe but tight horror about a group of film students who venture into some haunted woods in order to make a documentary about a local legend known as the Blair Witch is essentially responsible for the proliferation of the found-footage genre. While that technique might be played out now, the scares it produces in this low budget effort are still extremely effective. It's a reminder that sometimes the most terrifying things are the ones you don't see on screen.
A key film in the new wave of smash-hit mainstream horror (see also 'Sinister', 'The Conjuring'), 'Insidious' is the one with the creepy kid, the astral plane and the demon hiding behind the Big Red Door. Watch it alone, and completely scare your own pants off.
Forget 'Annabelle', this is the ultimate psycho doll movie. Chucky may have suffered through almost three decades of inferior sequels, but this energetic, darkly clever original offers shocks and chuckles in roughly equal measure.
Creepy kids really are horror movie gold dust, although this absolutely wild entry into the canon takes that trope and dials it up to 1000. Centered around a grieving couple who decide to adopt a nine-year-old Russian girl into their family unit, the plot really doesn't go where you would expect. There's no demonic possession to be found here; instead, Esther, the adopted child, is actually something far more ridiculous. Of course, there are frights to be enjoyed, but you may also find yourself giggling at the sheer absurdity of the film's rollercoaster second act.
If you ever hung around outside the local office license as a teenager hoping that a benevolent adult might pop in and buy you some beers for the night then you'll relate to the plight of the youngsters in this ridiculously fun psychological thriller. In this film, Octavia Spencer plays the aforementioned benevolent adult, although any kindness is a mask for her true temperament, which is far more murderous.
Photograph: Saeed Adyani/Netflix
A hyper-effective piece of genre fun or a social-media-fuelled slice of sub-'A Quiet Place' hokum? Either way, when this Sandra Bullock post-apocalypse thriller premiered, it divided Netflixers in two. Whatever your views, it's hard to find any fault in Bullock's performance as a blindfolded-but--badass hero, leading two wee'uns through a world of pain.
In a rare example of Hollywood sci-fi-horror thoughtfulness, 'Annihilation' has grand concepts in mind, ideas about self-destruction and rebirth. The film follows cellular biologist Lena (Portman) as she ventures to The Shimmer, an anomalous electromagnetic field, to discover the truth about what happened to her husband Kane (Isaac), who visited The Shimmer and returned in poor health and his memory missing. Spooky stuff.
After ambitious loan officer Christine Brown (Alison Lohman) chooses to refuse an extension on an elderly woman's mortgage in order to prove that she can make tough decisions to her boss, she begins to be attacked by a supernatural entity. As it turns out, the elderly woman, Ganush, has placed a curse on Christine, who is now at risk of being dragged to the depths of hell by a demon. This is pure, campy fun from 'Evil Dead' creator Sam Raimi.
Patrick Wilson and Vera Farmiga star as real-life paranormal investigators Ed and Lorraine Warren, who are brought in by the Perron family in 1971 to help them investigate malignant supernatural activity at their Rhode Island farmhouse. As the investigation ensues, events become more disturbing until the Warrens are forced to confront the spirits before they tear the Perron family apart for ever.
Iran's answer to 'The Babadook', this chilling, provocative horror film brings the terrors of war home – quite literally. A Tehran woman and her daughter find themselves trapped inside with something malevolent during the height of the Iran-Iraq war in the 1980s. As the missiles rain down, it's hard to know if it's more dangerous to be inside or out. It's directed by Iranian-born, British-based writer-director Babak Anvari, who has a canny knack both for social commentary (Iran's repressive, sexist regime is a second villain here) and scaring you shitless.

Show more
From Oscar winners to cult classics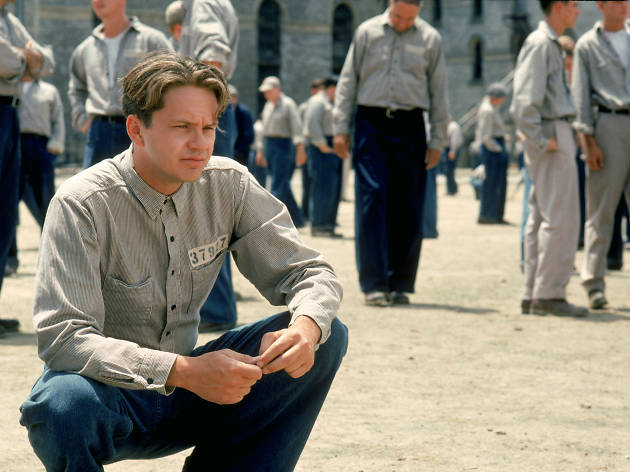 From 'Frozen' to 'The French Connection', 'Clueless' to 'The Shawshank Redemption', these are the very best movies on UK Netflix
Support Time Out
We see you're using an ad-blocker. Ad revenue is Time Out's main source of income. The content you're reading is made by independent, expert local journalists.
Support Time Out directly today and help us champion the people and places which make the city tick. Cheers!
Donate now