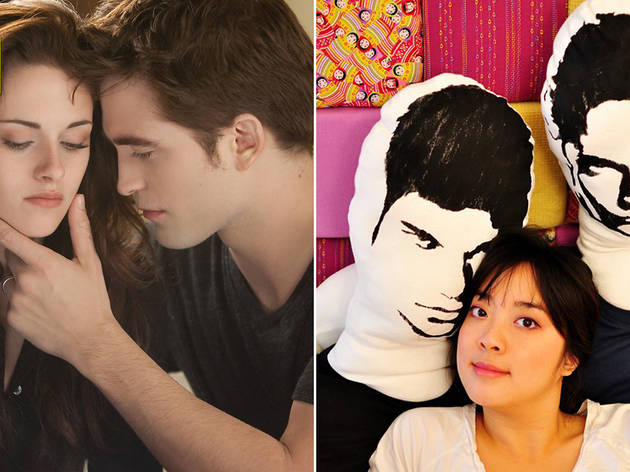 1/10
Film'Twilight' (2008) Why on earth?Because if you can't snuggle up to the real Robert Pattinson, a weird floppy pillow with his face photocopied on to it is surely the next best thing. Who's it for?The Manllow website pushes its product to 'all the "Twilight"-crazed, lonely women in the world'. We have to wonder if ownership of a Manllow may in fact be contributing to said loneliness, and not the other way around… How much is it?The 'Manllow' company appears to be on indefinite hiatus. Perhaps the real R-Patz took umbrage at the thought of being used as an (ahem) nocturnal companion?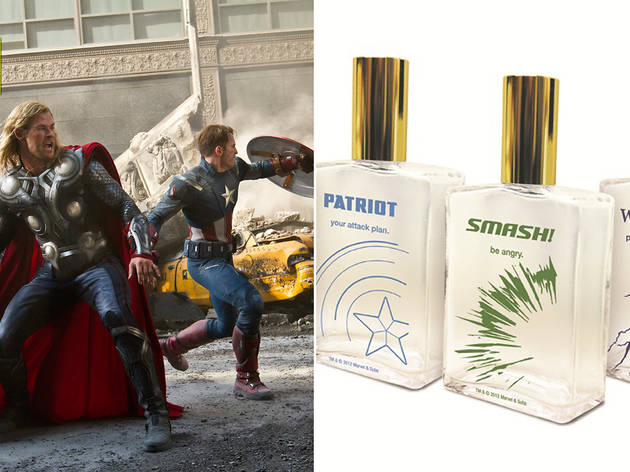 2/10
Film'Avengers Assemble' (2012) Why on earth?We definitely see the logic here: superhero movies like 'The Avengers' may have broad appeal, but their core audience is slightly smelly 12 to 19-year-old boys. And, as advertising has repeatedly taught us, the most effective way to transform a nerdy teen into a cool dude overnight is through the judicious application of personal grooming products. If said products have Hulk on the bottle, all the better. Who's it for?This is pitched squarely at the Kevin and Perry crowd – or perhaps their long suffering Mums. How much is it?Tragically, this set of four heroic scents is no longer available. But we reckon you can probably recreate the experience with a can of Lynx and a pair of used sports socks.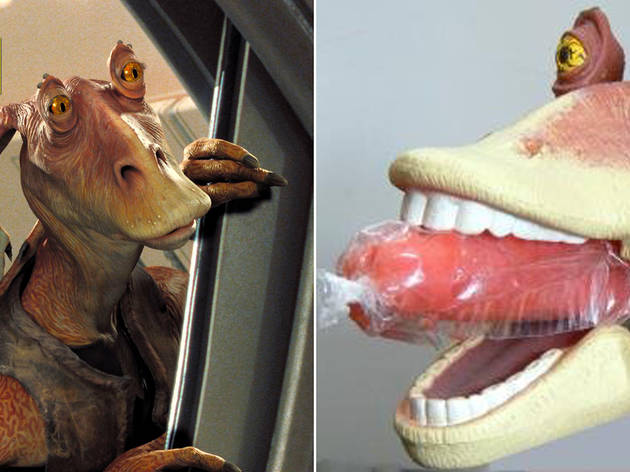 3/10
Film'Star Wars Episode 1: The Phantom Menace' (1999) Why on earth?This is probably the most troubling item on this list. Who would let a kid wrap their tongue around a gangly, racially dubious intergalactic amphibian? That vivid shade of inflamed, fleshy red really isn't helping matters. Who's it for?Don't even go there. How much is it?£8.50. Frankly, we'd pay twice that to erase any memory of ever seeing the bloody thing.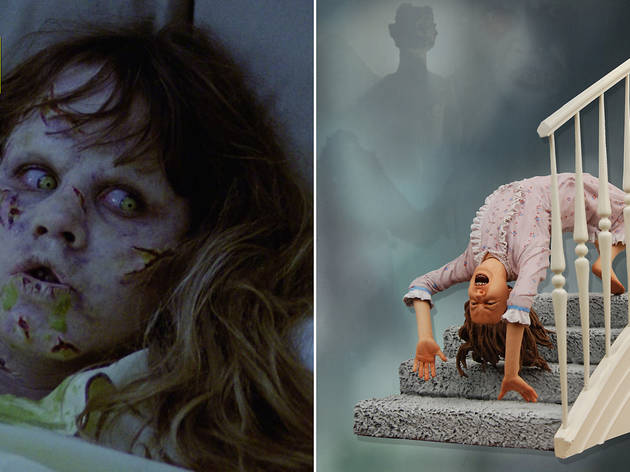 4/10
Film'The Exorcist' (1973) Why on earth?The horror merchandise business is a ruthless beast (remember all those 'Alien' and Freddy toys pitched to kids in the '80s?). If it goes on like this, there'll soon be models of every scary set-piece to cash in on. Who's it for?This juddering contraption would surely find a loving home at the house of evil Sid from 'Toy Story', and with fully poseable joints, it'll make a great alternative to a Slinky. How much is it?£10.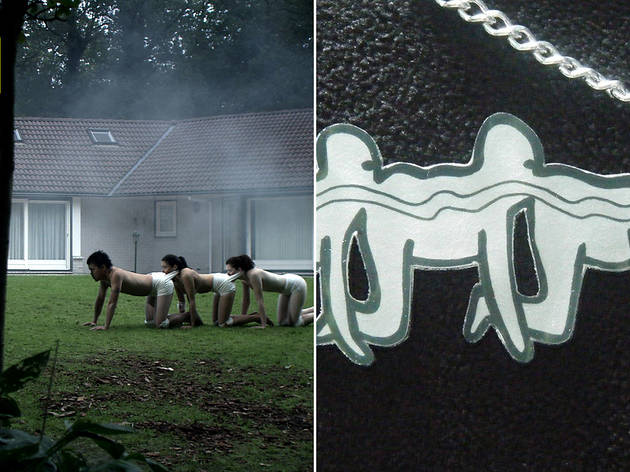 5/10
Film'The Human Centipede (First Sequence)' (2010) Why on earth?The wait is finally over – you can now wear Tom Six's vile creation around your neck. Who's it for?A sick fashion statement from an alt medical student? Despite looking like the kind of throwaway goth fodder you can get at Camden Market, the advertising trumpets its '100 percent medically accurate' anatomy. How much is it?£2 – cheaper than seeing the film, and it even tells you all the important plot points.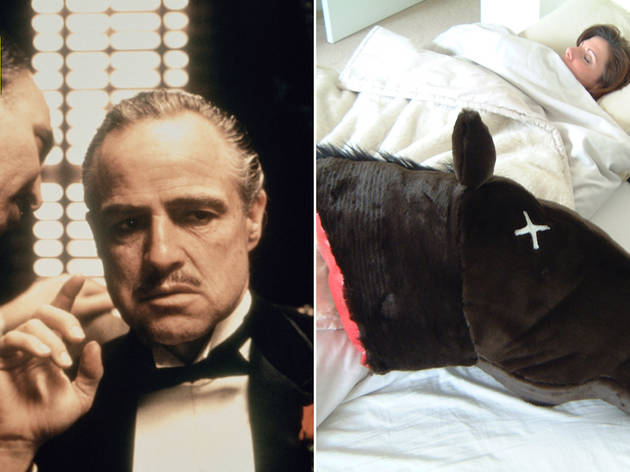 6/10
Film'The Godfather' (1972) Why on earth?Unsurprisingly, this isn't a piece of original movie merchandise, but an unofficial accessory for the wannabe gangster. It may be hideous, but it's lined with super-plush material, so we reckon it'll be pretty comfy. Who's it for?Like tough-guy classics 'Scarface' and 'Goodfellas', 'The Godfather' tends to appeal to those of the testosterone-fuelled persuasion. We reckon these babies probably adorn the after-shave-scented bedsheets of more than a few city-boy bachelor pads. How much is it?£30 – cheaper than the real thing, anyway.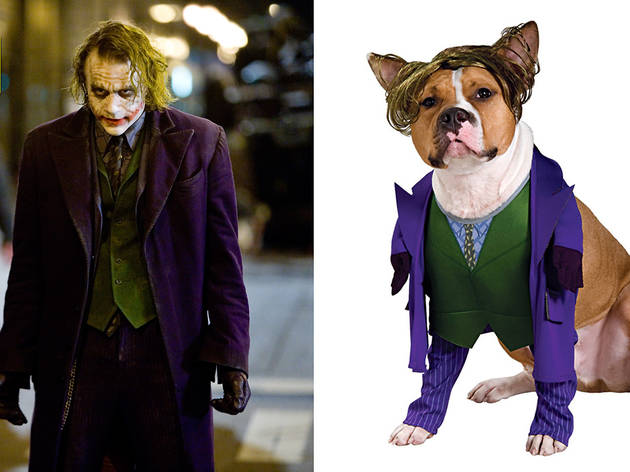 7/10
Film'The Dark Knight' (2008) Why on earth?Is your pooch the ultimate manifestation of chaos and anarchy? Maybe you're just looking for a swell doggy Halloween costume? The possibilities are endless and adorable. Who's it for?Batman fans are some of the most obsessive in the geek set. Surely there's someone, somewhere plotting to remake the 'Dark Knight' trilogy with his pets? How much is it?A certified bargain at only £8. Dressing dogs up in human clothes has never been more affordable. We're sure that the Joker himself would approve.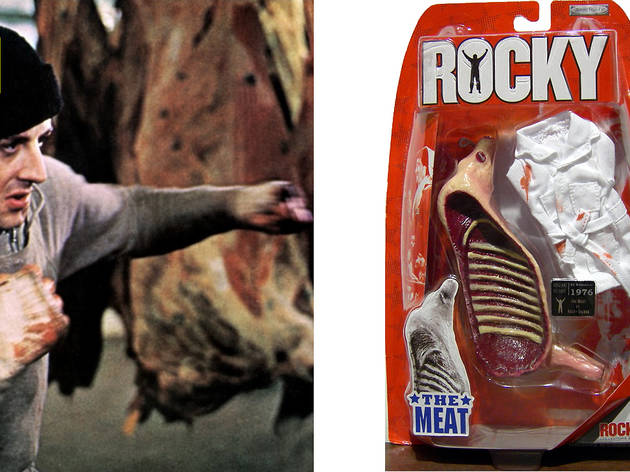 8/10
Film'Rocky' (1976) Why on earth?We'll admit, this is a hard one to process. We kind of understand why hardcore Sly geeks might want to get their hands on a Rocky action figure (and there are plenty to choose from). But what's the appeal of a piece of plastic meat? Who's it for?This one seems tailor-made for the collectibles crowd. Also, anyone looking to build a miniature abattoir as part of some sort of twisted lab-rat science experiment. How much is it?Well, the original RRP was £26, but they're currently going for half price online. Phew, for a moment there we thought we might get ripped off…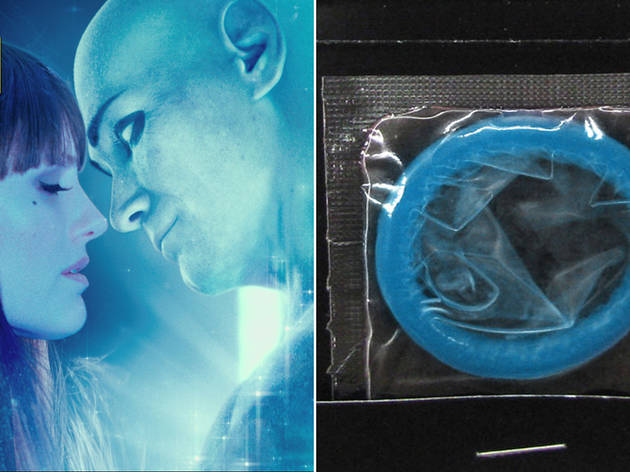 9/10
Film'Watchmen' (2009) Why on earth?If you fancy some slo-mo, Lycra-clad, mile-high nookie to the strains of Leonard Cohen (and who doesn't?), there's really only one way to assure you won't accidentally spawn the next generation of masked avengers… Who's it for?The condom was never on sale, it was just a promotional tool (sorry) for the good folks at Warner Brothers. Nonetheless, the film flopped. Yes, we went there. How much is it?This freebie is now on eBay for £10. A snip!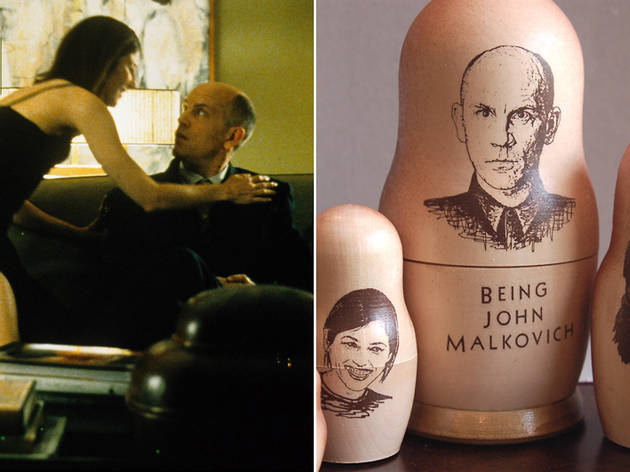 10/10
Film'Being John Malkovich' (1999) Why on earth?This originally came with the special edition VHS of the film, a monument to an unnecessary age of studio packaging excess. But we like how the choice of product harks back to the film's reality-level pile up. Who's it for?Consciousness-jumping danger seekers? Or aspiring screenwriters seeking inspiration? There's every likelihood this weird curio could be a portal into Charlie Kaufman's mind. Maybe they could puppet him, like Cusack in the story, to write a sequel. How much is it?The obsolescence of VHS hasn't stopped this collector's item remaining on Amazon for £17.
The ten weirdest pieces of movie merchandise
Fancy playing safe with a 'Watchmen' condom? Or sucking on a Jar Jar Binks lolly? We track down cinema's most out-there commercial tie-ins
The blockbuster season is upon us, and the shops are stuffed with merchandise for all the big summer movies: '
Lone Ranger
' Lego, '
Iron Man
' masks, '
Monsters University
' onesies... But not all movie merch makes sense. We dug deep and turned up ten of the most peculiar movie tie-in products, from official toys to weird fan memorabilia.