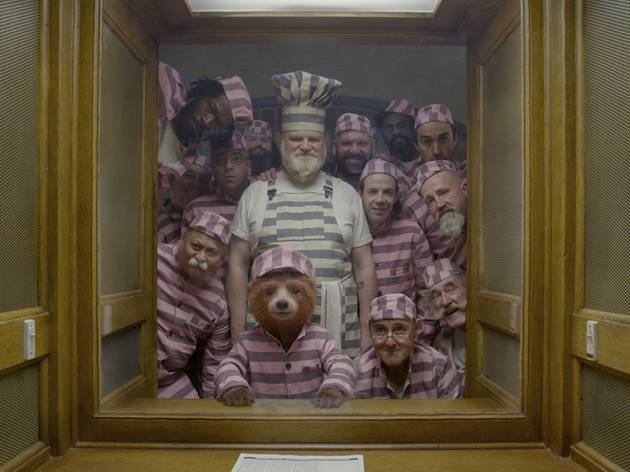 What to stream if you're in lockdown with kids
Looking for a movie that will entertain kids of all ages – and you as well? From toddlers to teens, here are some guaranteed winners
If you're stuck indoors with your kids, streaming movies can be a delicate business. Skew too young and you risk boredom or, worse, replacing critical information in your brain with all the names of 'Paw Patrol'. Skew too old and you traumatise your children. From Netflix to Disney+ to Amazon Prime and beyond, the sheer volume of possibilities can feel overwhelming, so we've curated a selection of movies that hit that rare sweet spot of entertaining little 'uns and parents alike.
Age group: Under fives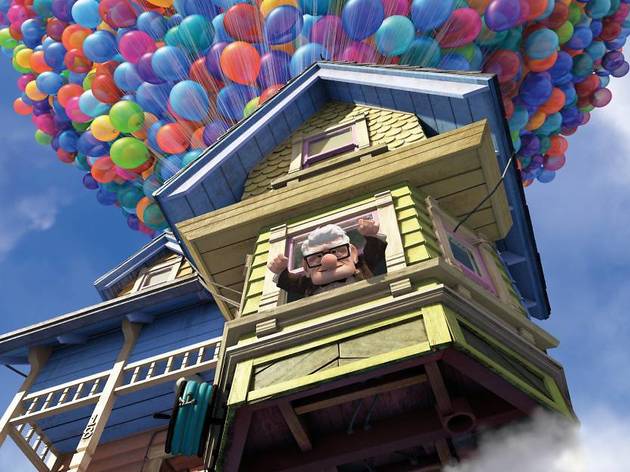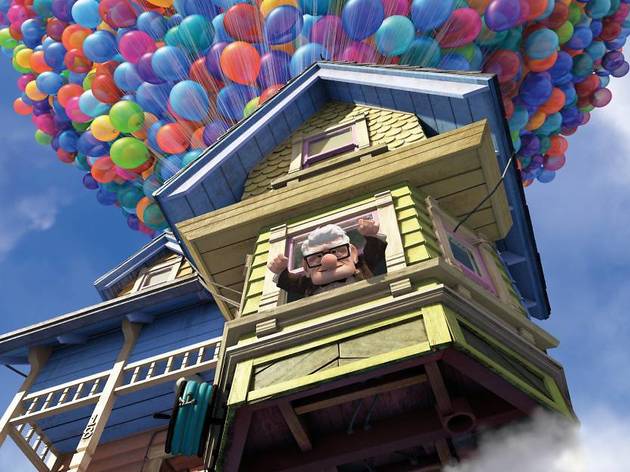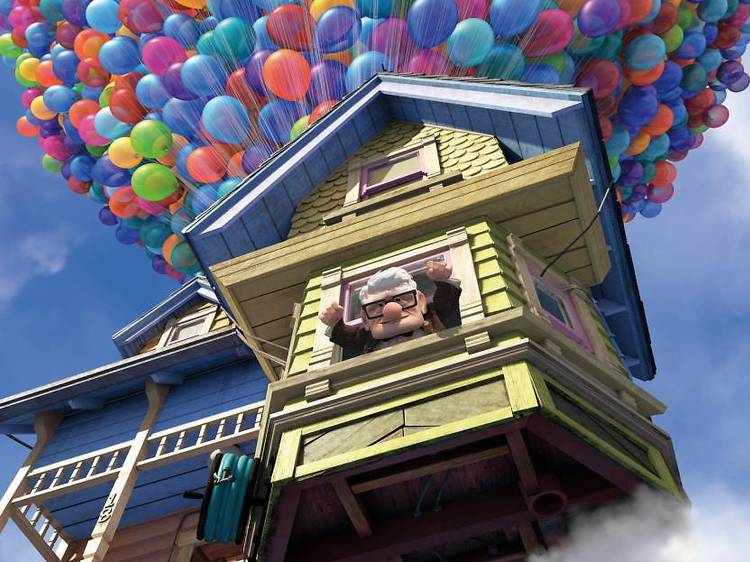 Photograph: Pixar Animation Studios
Housebound toddlers can be a tough crowd. Give them what they want in a movie – usually songs, bright colours, some light action (ie nothing with guns or crossbows) and at least one cute animal – and they'll sit rapt for hours. Get it wrong and they'll be ransacking your knife drawer before the opening credits are over. Unsurprisingly Disney – and the newly launched Disney+ – is your friend here. Pixar, in particular, is king when it comes to all-ages entertainment. Look out for the four 'Toy Story' films (toys!), 'Up' (balloons!), 'Finding Nemo' (clown fish!) and 'Monsters, Inc.' (monsters!) for the youngest viewers. A few Disney princess movies hit this adult/toddler sweet spot, too. Our tips? 'Moana', 'The Little Mermaid' (obvs) and 'Tangled'. 'Pinocchio' is a masterpiece for all ages too, though, no, the toddler probably isn't interested in how the story helped inspire Kubrick's idea for 'AI Artificial Intelligence'. Dad.
If you're trying to free yourself from Disney's hooks, the 'How to Train Your Dragon' movies have your back. The story of a young Viking and his dragon pal, they're full of colour and spectacle and are zippy fun for grown-ups too. At the gentlest end of Studio Ghibli's filmography you'll find 'Ponyo', which is loosely based on 'The Little Mermaid', while the ageless 'My Neighbor Totoro' (pictured above) is a delightful way to while away a couple of hours as a family. They're both on Netflix.
Wee 'uns should also get a kick out of 'Madagascar' and its sequels, all of which have enough comic chops to keep the big 'uns engaged (especially 'Madagascar 3: Europe's Most Wanted', which opens with a Salvador Dalí homage). It's important to note that Ross from 'Friends' voices a giraffe in these films. Meanwhile, 'Sing' is a poptastic riff on 'The X-Factor'-style talent shows that has at least half an eye on its older audience members. If you're going to pick one film for the whole family in which Taron Egerton sings 'I'm Still Standing', make sure it's this one and not 'Rocketman'.
If you're looking to get them started on live action – in advance of all those John Carpenter marathons ahead – try the adorable 'Charlotte's Web' (pictured above). It's a gateway talking-animal movie and prep for the slightly older (but also adorable) 'Babe'. Watch the movie and then impress them by pulling out the book it's adapted from for a bedtime story. Multimedia parenting at its most smug…
Age group: 5-8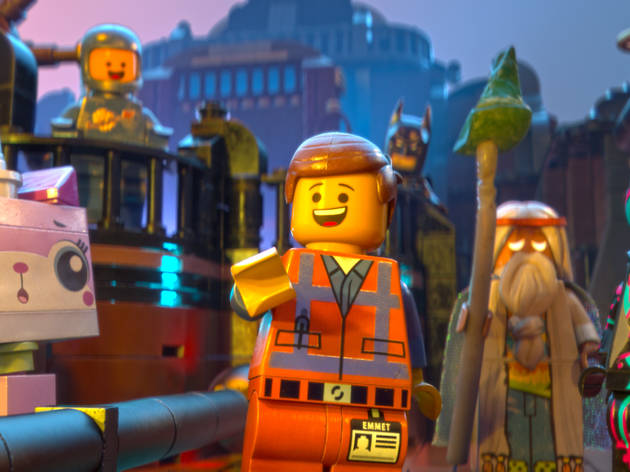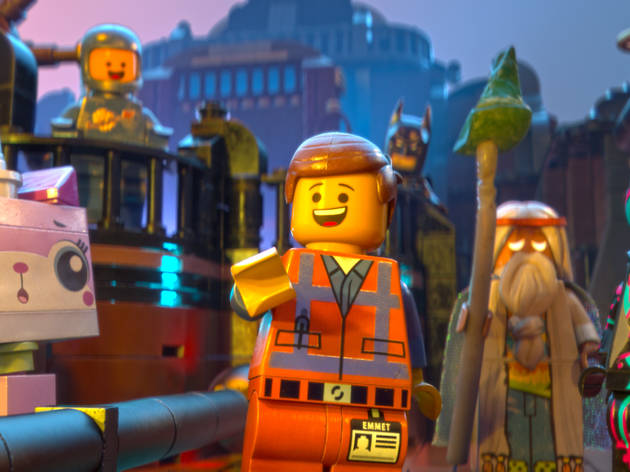 Photograph: Warner Bros. Picture
Kids are born smart and only get smarter. By the time they hit five, the chances are they can confuse you into putting on just about any movie they ask for. 'Die Hard'? Sure, as long as you eat your vegetables. Keep your wits about you and look out for movies that ramp up the storytelling sophistication a little. The dialogue-free, ethereal first half-hour of 'Wall-E' might be a little esoteric for toddlers but it's perfect for kids hitting the world-weary age of six or seven. Same for 'Howl's Moving Castle', a trippy Ghibli anime full of gasp-worthy moments. Kermit and co await in 'The Muppet Movie' (and sequels), which will offer Gen X mums and dads a nostalgia trip of their own.
There's a talking-animal movie for all ages (if you're an adult, it's 'The Witch') and for this age group it's one of the best of breed: the pig-nificent 'Babe'. None of the children will want to eat bacon again after this one, which is good because you probably don't have any.
What better time to introduce them to someone who could get them to eat their veg without a murmur: scary orphanage manager Miss Hannigan in 'Annie' – but go for the 1982 one, not the rubbish 2014 version. If you need to occupy the kids for half an hour, try the achingly emotional 'The Red Balloon'. The French classic is what a Pixar film would look like if it was, a) live action and b) made in 1956. It's still the only short film to ever win an Oscar for Best Original Screenplay (again, your kids won't care).
They definitely will tune into the madcap energy of Aardman's 'Shaun the Sheep Movie' (pictured top), 'The Lego Movie' and 'Teen Titans Go! To the Movies', though. All three boast loads of fizzy fun for little people and knowing pop-culture riffs for parents. In the 'mad as a bag of porpoises' category, you'll find 'The SpongeBob Movie: Sponge Out of Water' (pictured above) which is, well, nuts in all the best ways (hello, Antonio Banderas as Burger Beard the pirate). 'Captain Underpants: The First Epic Movie', based on Dav Pilkey's much-loved children's books, is a hilarious animated skew on the superhero movie filled helter-skelter adventures and daft dad jokes. Tra-la-laaa!
Age group: 9-12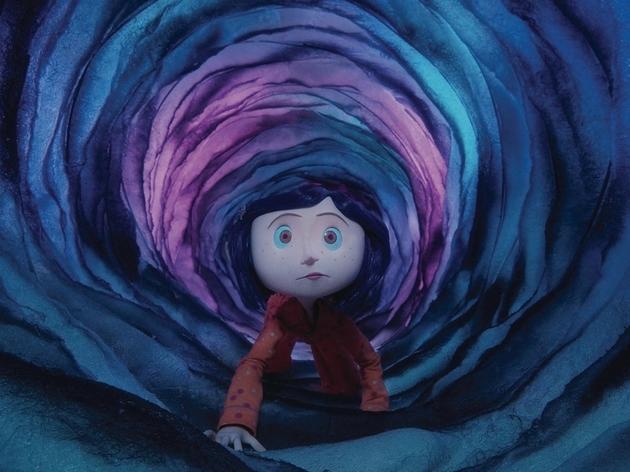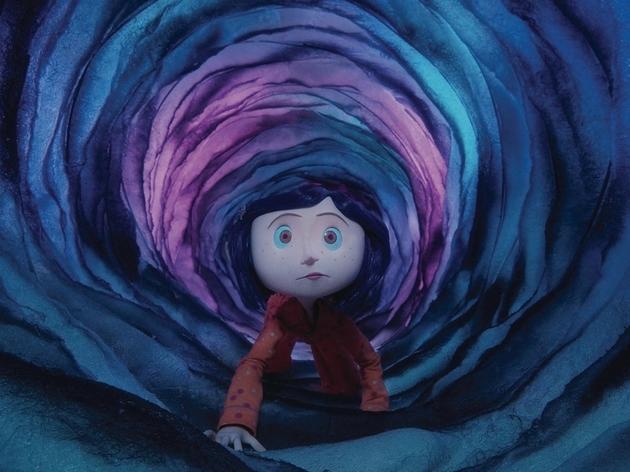 Photograph: Courtesy Laika Inc./Universal Pictures
The nines and above are probably ready to embrace a little darkness. We're not talking 'Hostel', but definitely the kind of ooky-spooky creepiness that all the best campfire tales are made of. In other words, it's time for 'Labyrinth' and 'The Goonies', a potentially perfect lazy afternoon double-bill filled with Goblin Kings, truffle shuffles, Sloth and co. One's a quirky fairytale; the other, a giddy boy's-own adventure. Or you could combine the two things into one glorious movie by watching swashbuckling, meta, magical 'The Princess Bride' (pictured below), a movie that never, ever gets old.
There's something equally timeless about the old-fashioned art of stop-motion animation, especially in the shape of 'Jason and the Argonauts' (pictured below). There is no child in the world who won't get a thrill from Ray Harryhausen's skeleton battle, in which Jason and Argonaut pals engage in some Arg-y-bargy with a bony brigade of the undead.
There's loads of classics that hit the spot across all generations. Try 'The Railway Children' (1970), 'The Black Stallion' (1979), 'The Witches' (1990), 'The Secret Garden' (1993), and, of course, 'The Wizard of Oz'. If you can handle Munchkins and Oompa-Loompas in these psychologically fraught times, throw 'Willy Wonka and the Chocolate Factory' into the mix. Fair warning: the tunnel sequence is TERRIFYING.
Also scary, though much less so, is stop-motion classic 'Coraline'. Adapted from Neil Gaiman's book by Laika, the studio who made the also ace 'Kubo and the Two Strings', it's a dark delight about the parallel worlds children create when their parents are mentally elsewhere. Try not to check your phone during this one.
If you can forgive Steve Spielberg for the walkie-talkie bit, 'ET The Extra-Terrestrial' is the perfect entré to the 'Berg's incredible filmography. 'The Adventures of Tintin: The Secret of the Unicorn' may not be in quite the same league as the Reece's Pieces-scoffing space refugee but it's still a blast. Another lovable fish-out-water caper comes in the duffel-coated form of 'Paddington'. Thanks mainly to Hugh Grant's evil thesp Phoenix Buchanan, 'Paddington 2' (pictured below) is even better. Frankly, we're still outraged that it didn't win Grant an Oscar.


Now might be the moment to introduce the kids to the Harry Potter movies – after all, Harry is 11 when he heads off to Hogwarts for the first time. The early ones are a little cheesy for adult tastes but the kids will expect to watch them before you move on to the later, more satisfying stuff. Be warned: 'Harry Potter and the Deathly Hallows – Part 1' is a long two and a half hours, even in quarantine.
There are three none-but-British comedies to look out for, too. Shakespeare comedy 'Bill' comes from the Horrible Histories gang and while short on pinpoint historical accuracy (this Bard once played lead lute in a Stratford combo called Mortal Coil), it is full of big laughs and silliness. It's also got Simon Farnaby in it, which always a guarantee of hearty lols. Oh, and the other two? The slightly underrrated 'The Pirates! In an Adventure with Scientists!' and 'Wallace & Gromit: The Curse of the Were-Rabbit'. Both are gold-standard family entertainment.
Age group: 12-15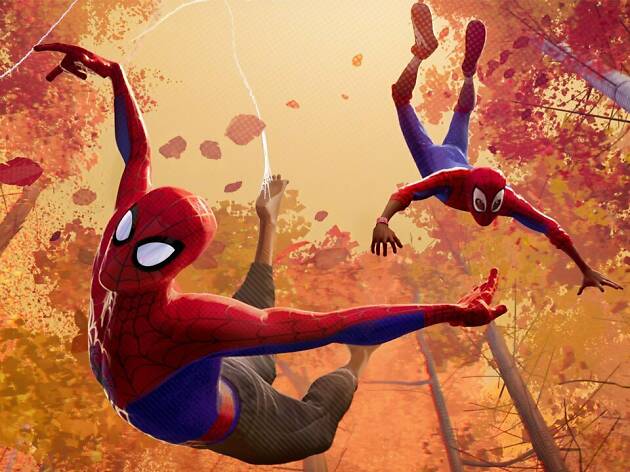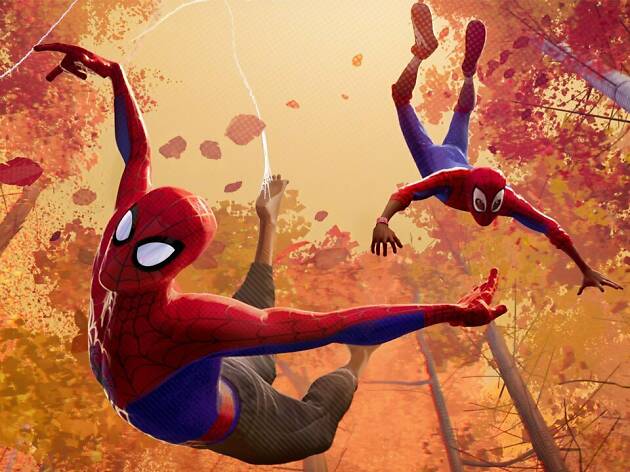 Foto: Cortesía
Congrats! You're arrived at the teenage years. It's time for the national film watching curriculum to kick in. These are key formative times for young movielovers-to-be, so now is the moment for some of the classics of your own younger years: 'Back to the Future', 'Raiders of the Lost Ark', 'Jurassic Park' and 'Ghostbusters'. It's also the right moment for a coming-of-age movie like 'Bend It Like Beckham', 'Hunt for the Wilderpeople' and classic of its kind, 'Stand by Me' (pictured below), which doubles as a handy (and not overly traumatic) intro to the work of Stephen King. Kids can hardly go uninspired by the stirring montages and epic power ballads of 'The Karate Kid', which doubles as a handy intro to the work of Joe 'Bean' Esposito. We defy you not to do at least one surreptitious fist-pump during 'You're the Best'.
The children have probably discovered superhero movies by now without any parental guidance. Most of the good ones, like 'Guardians of the Galaxy', 'Black Panther' and 'Captain America: Civil War', are on Disney+. One that isn't, but is a total treat is 'Spiderman: into the Spiderverse'. The Phil Lord and Chris Miller-produced animation has a raucous hip hop soundtrack, a cool hand-drawn animation style, bags of wit, and Nicolas Cage do a gravelly voiced noir Spider-Man. What's not to love?

Eccentric in a whole other way is Gallic animation 'The Triplets of Belleville' (imagine if Studio Ghibli was French) which somehow crams '20s-style music halls, the Mafia and the Tour de France into one madcap 90 minutes. And – because it's never a bad time for a movie in which Bill Murray plays a badger – Wes Anderson's 'Fantastic Mr Fox'. It will satisfy Roald Dahl purists, Wes Anderson fans and people with no particular fur in the game, despite being typically Wes-oteric in sensibility. It could make a great farming double bill with 'Babe'.
On the off-chance your children come to you demanding some purifying foreign-language cinema from the 1950s, Satyajit Ray's 'The Apu Trilogy' is a beautiful tale of a young Indian boy making his way in the world. It's a great movie about families in all their complexity, too. If you're needing something educational to fill those long home-schooling hours, look out for 'Spellbound', a lovely, characterful doc about American spelling bees and the kids who compete in them. It will teach the kids to spell intimidating new words. The irrepressible 'School of Rock' (pictured above) meanwhile, will teach them where the umlaut goes in 'Motörhead'.
Age group: 15+
New Line Cinema
We can't tell you when to throw John Hughes movies into the mix – some have aged better than others ('Sixteen Candles' is a car crash) – but the sportos, motorheads, geeks, sluts, bloods and waistoids would all point you towards 'Ferris Bueller's Day Off' at this point. And it's worth it for the 'Twist and Shout' bit, to watch Matthew Broderick somehow making the epically self-involved Ferris likeable, and to see what Alan Ruck got up to long before 'Succession'.
'Eighth Grade'
You could call Cameron Crowe's 'Say Anything…' (pictured below) the most John Hughes-y movie John Hughes didn't make, but we'd argue it's more likeable than the lot. It's got a big heart, John Cusack and Ione Skye are magical in it, and it's got that iconic bit with the ghetto blaster in it. More modern but equally charming high-school comedies include 'Easy A', '10 Things I Hate About You', 'Lady Bird' and the touching, topical 'Eighth Grade'. 'Breaking Away', a coming-of-age gem about four high-school grads from 1979, is a delight too. Look out for a fresh-faced Dennis Quaid in an early role.


The world needs Will Ferrell movies right now (okay, not 'Holmes & Watson') and 'Step Brothers' (pictured below) and 'Elf', in particular, are guaranteed crowd-pleasers. Do not wait for Christmas to invite Buddy the Elf into your house.


Equally stocked with elves, though lighter on the candy cane, is the 'Lord of the Rings' trilogy. Huge action sequences, timeless villains, heroic moments, talking trees… there is truly something here for everyone. The same goes for another franchise lumbered with a woeful prequel trilogy, 'Star Wars'. Chances are not everyone in the family has seen it, so what better time to put that right? Sorry, Gran. Needed in the Dagobah system you are.

For more age-appropriate sci-fi thrills check out Joss Whedon's fab western-in-space 'Serenity', the JJ Abrams reboot of 'Star Trek' (2009) and James Cameron's muscular action masterpiece 'Terminator 2: Judgment Day'. The funny-tense 'Sneakers' came out a year later and has aged just as well, mainly thanks to an all-star cast (Redford! Aykroyd! Poitier!) that buys in wholesale to its caperish tone.


With its big themes of race, morality and everyday heroism, the great 'To Kill a Mockingbird' (pictured above) needs to be watched at least once. But the ultimate film to watch with your teens? We'd go with 'Boyhood'. A sweeping portrait of childhood, the teenage years and parenthood in all their glory, pain and messiness, it's a uniquely relatable movie whether you're 15 or 50.
Support Time Out
We see you're using an ad-blocker. Ad revenue is Time Out's main source of income. The content you're reading is made by independent, expert local journalists.
Support Time Out directly today and help us champion the people and places which make the city tick. Cheers!
Donate now