Propaganda: Power and Persuasion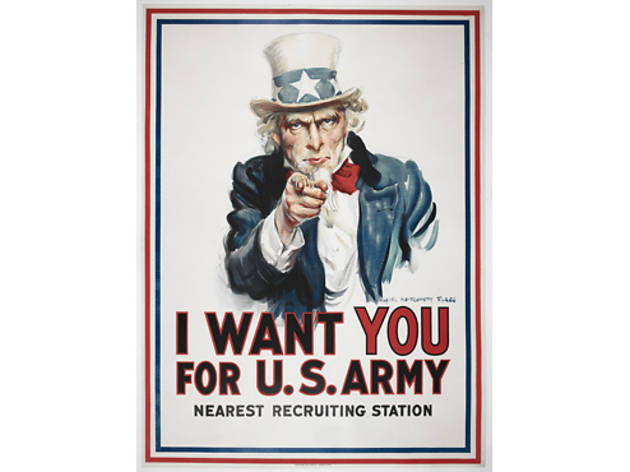 1/3
Uncle Sam poster
2/3
Bert, the Turtle: 'The Duck and Cover Song' Leon Carr, Leo Corday & Leo Langlois, 1953 © Sheldon Music Inc
3/3
Campbell Johnston Collection
Among the questions asked by the British Library's summer 2013 exhibition are 'What have the Olympics, Chairman Mao and matchboxes got in common?', 'Who portrayed Margaret Thatcher as Napoleon, and why?', and 'Is propaganda public information or misinformation, and do we need it?'. From safe sex to dictatorships, the show explores how different states have used propaganda during the twentieth and twenty-first centuries, in peace time and in war. Posters, films, cartoons and textbooks reveal the many ways by which the state tries to influence its citizens, and how propaganda has been used through time and across cultures.
Rating Breakdown
5 star:

0

4 star:

0

3 star:

1

2 star:

0

1 star:

1
simplistic and too dark in the rooms, also too cold
Good content, but really frustratingly poor exhibition design - I am in my thirties with reasonable eyesight, but the writing on the cabinet placards is much too small for its purpose and very badly lit - take a torch! It is a popular and therefore busy exhibition, so one person standing in front of the writing completely blocks it from view of anyone else. What is worse is that you block out what little lighting there is when you get close enough to read the placard. The BL seriously needs to improve this and use backlit Kindle/iPad type panels if they cannot add more spotlights for preservation reasons. The content is broad & interesting, and of course you cant include everything, but I was suprised that I didnt see the iconic Che Guevara image & associated Cuban pro & anti-revolutionary propaganda anywhere (did I just miss this? - it was busy). Over all I would certainly recommend a visit if you are interested in the subject of propaganda, and I would give the exhibition 4 stars were it not for the incredibly bad lighting & signage.