Shunga: Sex and Pleasure in Japanese Art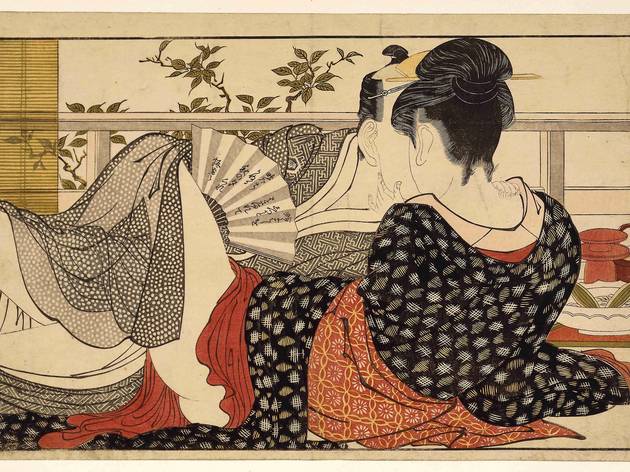 1/6
'Lovers in the upstairs room of a teahouse, from Utamakura (Poem of the Pillow)', c1788
© The Trustees of the British Museum
2/6
'Young woman dreaming of Ise Monogatari', c early nineteenth century
© The Trustees of the British Museum
3/6
Untitled erotic picture, mid-1680s
© Private Collectionm, USA
4/6
'Fancy free type (Uwaki no so), from the series Ten Types in the Physiognomic Study of Women (Fujin sogaku juttai)', c1792-3
© The Trustees of the British Museum
5/6
'Sexual dalliance between man and geisha', c1711-16
© The Trustees of the British Museum
6/6
'Detail taken from Sode no maki (Handscroll for the Sleeve)', c1785
© The Trustees of the British Museum
You'll need to choose your companion carefully before heading off to the British Museum's latest show. You're obliged to leave the kids at home (the exhibition has an over-16s age restriction), but you might also consider arriving without your grandma, new boyfriend or work colleague, for 'Shunga' promises to be one of the museum's most socially awkward displays.
A sexually explicit feast of paintings, prints and illustration, the exhibition celebrates an erotically charged style known as 'shunga' or 'spring pictures'. It was produced in Japan between 1600 and the mid-1800s, a time when the country was secluded from the rest of the world, and enjoying its own internal order and culture. It wasn't seen as taboo (though it was notionally illegal for a time, and is certainly seen as distasteful in Japan now), nor was it designed to feed the imaginations of a particular sort of gent: it was created by celebrated artists and lapped up by men and women from all classes as art, not porn.
Seen together, the artworks offer a window into a culture that saw sex and sexuality in entirely different terms to polite European society, and the show itself demonstrates a brave move on the part of the British Museum, whose duty it is to explore the history of human culture, no matter how uncomfortable. So arrive with an open mind, and be prepared for 'Shunga's sometimes funny, sometimes tender, sometimes shocking (there are enlarged genitals, masturbation and even an amorous octopus involved at one point) works of pure art.
Average User Rating
2.3 / 5
Rating Breakdown
5 star:

1

4 star:

0

3 star:

0

2 star:

0

1 star:

2
Funny to read in your TIME OUT review there is an « OVER-16s age restriction » and so you are « obliged to leave the kids at home » ! Then further down, you find that if the entrance ticket is £ 7... there is a free entrance to the exhibition for the « under -16s »; Thank you for this valuable information to people who prepare their holidays in London ! But be sure that well over 16, my wife and I will run to the exhibition ! Sincerely
Fancy being a little bit more constructive with your criticisms Ivan? If you're going to take the educational high road while slagging off a review then at least work on your grammar.
I'm wondering who it is at Time Out London that writes the editorial drivel ... well at least on this particular exhibition ... pseudo Victorian values as a means to fill space ... please please spare us the uneducated comments.