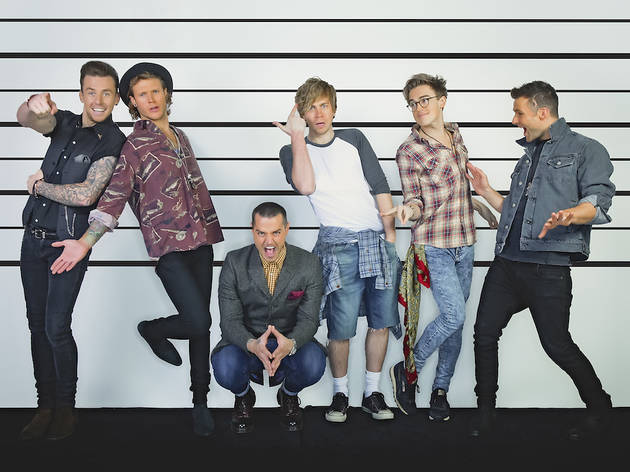 'Buy one get one free': it's a familiar sales strategy used by supermarkets, often as a way of shifting goods past their prime. Lately, however, bands have been pairing up and offering themselves on a two-for-one basis as well. Not so long ago, New Kids On The Block teamed up with Backstreet Boys to create an 18-legged stadium supersaver that went by the name NKOTBSB. Justin Timberlake and Jay Z followed suit, playing shows together under the modest title of 'Legends of the Summer'.
Now, fans of thrashy pop-punk from the early noughties have their own twofer deal to savour, as Mcfly and Busted combine to form… McBusted.
Sadly, Busted's Charlie Simpson is still sitting this one out, as he still fancies his chances as a furrowed brow 'serious' musician of the waistcoat and acoustic guitar ilk. The rest of the lads however will be burning through hits like 'Air Hostess' and 'All About You'. Announcing their union at a press conference last year, the conjoined group (combined age: 167) looked surprisingly more dignified and gentlemanly than in their teeny heyday. Whether they'll sabotage all that by lathering each others hair with extra strong Shockwaves like the good old days remains to be seen. Who cares, when it's cheap at half the price?
Rating Breakdown
5 star:

0

4 star:

0

3 star:

0

2 star:

0

1 star:

1
My chilldren wanted tickets but I feel they are over priced , neither band are as big now as they were and Charlie will not even be there . Front row tickets are £100 each and hospitality even more . A great shame as this is aimed at the young and my family would love to go think of your fans McBusted ....