Pharrell – 'GIRL' album review
The hitmaker shows his age with a conservative but brilliantly groovy pop album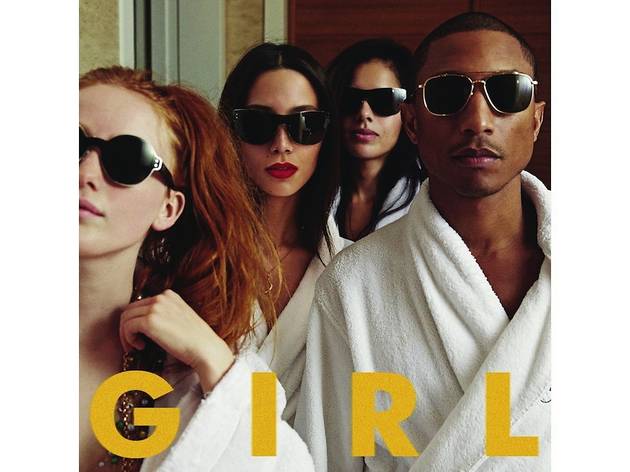 Pharrell Williams
isn't in his forties. No mister, he's in his phwoar-ties. Few men reach their fifth decade oozing such boyish sex appeal. Fewer still hit a career peak at that age. After defining the 2000s as a star player of production team The Neptunes, he raised the bar with his spot on
'Get Lucky'
. His freakishly youthful manchild face is now squarely in the spotlight, but here's the thing: he
is
getting older and this solo album proves it.
The most obvious sign of maturity is the broad theme of celebrating women. Some may say it's a cynical reaction to 'Blurred Lines', his blokesploitation hit, written with Robin Thicke. Others may worry that by constantly addressing women as 'girl', he misses the point entirely.
Both are debatable, but songs like 'Brand New' definitely recall the sweet earnestness of Stevie Wonder at his most effusive ('You came along, and made me strong... I just wanna say thank you'). Just ignore the mind-blowing moment on 'Lost Queen' when he somehow rhymes 'multi-tasking' with 'passion'.
Another sure sign of ageing is the sound. Years ago, Pharrell's love of technoid sci-fi beamed into his songs (he called his label Star Trak after all). The sonics here are still club-ready but far tamer: a solid block of Michael Jackson disco, Hollywood strings and snappy funk-rock riffing. The strongest comparison is his work on 2002's 'Justified' by
Justin Timberlake
(a guest on the album, along with Daft Punk, Alicia Keys, and erm, Miley Cyrus).
But my word, what shines is Williams's ability to put a bowtie on pop through arrangements that grab your imagination and bore into your cerebellum. Grooves are both melancholic and head-nodding on 'It Girl', basslines come alive on 'I Know Who You Are'. There's even a strange interlude where a song emerges that turns into a baroque ode to penetration. And that's before you factor in 'Happy'.
The best you can say is that Pharrell has created, hands down, one of the biggest and best pop albums of the year. The worst is that, well, it sometimes sounds a bit Magic FM. Oddly age-appropriate, in fact, for one so young looking.
What do you think of 'GIRL'? Let us know in the comments box below or tweet us at @TimeOutMusic.


Buy this album on Amazon | Buy this album on iTunes