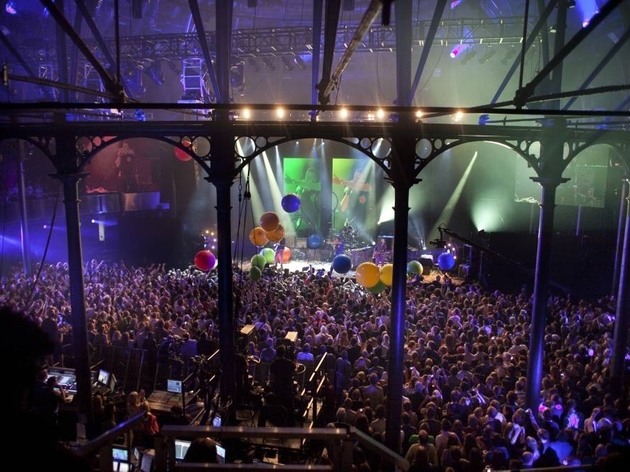 Constructed in 1846 as a turntable shed for the London and Birmingham railway, the Roundhouse – a Grade II-listed building – has a long and illustrious history, including spells as a liquor warehouse and long periods of disuse. But it came into its own as a legendary music venue in the '60s/'70s, hosting the likes of Jimi Hendrix, Jefferson Airplane and The Doors and staging the notorious 'Oh Calcutta'. Work on the extensive overhaul/refurbishment began in 2004 and it reopened in 2006 as a modern arts and mixed-media performance space with strong community bias. The main room benefits from a high domed ceiling and Victorian metal 'ribs' and regularly accommodates a staggering variety of acts, from A-ha to Bebel Gilberto, Foo Fighters and Paul Weller.
Venue name:
Roundhouse
Contact:
Address:
Chalk Farm Rd
London
NW1 8EH

Transport:
Tube: Chalk Farm
Do you own this business?
A fashion spoof draped over the bones of a puerile conspiracy adventure, this vanity comedy fails at every level barring its incidental details. Stiller directs, co-writes and stars, casting or flash-cameoing a host of real models and designers, p...

Read more

Eight or nine plotlets, a castlist the size of a rugby scrum. Whatever persuaded first-time director Curtis that he could handle this lot, we can only hope that a hype-happy press and the biggest audience money can buy won't persuade him he's carr...

Read more

A sweet-souled daughter of zoologists, 15-year-old Cady (Lohan) goes from a lifetime of home-tutoring in 'the African bush' to a high school in suburban Chicago. Once there, she immediately grasps that the pitiless laws of the jungle apply equal...

Read more

In this live-action adventure, Mowgli (Scott Lee) is five before he's jungle-bred. The animals act like animals, sort of, which means that Mowgli wrestles with Baloo the bear, tumbles with wolves, but doesn't discuss philosophy with 'em. He swims ...

Read more

Despite repeated asteroid threats, nuclear meltdowns, wars great and small and potentially species-eliminating plagues, we as a planet have finally made it. Happy 'Back to the Future' Day, everyone! October 21, 2015 is the day Doc and Marty jetted...

Read more

Has JK Rowling been taking divination lessons at Hogwarts? With spooky clairvoyance, the first movie in her new five-film wizarding franchise opens with two factions in America at each other's throats. No, not Republicans and Democrats. It's 1926,...

Read more

While 'Finding Dory' is crammed with the kind of visual pleasures we've come to expect from Pixar, the story doesn't always reach the heights of invention upon which the animation giant has built its reputation. The film lacks the psychological pr...

Read more

'Not as bad as it should've been'. That's not exactly overwhelming praise, but it's about all this shameless, occasionally entertaining cash-in deserves. Arriving a good couple of years after the smartphone game 'Angry Birds' hit peak addiction, t...

Read more

This interstellar sci-fi misfire dreams up one of the most intriguing 'what would you do?' scenarios in recent movie memory – and takes it precisely nowhere. The setup is essentially 'Red Dwarf' meets 'Robinson Crusoe', as cryogenically frozen int...

Read more
Big Screen on the Beach

Recline in a deckchair and enjoy a cinema experience on the sand with a new series of outdoor summer screenings at the Roundhouse's urban beach. Working with Big Beach Screen Events, the team behind Europe's largest open air cinema, there will be cult...

Quirky events

Saturday July 15 2017 - Monday August 28 2017

Show more
You may be interested in:
Average User Rating
4.7 / 5
Rating Breakdown
5 star:

21

4 star:

6

3 star:

2

2 star:

0

1 star:

0
One of the most eclectic venues in London, that still plays to full houses in whatever blend of artists that perform.
The Roundhouse is not just the best venue in Camden, it's the best venue is London!
Wonderful venue, wonderful staff and volunteers and seeing Suede here twice in two nights last winter was a life highlight
Such a cool venue- perfect mix of old and new
So many good gigs, so many good memories
Great atmosphere, great view, and run by amazing people that know their music
Very good venue; excellent acoustics and good choice of artists. Saw Spiritualized there years ago (admittedly not been a huge amount) but that was perfection!
I was there in th 60s and created Afro Rock there!
Oh, Roundhouse. I really, really want to love you and give you a big 5 stars. You're great. The interior of the main gig space is architecturally astounding, there's a decent number of watering holes dotted around the venue and there's a nice bit of outside space for all tobacco enthusiasts (or just a bit of fresh air). However, I went to see the amazing Kwabs there. And amazing is understatement for how amazing he was. The problem was that my gig partner and I were stood outside the metal arches in the gig space and sound does not carry well at all outside of the "inner circle". There were times when I struggled to hear him and he was, after all, the reason I was there. So, Roundhouse, if you're reading this, you're great but you have your flaws. Sort out your acoustics. Oh, and please ban iPads?
More venues
Sponsored listings