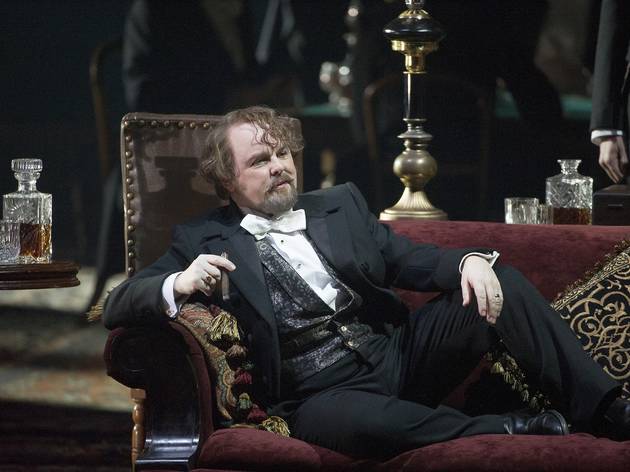 1/10
© Alastair Muir
Berry Banks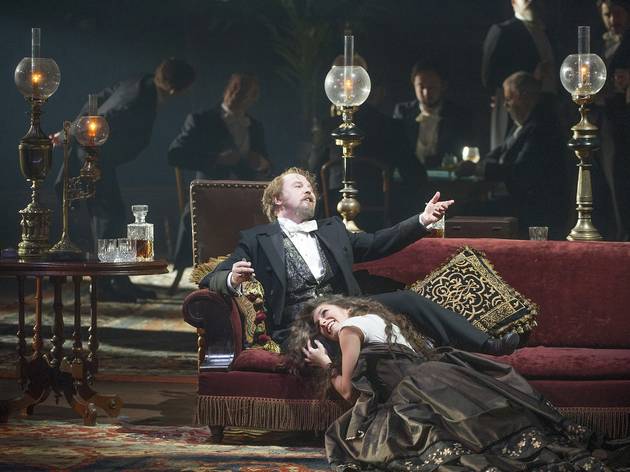 2/10
© Alastair Muir
Barry Banks and Rosana Ribeiro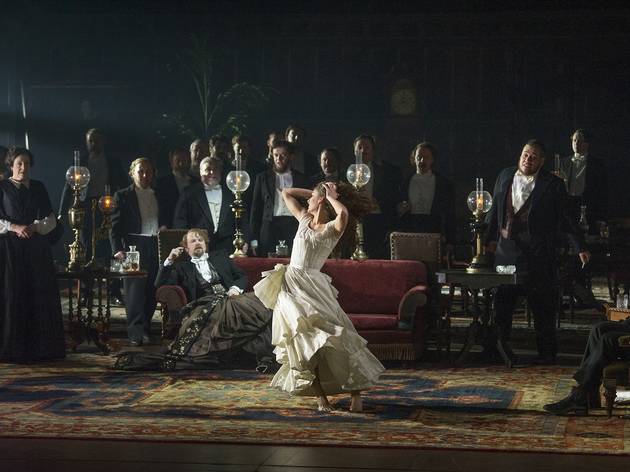 3/10
© Alastair Muir
l-r Diana Montague, ENO Chorus, Quinn Kelsey, Barnaby Rea, Barry Banks, Rosana Ribeiro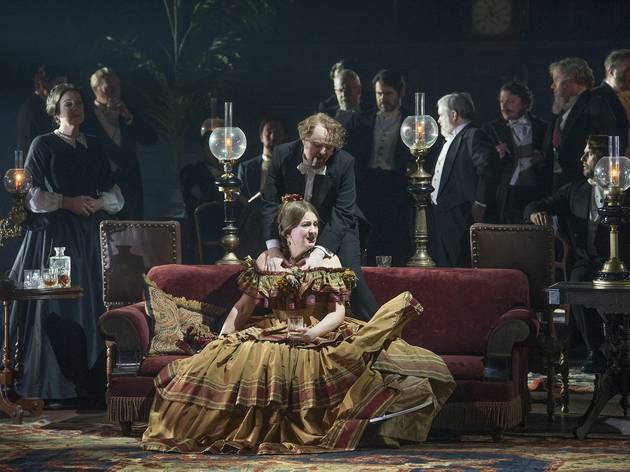 4/10
© Alastair Muir
l-r Diana Montague, ENO Chorus, Barry Banks, Susan Rann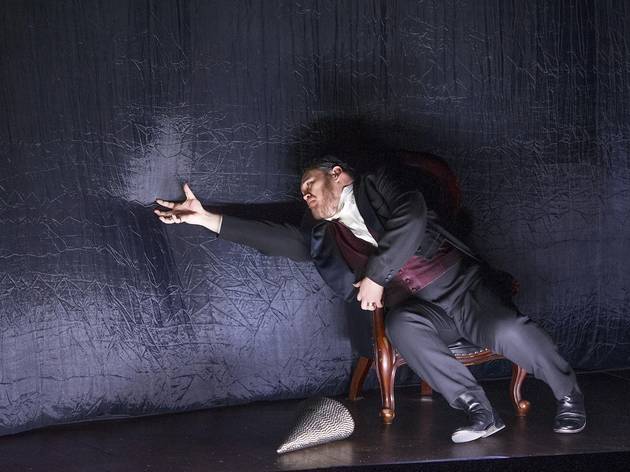 5/10
© Alastair Muir
Quinn Kelsey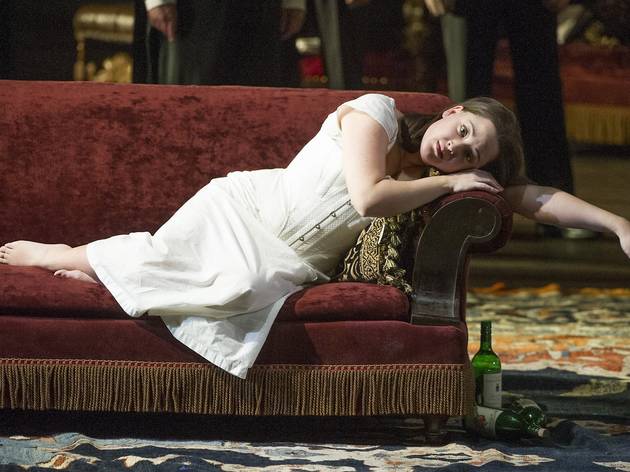 6/10
© Alastair Muir
Anna Christy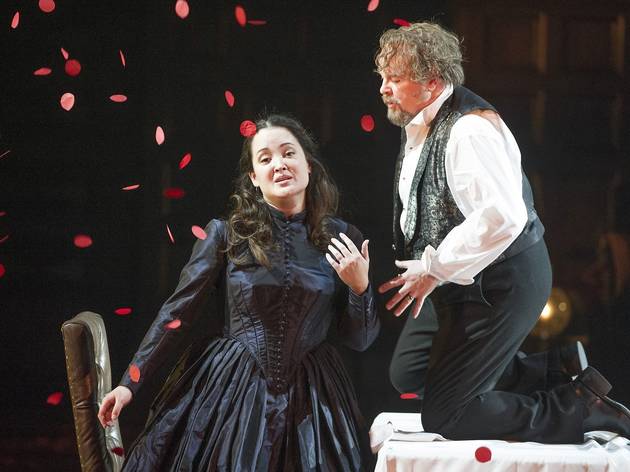 7/10
© Alastair Muir
Anna Christy and Barry Banks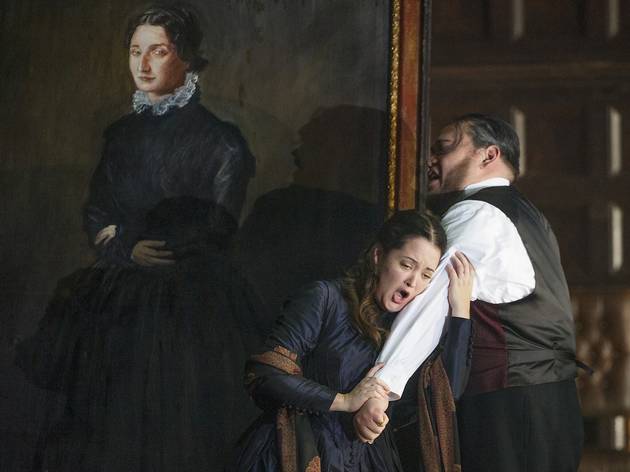 8/10
© Alastair Muir
Anna Christy and Quinn Kelsey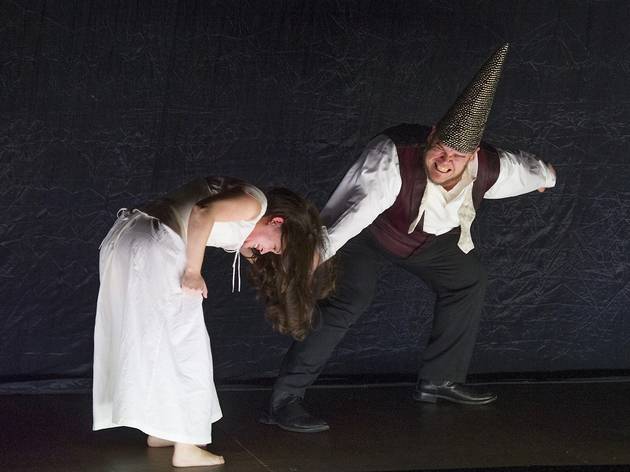 9/10
© Alastair Muir
Anna Christy and Quinn Kelsey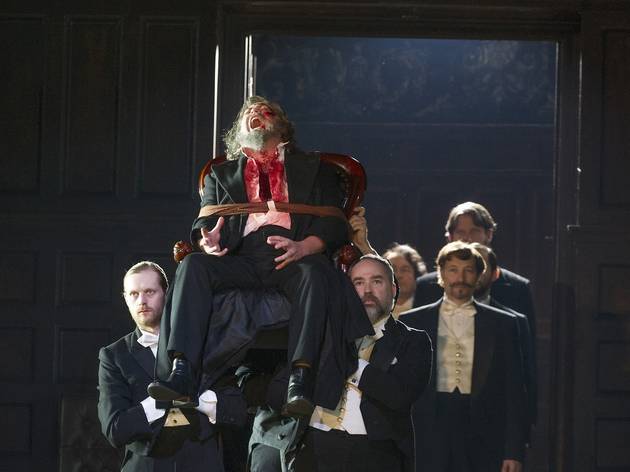 10/10
© Alastair Muir
David Stout and ENO Chorus
One of the motifs of this new English National Opera production of Verdi's tragedy is a pointy silver dunce's hat, worn by whichever protagonist is being ridiculed at the time. The hat, however, could easily have been passed around the audience in this often baffling version by Christopher Alden.

Set in the court of insatiable seducer the Duke of Mantua, Verdi's magnificent tragedy has a clear-cut plot and characters and should be fairly bullet-proof. But here, despite some great singing, the suffering on stage is placed at an emotional remove from us, while the narrative is rather confusing in this camped-up version, overladen with symbolism.

Alden's nineteenth-century-set production takes place within an elegantly wood-panelled gaming room, to which the gentlemen of the court (the superb all-male chorus) retire after dinner.

That they observe the action from behind newspapers gives the impression they are watching a play, making it is hard to feel anything for the plight of the characters, despite quite brilliant turns from Quinn Kelsey (an old-school Quasimodo-esque take on the eponymous court jester) and Anna Christy as his innocent daughter Gilda.

As the Duke, the fine lyric tenor Barry Banks is cast as a giddy pantomime villain, dancing on and then hiding under the table. With a goatee beard framing a smarmy grin, he resembles an evil Charles Dickens rather than the suave seducer whom Gilda describes as 'too beautiful'.

The updating also undermines the premise of the plot. Surely it is unlikely that a nineteenth-century duke would have a jester or that either of them would be troubled by a curse? (This is the stuff of the Renaissance where the piece is originally set). Also, the single room setting blurs the class lines between Rigoletto and his daughter, who live in a poor part of town and the Duke's opulent court, and mutes the chilling atmosphere of the finale at the riverside house of assassin Sparafucile (coolly depicted by bass Peter Rose).

In the pit, conductor Graeme Jenkins elicits a muscular performance from the orchestra, though he could still find a little more playfulness in this most catchy score.