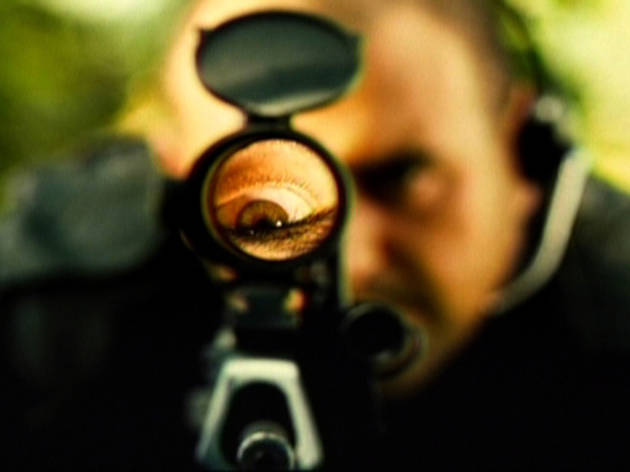 Loading, aiming, shooting – if the shared language of cameras and guns indicates a metaphorical connection, then this exhibition makes that relationship literal, with its fascinating archive of 'photo-shooting' images taken at funfairs and amusement parks during the last century.
A rarity in today's digitised, mass-media age, the game involved punters shooting at a target, with the bullseye triggering an automatic camera snap in return. Shooting, in both senses simultaneously, created a kind of elaborate, existential self-portrait.
No wonder the phenomenon apparently attracted so many philosophers and professional photographers: from images of Man Ray, through Cartier-Bresson, to a wonderful shot of Simone de Beauvoir shutting her eyes tight in trepidation as she squeezes the trigger, while Sartre looks on impassively. But most captivating of all is the annual pilgrimage by Ria van Dijk, a Dutch lady, to her local photo-shooting gallery, the resulting series of portraits chronicling the passage of almost 80 years, a gun-fixated timeline of ageing.
On the exhibition's upper floor, the focus shifts to contemporary art. Intriguingly, numerous different artists seem to have had the similar idea of shooting a gun directly into a camera itself, with the bullet's entry itself providing the means for light to enter and expose the film – yet the photographs, violent, surreal, and abstract, are hugely varied depending on each artist's specific process.
The only misfire, as it were, is the main piece: Christian Marclay's Hollywood-sampling video installation, 'Crossfire'. It's an extremely powerful piece, positioning the viewer at the centre of four rhythmically gun-blasting screens – but in an exhibition concerned with philosophical forms of self portraiture, its turn towards notions of macho, popular iconography feels oddly, and ironically, slightly aimless.