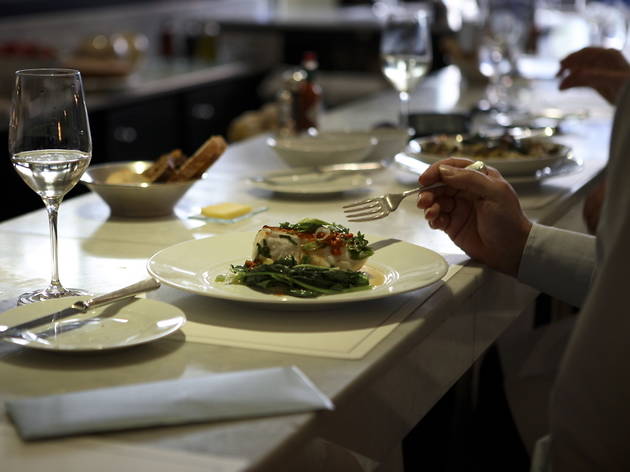 It's hard to believe that so much time has passed since Richard Corrigan first overhauled this grande dame of the capital's restaurant scene (established 1916). The interior remains as polished as ever, with art deco windows, the original marble oyster bar and wood panelling. Weeknights in the more formal first-floor Grill restaurant have a restrained business-dinner vibe, but the downstairs oyster bar is pleasingly laid-back.
Theatrics at the gleaming marble counter (part staff speedily shucking, part competitive knocking 'em back) provide entertaining distraction as you decide between menu classics and imaginative daily specials. Our oysters (Dorset rock, Mersea natives) were exquisitely fresh, while mains of perfectly grilled langoustines, and scallops served with broad beans, crispy pork, parma ham, toasted cashew nuts and blood orange were faultless in flavour and presentation.
Despite its proximity to touristy Piccadilly, Bentley's retains a distinctly London buzz. We sat among gregarious City boys, Notting Hill couples on third dates and Regent Street shoppers – the bar's tightly packed tables mean eavesdropping is inevitable.
Even comically haphazard service – after the third omission our smiling waiter took to periodically appearing at our table to check if he'd forgotten anything – failed to dampen our experience.
Venue name:
Bentley's Oyster Bar & Grill
Contact:
Address:
11-15 Swallow Street
London
W1B 4DG

Opening hours:
Oyster Bar Meals served noon-midnight Mon-Sat; noon-10.30pm Sun. Main courses £8.50-£50. Restaurant Lunch served noon-2.45pm Mon-Fri. Dinner served 5.30-10.45pm Mon-Sat
Transport:
Tube: Piccadilly Circus
Price:
Main courses £19-£38. Set dinner (5.30-6.45pm Mon-Fri) £26 2 courses, £29 3 courses. Cover £2
Menu:
View Menu
Do you own this business?
You may be interested in:
Average User Rating
3.1 / 5
Rating Breakdown
5 star:

3

4 star:

3

3 star:

0

2 star:

0

1 star:

4
Although the staff were friendly and the service was good. After dining in the Grill restaurant I had severe vomiting that night, followed by being confined to my bed for three days and having painful abdominal cramps and diarrhoea for four days. I sent an email and have had no reply. I saw a family with a young child and an elderly couple that night. If they went through what I suffered I fear for their health. Given the lack of reply, Richard Corrigan's restaurants do not care how sick you get as long as they have your money. Never again.
Horrible and racist service. No service standard at all and they dont care.
Me and a guest of mine went to grill restaurant.The short, chunky French guy in there is absolutely arrogant, and perhaps, a racist. I have been there many times and everytime he shows he's dismissive attitudes towards different customers. Especially Asian customer. This time
I was asking if he has anything to recommend for fish, and he said:" he said:"what do you want me to recommend? I don't know what you want. Fish is just fish. If you don't know what you want I can't help you. " and he gave me a glance. Then I said:" It seems like you don't understand menu very well." Suddenly he said:" I don't like your attitude. What's wrong with you?. I'm really shocked about how they treat customers. Never come back again. Feel really shame on this restaurant.
Sadly, this restaurant was a huge disappointment. I am giving it one star for ambiance, but as polished as the decor is, the management and owner, are the antithesis of it.
My husband and I attended a business dinner with 8 other people at Bentleys in May. The sommelier opened a bottle of red wine and spilled it all over me, not a splash, but a significant amount of wine. I tried to console her and was more than considerate, after all, accidents do happen, right? Not only did I have a new outfit on which they washed in the sink in the ladies room, along with my first time worn Prada suede pumps, but I had to then sit through dinner soaking wet. The manager, Kingsley Nhembe, gave us his word in the restaurant, so the surrounding tables could hear, that it is Bentley's policy to take take of damages their patrons incur in situations like this. He further stated that he has never known the restaurant not to take care of it's customers. I believed his word. My husband was skeptical and requested the statement in writing. Well, he was right, I shouldn't have trusted his word. (I will post the written statement if Timeout allows)
Three months have passed and not only has Richard Corrigan and his management not offered to compensate me for the damages I incurred, they will not respond to my receipts, photographs of damages post dry cleaning and a total and beyond fair bill for the replacement cost of my outfit. Until...I posted my experience on Trip Advisor! Then I got a response that was so classless and unfair, we all wondered if they even read my claim. They responded with inappropriate statements attacking me of threatening them! All this after spending 2800$, sitting through a business meeting/dinner soaking wet, being made promises, and poor service? There are many other fabulous restaurants in London that deserve good patrons.
Cheated and ruined my birthday! Management arrogant and has little knowledge on how to drive customer loyalty. Overpriced tourist trap and very grasping.
My Dad bought me a gift voucher for a special occasion and they treated us like second class citizens. It wasn't a discount voucher but a pound for pound gift voucher, but in the end a total waste of money. This restaurant doesn't understand how to benefit from this as a business and just see it as a short term way of sucking the customer dry. They refused our voucher as we hadn't pre-warned them when we booked, but they were unable to explain what the difference was between a gifted customer and non gifted customer. Different table? Different size portions? Why the demarcation? Very suspicious.
If they had even just explained and offered to waiver it this once, my Dad would have bought more gift vouchers for friends and we would have been back again and spread the word; instead of having to tell him it was an unfortunate purchase. He paid Bentley's with an expensive gift voucher and today we had to it pay again! Such a shame they can't trade up sales with excellent service and ensure they drive repeat business.
It's like Fawlty Towers but less charming. When I said 'thanks for ruining my birthday' - the Manager shrugged his shoulders. You must also read the reviews on all websites. Some of them have a response from the Manager which if I was their PR company - I would jump ship. The responses give you an insight: unprofessional, accusatory, vile, arrogant and defensive. It's always the customers fault and never theirs. There is clearly a staff issue and they are incentivised to charge as much they can and drain their customers.
Food was good but what's the point if front of house is a mess? It's the total experience that matters. But clearly overcharging and exploiting every opportunity are the things they focus on as a business.
Have known this place most of my long working life in London. Revisited recently and reminded myself why I love it. Great buzz, good food and excellent wine list. Nice to see some places standing the test of time.
Great food, great service, great night out!
I spent a very pleasant Friday evening here,very tasty oysters,good cheese and very nice people around.I'm thinking to come back here Sunday late afternoon...
We visited for lunch earlier this week and enjoyed a meal on the terrace. The service was a wonderful as ever and our food was fantastic - the dressed crab was a highlight, followed by a delicious Lemon Sole. They just get it all right - such a beautiful restaurant.
Besides the incredible food, i simply adore the atmosphere of the Oyster Bar and the live pianist! Just a really fantastic addition to such delicious food - I've sampled many of their dishes and can honestly say that i've loved every one of them; my absolute favourite has to be the oysters (of course). Worth every penny.