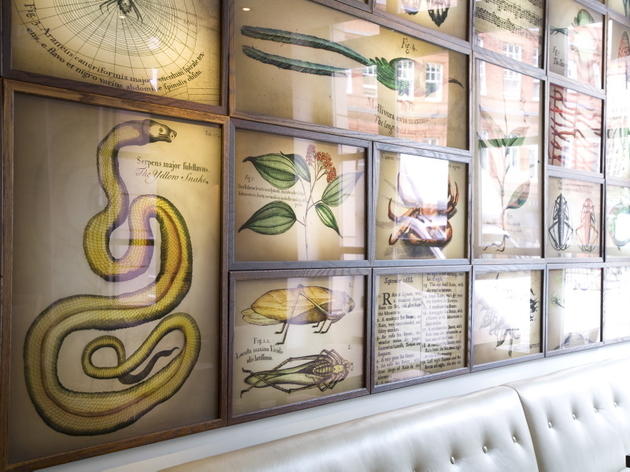 Sloane Square's Botanist is one of the upmarket ventures of gastropub-meisters the ETM Group, the force behind the Gun, the Well and other fashionable venues. In accordance with the location, however, it eschews any pubbiness in favour of a cocktail-bar-cum-restaurant feel.
Shining metalwork and creamy leather dominate in the buzzy bar, while tall windows and subtle lighting make the dining room an airy, comfortable space, artfully decorated with images of botanical specimens. Service was bright and charming.
The menu makes an appealing read, and our meal was, well, pleasant, yet nothing more: the kind of thing you'd expect in any half-decent gastropub, but at a substantially higher price. Fresh asparagus came with a 'vinaigrette' that was really a bland herb dressing, while a prawn and herb cocktail – one of a few retro-Brit favourites on the list – was, again, inoffensive, but served too cold. Duck confit with bacon and puy lentils had decent flavour, and a rather potato-heavy salmon fishcake with spinach and beurre blanc was unexceptionally enjoyable too.
The hefty flash-the-cash wine list adds substantially to the bill, although prices don't seem to deter the area's recession-proof clientele.
More
Less
Botanist says
From the botanical images thoughtfully dispersed around this refined venue, to the magnificent selection of seasonal cocktails and the well-groomed waiters at your beck and call, every aspect of The Botanist screams character and taste. And that's before you even open the menu.
More
Less
Venue name:
Botanist
Address:
7 Sloane Square
London
SW1W 8EE

Transport:
Tube: Sloane Square tube
Do you own this business?
You may be interested in:
Average User Rating
3.2 / 5
Rating Breakdown
5 star:

5

4 star:

5

3 star:

3

2 star:

2

1 star:

5
Overpriced and poor quality of food. The service was appalling - I had to ask for my drink three times. Albeit the location is nice, and the bustle of the bar, which spills out onto the street, proves that it has a certain reputation as "a place to be seen" but I thought the staff were rude, especially when we did not order more wine with our meal. I have had better food elsewhere and will not be returning
With a great location, this restaurant is right on Sloane Sqaure so really handy for shopping on the Kings Road or a pre-theatre meal before visiting the Royal Court. The service was a bit slow for the impression this place is trying to give, but the food was great (I recommend the monkfish and chocolate desert). You need to book at the weekend - the Botanist will be packed with people having brunch which is served until 4pm.
It was the worst experience in a long time. Customer service absolutely the worst - ignorant, not helpful and poorly informed. Won't be going back anytime soon.
After being informed that to dine at The Botanist a booking had to be made in advance I had done so to celebrate my mothers birthday. On arrival the restaurant was empty however I was notified that we were 20 minutes early for our table and would have to wait in the heaving bar area. Around 10 minutes later we were shown to our table. The glass wall shutting off the noisy bar area was perfect to enjoy a lovely meal, one which you pay a small fortune for. Shortly after ordering our food the waitress sat down next to us two young males who I can only describe as what is entirely wrong with our society. They were loud, disrespectful and were the beginning of the end to our evening. The aforementioned males sat playing loud music on their phones, swearing and being vulgar. They blatantly, and very loudly, admitted to the waitress that they had lied about wanting to eat and had only said so to have a table not in the bar. At this point, surely, they should have been asked to leave and have their drinks in the bar area as per the 'rules' that everyone else had been made to follow. Alas, nothing was done, therefore after another 10 minutes of their awful behaviour I quietly complained, yet again nothing was done. Our food was served and their debauchery continued. I was paying the fees of Chelsea yet had the atmosphere of a men's toilet. In the end, after more vulgar comments I had to say something to the 'boys' however their lack of respect shone through as they laughed at me when I asked them to be mindful of other guests. At this point, halfway through our meal, I requested the bill, suddenly the manager appeared and simply asked the gentlemen to move to the bar area however because they then decided to order food, just to keep the table, they were allowed to stay. I paid the full £70 for this grim evening and all I got was a 'I'm so sorry' from the manager. I will never be returning to The Botanist - whose disrespect to us was I feel,worse than the idiots they let in
I brought my mother and sister here for a late lunch last month. After sitting at the table unacknowledged for a long time our waiter didn't even look at us when he asked to take our order. My sister asked how the mussels were done and the waiter replied 'cooked'. He was very short with us and extremely rude. I even asked if there was a reason why he was being short with us and I was informed that he wasn't and I was in the wrong. I was totally embarrassed as my family was visiting from Canada. I asked the hostess for another server and in the end we had a friendly woman who served the rest of the meal. The manager came around but clearly didn't really care and we didn't see the point in saying anything. I will never go there again.
Charming staff! Great food! I tripped over whilst walking outside the botanist and was helped up by the manager on duty whose name was Karen I believe. I took a seat inside to check my ankle out and she returned with a complimentary coffee. It's the little things! I stayed on too have Lunch and thoroughly enjoyed the food and the atmosphere! Will definetley be returning to The Botanist to enjoy more food and more friendly service from managers and staff.
My husband and I popped in to The Botanist last night for a quick bite to eat. What was going to be a main course and a glass of wine turned into a three course extravaganza with after dinner cocktails (not unusual for us!). My dinner was lovely with scallops to start, steak for main and crème brulee to finish. Not cheap but then again so is nowhere in Chelsea!
I went to the Botanist for the first time this week, and it was a poor, poor experience|! This was a Wednesday evening, and even though we had a reservation, we didn't get seated until 40 minutes later. The service was incredibly slow, in fact our waiter ignored us to the fact that I had to get up twice, once to remind him we we were waiting for bread, and the second time to ask if we could order our mains. I ordered the Wiener Schnitzel, and the meat was so chewy that I left half of it on my plate. Sorry, but the Botanist is completely overrated, and I wouldn't recommend it to anybody!
Popped into the Botanist for a quick after dinner cocktail and was very impressed! I went for the Kings Road Buchaneer as I love rum and it was delicious. My friend decided on the espresso martini and said it was equally as good. Will definitely go back!
Loved dinner at The Botanist on Monday. Super slick service, amazing food. Really fun atmosphere. Can't wait till the next time and will be having cocktails in the bar too!
Love the cocktails at the Botanist. Just amazing. The bar is always buzzing with beautiful women!
I absolutely love visiting The Botanist. The friendly attentive service and buzzing atmosphere make the place so inviting. And the food is delicious, the fish cakes are a personal favourite!
Quite disappointed by my last meal here, since I was going to the Cadogan Hall with my partner and we wanted a nice dinner before we thought we should give it a try. We could have had better service at a kebabs place. Firstly, even they were almost empty they played hard to get in, once seated water was brought to the table promptly, unfortunately we can't say the same for any server, we had to wait well over 20 minutes and it wasn't until my partner called one of the many wandering servers who seemed lost on the floor that we were able to order. Two tables next to us were served way before even though we were there half an hour before them. Food was nothing amazing and we had zero contact from any server to ask for more drinks or even if our food was OK. Given the fact that they weren't even busy and yet we had such a lousy service, I'd never recommend it.
More venues
Sponsored listings