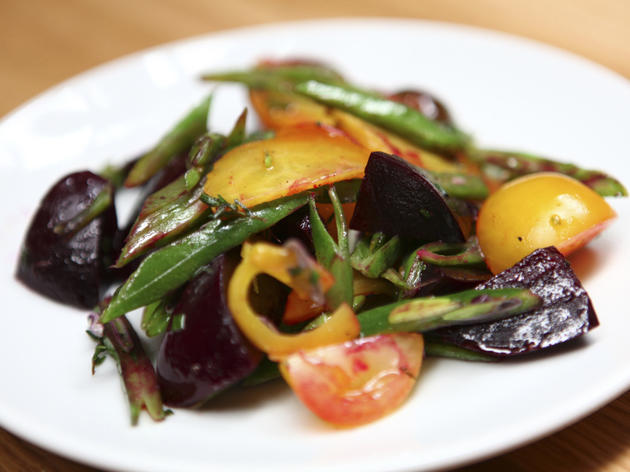 Light and airy, with stripped brick walls and a contemporary feel, Elliot's is a busy little spot full of tourists, dates and business people; in the evenings it can get noisy. Sit out front and watch the world go by, perch at the bar or take a seat in the bright back area with a glass roof above your head. The seasonal, ever-changing menu is small but innovative, and carefully sourced (they deal directly with growers and producers); bread is excellent.
Smaller plates such as crab on toast or buffalo mozzarella and polenta are listed alongside larger plates including the ever-popular (but weekday lunchtime only) burger. Served in a toasted sesame seed bun, with fried maris potatoes, a pile of pickles, ketchup and mustard, the burger was too juicy to pick up, and oozed with cheese and fried onions. The meat was tender, delicious and still a little pink in the middle. At dinner, lemon sole, wild garlic and fino (a large plate) was good, but there were no more than a few slivers of wild garlic in the sherry-based sauce, making a side dish a must.
Jersey royals with bacon and shallots went nicely with both this and a (small) plate of three scallops with herb butter. Well-mannered, very engaged service is on the evangelical side when it comes to the natural wines (orange wines are listed alongside the expected white, red and rosé).
Venue name:
Elliot's
Contact:
Address:
12 Stoney Street
London
SE1 9AD

Opening hours:
Breakfast served 8-11am Mon-Sat. Lunch served noon-3pm Mon-Fri; noon-4pm Sat. Dinner served 6-10pm Mon-Sat
Transport:
Tube: London Bridge
Price:
Main courses £12-£23
Menu:
View Menu
Do you own this business?
Average User Rating
3.6 / 5
Rating Breakdown
5 star:

8

4 star:

2

3 star:

0

2 star:

3

1 star:

3
A hidden gem! Outstanding food and very reasonably priced.
I had an AWFUL meal at Elliots a week and a half a go and my date and I still have bad stomachs and I have just contacted the council to find out if others have reported food poisoning there too. Whether you get ill or not, everything tasted weird or just disgusting so don't risk it.
Have just had the most perfect birthday lunch at Elliot's. Amazing wines, lovely delicate flavours and apparently a great pale ale according to my boyfriend! We shared 3 of the smaller dishes and with the wonderful (complimentary) bread this was just perfect for us for lunch (the partridge salad was a particular highlight!) - maybe the people below complaining about portion size should to stick to pub grub! £50 for 2 for great food, lovely drinks and unhurried service is great value in my opinion. Has shot straight into my top 10 London restaurants!
Fortunately I have not shared the bad service experience cited by one reviewer, having been twice. In fact service has been charming. I found the food excellent, on one occasion sharing a braised veal joint between three, with trimmings and plenty of juices. Delicious. I note the main courses (described as large plates) change frequently, so having a fairly small selection is OK. My only criticisms relate to cost . Given the price of the large plates I feel some sides should be included. Also the wines are expensive, with no red bottle at less than £31 for my most recent visit. That is too big a mark up and would expect house options for at most £24 at this sort of place.
Very disappointing. I ate here tonight with a group of friends, and I felt compelled to write a review, since most reviews I found online were pretty positive about this place. I don't know if tonight was an anomaly (the manager was not there...) but the service was appalling. We waited for a considerable time to have orders taken, then half way through ordering were told some of the dishes were not available (from quite a small menu). Even worse, 30 mins later our waiter came back to tell us more dishes, which we had already placed orders for, were sold out and we ordered replacements. The replacement orders were wrong when they eventually arrived nearly 90 minutes after we sat down. The food was mediocre, and the starter portions were small (I shared the aforementioned 40 day aged beef, and this was big). One of the side dishes arrived just as we were finishing our main course. Our waiter was very nice, but you couldn't help feeling it was a massive cock up, potentially in the kitchen rather than front of house. If I hadn't been with so many friends, I would actually have refused to pay. Regardless of the food (which admittedly was OK) the service completely marred the whole experience, and it was utterly disappointing.
The food there is incredible and so much quality! The staff are very friendly too! The mussels are lovely and you are always topped up with fresh bread to soak up all the flavours. Had the treacle tart with pumpkin ice cream, it was heavenly.
Incredible lunch. This was probably the best British food I have ever had. I thoroughly recommend sharing several dishes as part of a group - the ox cheek pie and the apple crumble were fantastic. The kitchen has no freezers all food is fresh from the adjacent Borough market, this has become my new favourite.
What a find! Thursday night and was very busy. Service was very relaxed and friendly. Food was delicious. We had three small plates and some sourdough with a great bottle of Syrah, it was plenty. The complete standout dish was the squid with pureed cauliflower and curry oil. One of the best things I have ever eaten. Just loved this place. Def in my London top 10. (I only docked a point because they ran out of chicken wings).
Could be great but the portion sizes are a joke. The food, ambience and staff are great. But the prices are pretty high considering the portion size. The mains are priced at around £15+, and they are starter size requiring two extra sides to be ordered to make a proper meal. I dont know why they are doing this, everyone seems to be leaving hungry
Hi guys rob from Elliots here I will rectify some of the problems listed below , and if the guys want to drop me a line on Rob@elliotscafe.com I can get them along to try our new menu . I hope everyone enjoys elliots but Im always up for feedback and getting it right i hate disappointed customers more then anything . The menu evolves around what produce we have and thank god spring is on the way see you soon cheers Rob
Although tasty, the food is overpriced for the quantity (very very little). The charcuterie plate was particularly disappointing, which was small and terribly presented. The staff are nice but the service is very slow. Overall, I felt pretty short-changed. Not recommended.
oooh browsing menu wish I was there tonight!
Whilst the staff were lovelyand the food tasty it was very small verus the price of it. I had squid starter at £8 and had the smallest piece of squid ever. Then a bream for main at £16 which was a small fillett on the smallest pice of kale ever seen.
Our second trip to Elliot's this evening and the experience was twice as good as the first. Exquisitely cooked simple food, served in an unpretentious setting and at a far more reasonable price than many of it's competitors...what more could you ask for? We'll be back for a third...
Food is DIVINE. Really enjoyed the grilled squid and the buttermilk fried chicken was incredible. A very special place. We'll definitely be going back.
More venues
Sponsored listings