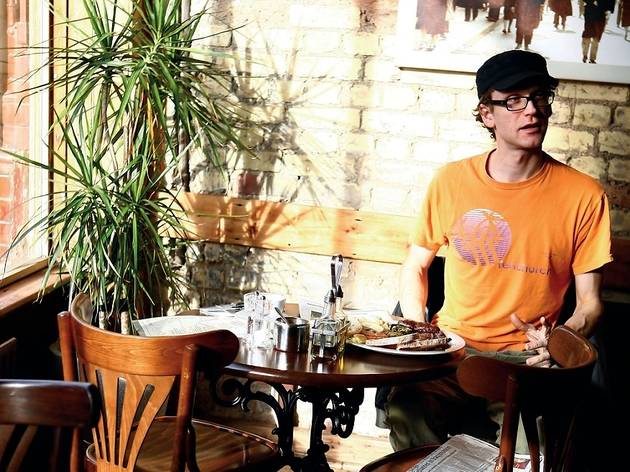 With leafy Highbury Park just down the road, and warm, unfussy decor – plain wood furniture and floor, rugged brick – the stage is set for simple, fruits-of-the-pampas pleasures. Which was what we got. The kitchen is separated from the dining room by a theatre-style red velvet curtain, and the food did its best to put on a show.

Some non-Argentinian starters were available for a while – a quinoa salad, for instance, and tamales de pollo – but lack of interest saw them removed. It's hard to imagine them competing with the sweetbreads, in any case: these little chunks, served with a tiny morcilla croquette and dressed rocket, were excellent.

The parrillada mixta was, well, mixed. The flavour of two steaks – one a lean rump, the other a more tangled, sinewy ribeye – was just about up to Argentinian standards. But a piece of pork, although tasty, looked terrible – curled at the edge like something you'd get with two veg at a greasy spoon. It sounds like damning with faint praise, but the chips were the stars here: they seemed to have been subjected to multiple fries, and were all the better for it.
Venue name:
Garufa
Contact:
Address:
104 Highbury Park
London
N5 2XE

Opening hours:
Meals served 11am-10.30pm daily
Transport:
Tube: Arsenal
Price:
Main courses £10.50-£40. Set lunch £10 1 course incl glass of wine, beer or soft drink
Menu:
View Menu
Do you own this business?
You may be interested in:
Average User Rating
2.7 / 5
Rating Breakdown
5 star:

1

4 star:

2

3 star:

1

2 star:

0

1 star:

3
I booked Garufa for last Saturday night 9th January for a family party of 8 people and it was confirmed by both EMail and telephone. When we arrived, after walking for 15 minutes from Finsbury Park station in torrential rain , we found the place completely shut up and in darkness with no sign on the door. WE were to say the least extremely disappointed and have not received any explanation whatsoever. Has the place gone out of business?
I went to Garufa last night (23rd October 2012) to celebrate my girlfriends birthday together with her Mum. To help give this review some context, my girlfriends mother is Spanish and has owned her own restaurants for decades in both Spain and London. Their family live for good food. We live locally and this was our second trip to Garufa in 7 months. On both visits I have been blown away by the steaks. They are cooked to perfection in my young (ish!) opinion. I have previously read older, but negative reviews, so felt obliged to tell you about our experience. We each had a starter. All around £6ish. All really well presented, but most importantly, tasted lovely. The tama del pollo was great. For mains we all had a different type of steak, well priced for the size. Again, this is the best part for me – it tastes amazing. The homemade chips are also really tasty. I'm not sure what they do to them, but the chips are the best I've had. The wine - the Malbec at £18 was the cheapest, but was extremely tasty. Complemented our steaks really well. Further to the above meal, my girlfriend is diabetic, so I called in advance and arranged for a home-made cake to be dropped off a day before. The staff were happy to hold on to this and bring it out after our mains. In addition (and one of the reasons I'm writing this review) they then brought us 3 glasses of complimentary dessert wine to enjoy with the homemade cake. They did not need to do that, especially as we weren't paying for a dessert, but they did. A good touch. For 3 people enjoying the above over 2 hours, my bill came in just under £90. For the above quality of food, the surroundings, the willingness to help with the cake, and the complimentary dessert wine, I had to write this positive review. I encourage you to go and try it out. To make sure this is a balanced review, I need to be 'a bit BBC' and highlight one area for improvement. The only downside for a perhaps more 'traditional' customer is their phone manner. This could be improved a little. But this would not stop me going again and knowing I will have great quality food in a lovely restaurant. Top marks Garufa.
Our firs visit ( and last) we went for quick dinner - unprofessional service,overpriced. Don't go!!!They tried to cheat us with the bill
My first visit last Saturday and I have to say one of the best bits of cow I've had in a long while perfectly seasoned and cooked to perfection (medium rare).Take a leaf out of my book and opt for the 400g Ribeye with those amazing chips. Enjoy. The deserts are nothing special, but I didnt go there for pudding
2nd time I have been here, the food is amazing, both times we have gone for the Garufa platter. Not sure what people are complaining about the food for as this is one of my fave restaurants along with The Hawksmoor and Red Hook for steak, great restaurant, great service. Although both times we have been early in the week so the restaurant has been quiet so we have had a lot of attention which is great. Ended up around £200 for 4 people inc. 2 excellent bottles of red wine.
I went here with my wife as we live around the corner and hadn't been in for ages (only been once before). We won't be going again, which is a real shame as what they are doing is simple to do, it just needs to be done well. The quality of the produce was poor and the food itself bland. My wife had a burger which was served to her black & blue (rare) in a standard processed burger bun. She asked for it to be cooked through a bit more more & it came back blacker, but still blue. The bun was now soggy too, they reluctantly took it back again and it came back (the same burger still) charred and grey this time! The service was unapologetic and we were made to feel that we were making a fuss. My steak was ok but bland, the one good thing was the chips. The annoying thing about this place is that it is as much, if not more than a gourmet burger or steak restaurant, but dull and thoughtless.
More venues
Sponsored listings