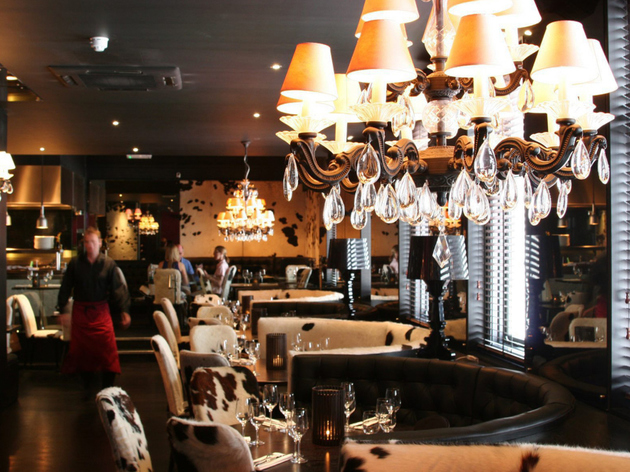 This Swallow Street steakhouse is part of the UK-wide restaurant chain, and is staffed by an international bunch of fashionistas, but what Gaucho lacks in authenticity, it makes up for in quality. From the Argentinian-style cheesy breads to the dulce de leche pancakes, via the succulent empanadas, meat and fish dishes, the food is impeccably sourced and carefully prepared.
The main event is the beef; before the meal, a waiter comes over with the five main steak cuts and explains how they're best served and accompanied. If you want the meatiest meat, choose ribeye, though the fillet is heavenly for those frightened of fat. Service is attentive and can verge on the invasive, especially at the Piccadilly and Richmond outposts – have a polite word and the waiters will back off.
The truly impressive wine list is pricey, but the house malbec is usually excellent. The newest branch is in Smithfield, bringing meat to London's carnopolis, as it were, and there's an O2 outlet where show-goers can hire a private suite.
Even more lavish, the Hampstead branch has a private dining room (and a lovely outside space), and you can hire your own sommelier and grill chef – for a hefty sum.
Venue name:
Gaucho Piccadilly
Address:
25 Swallow Street
London
W1B 4QR

Opening hours:
Meals served noon-10.30pm Mon, Sun; noon-11pm Tue-Sat
Transport:
Tube: Piccadilly Circus tube
Price:
Main courses £12.25-£37
Do you own this business?
You may be interested in:
Rating Breakdown
5 star:

6

4 star:

8

3 star:

3

2 star:

0

1 star:

1
Lets start with the price. £235 for 3 people. 2 glasses of white, a bottle of Malbec, water and a heafty 12.5% service charge accounted for £90 of this. But to the heart of the meal, The Steaks. Why can't chefs cook a sirloin or rebeye to a medium. From Wetherspoons to this Gaucho (Piccadilly) they are all the same, bloody and tough in the middle. My wife asked for her ribeye well done but it was still a bit runny in the middle. I know I will get the usual comment (ask and they will cook further or change) don't they know many diners are on a time scale, Theatre, pictures or some other commitment. She forced her way through it but it was clear she was not enjoying it. In forty years of eating steak in many fine restaurants the finest steak I've had was in the Cuo in Cambridge. Other than that your local Chinese will not fail you with their version on a sizzling platter. As to the service charge. First time I've had it added to the bill without being informed. Could have complained but as said before. Didn't want to delay us further. Will know better the next time 😡😡
It's always a big debate about the best steak in London. is it Hawksmoor? Is it Goodmans? Well one thing is for sure that Gaucho never fails to disappoint. It's the original steak house, around before all the newer steak restuarants. The Chimichurri steak is fantastic and when it's washed down with plenty of Malbec, then you know you're in a good place. Gaucho is always reliable and always quality.
Oh yes - The scene of the crime ! This is an annual destination for some of the best guys I know. Cocktails on the cow-hide chairs, followed by huge steaks and lashings of Malbec. It gets late, it gets loud - but the staff are brilliant. Looking forward to next time.
Amazing cuts of meat and cooked to perfection. Just writing this is making me salivate. However the 'mood' lighting was way too dark, as a table of four, I could barely see the person opposite. The waiter even had to get his phone out and turn the flashlight on to show us the different cuts of meat available on the board. But when the food arrived, it more than made up for it. SO good. Any steak lover will fully appreciate the food on offer, and the interior is rather cool as well. Just try not to fall off your chair when you get the bill…

SomPoint
The map location for Gaucho Piccadilly issompo.me/D0FAQQB9 .SomPoint is a method to locate every point in the world using only 8 characters.You can convert every address and point on earth to only 8 characters.
My family was in town yesterday and at midday I was asked to reserve a table for 7 on a Tuesday evening. My Dad was keen on a steakhouse, so I first checked the Guinea Grill, then Hawksmore then Goodmans, venues which I have greatly enjoyed in the past for both quality and atmosphere. Unfortunately, all three were full (and we checked various locations for both) so we settled for Gaucho on Swallow Street which was able to accomodate our group. On arrival we were taken to the top floor. On being seated about a round table, the first thing we noticed was that the lights were so dim that it was difficult to see each other, let alone read the menu. We asked to be moved to another table which, at 8pm, had a little more light coming through some slits in one of the windows whilst the sun was still up, but not enough for the older generation amongst our group to read to menu. Too add to our disappointment, the music was playing at a ridiculous volume; so loud in fact that most of us were unable to hear the waiter running us through the different kind of steaks. I asked for the music to be turned down a little, which, initially was done, but within 5 minutes it was turned up again. I asked again and again and again. One of the waiters claimed that "If we turn it down, you can hear people speak louder, so we turn it up". What????? At this stage I gave up. It was very upsetting to have to sit together at a family reunion and be unable to speak to anybody who was not immediately to your right or to your left; that is of course if you could recognise them in the dark. This was so very upsetting to us all. We should have been warned that this was going to be a nightclub. Believe me, I like nightclubs with dim lighting playing chillout beats 'Copacabana Deep' style mixed by DJs with names like Paulo Arruda whilst I line up the shots up on the bar and 'Hi-5' my pals, but this event was supposed to be a rare family get-together. My fiancée asked for a lemonade and it never arrived. My Dad had to wait for 10 minutes for mustard whilst his steak went cold. One would normally assume that a steakhouse, however posh, would offer to serve mustard with a steak. We ordered a second bottle of wine and had to wait for over 20 minutes; it only arrived when we asked the head waiter where it was. It was actually sitting on the bar. Pity we had finished our steaks when it arrived having had to drink water to wash down our steaks. On paying the bill, my sister told our waiter that we were dissatisfied with the service and would be reducing the (included) service charge from 10% to 5%. The waiter was apologetic, but it was JUST NOT GOOD ENOUGH. NEVER EVER book this venue if you want to enjoy somebody's company. DO bring your loud and rude broker pals here after 12 pints of Aspalls on a Thursday evening before hitting China White or Nam Long or a similar club you would only go to when drunk. The steaks are actually very good and the 'Copacabana Deep' beats will get your blood flowing as you prepare to misbehave later. As it is so dark nobody will be able to tell you have knocked back 12 pints of cider. And no one will know you are drunk as they will not be able to hear you.
I cannot praise this restaurant enough, Brilliant food, Knowledgeable staff an excellent choice if anybody is celebrating a special occasion Well Done Gaucho Piccadilly
Gorgeous argentinian steak and staff can actually explain the menu and types of meat - impressive! Just a bit too dark, we couldn't see our food properly. Highly recommended.
Exquisite tasting food! Warm and inviting, friendly staff and brilliant service. Highly recommended 5/5
I live in Islington, and Bombay Lounge is my favourite Indian in the area. The food is very good, with a nice variety of specials as well as the classic curries. I particularly likenthe aubergine veggie special, and the duck curry adds a bit of variety to the usual lamb or chicken options. The service is always friendly and you always feel welcome, and price wise it is good value for money too.
More venues
Sponsored listings