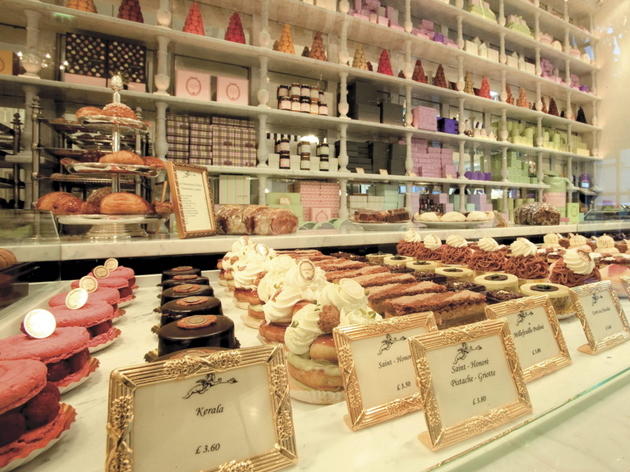 A branch of Paris-based Ladurée, this time in Covent Garden Piazza.
Venue name:
Ladurée
Contact:
Address:
Unit 1
Covent Garden Market
London
WC2E 8RF

Transport:
Tube: Covent Garden tube
Menu:
View Menu
Do you own this business?
You may be interested in:
Average User Rating
3.4 / 5
Rating Breakdown
5 star:

7

4 star:

3

3 star:

3

2 star:

0

1 star:

5
Rudest Staff. Terrible Customer Service. Having visited Laduree in Paris I thought I'd treat my mum this weekend to a visit in Covent Garden. I'm not a complaining type, I've worked as a waitress and I know that in busy times to expect a wait. I don't however expect to be completely ignored by all staff. Just an acknowledgement that they knew we were waiting for a table would have been appreciated. This was then followed by a women pushing her way in front to book a table of 10. Despite me explaining to the waiter that we had been there first, he again ignored me, and in the most patronising and rude way told me that we would have to wait for the table of 10 to be seated before we, (a table of 2!) could be seen to. We of course did not stay, and walked away. Considering the prices of Laduree, you expect a high level of customer service. Not to be completely ignored, twice! And then for staff to be rude. It completely put me off and I wouldn't bother again.
Hi I'm Isobel from Ireland, I am doing my GCSE's art project on your shop and I was womdering if you could send me anything like old boxes to work from and leaflets, It would be great if you could! Please get back to me as soon as possible, Yours sincerely, Isobel.
I adore this place! I'm actually shocked at the bad reviews! I come here weekly and love the Hot Chocolate and tea and of course the macaroons! I'm not so much a fan of the coffee as it really is foam in a cup. I love the location by the street performances, watch without paying them. ;)
Saw some poor reviews but still went as heard they have the best hot chocolate. So glad we went as the hot chocolate was thick and creamy as promised. Had a lovely pistachio pastry too. Service was polite and attentive. It's not cheap but well worth paying that bit extra for a treat. If the weather permits try to get a seat outside on the balcony, it's got a really good ambience.
I have been buying macaroons in La Duree for years, travelling to Paris especially to get them. After trying their restaurant in Covent Garden, I will never again be purchasing any more products from them. I went a Saturday afternoon to have the afternoon tea with a friend. Firstly, half of their menu had been sold out and what they offered in return was just 2 macaroons: we said we were not happy, as it was clear that 2 macaroons was in comparison, less quantity than what was advertised in their menu. Yet, that was the only option we were offered. When choosing the flavours, they also had run out of them and brought others instead, without checking with us. So we ended up paying almost £50 for what was a couple of tiny sandwiches, two croissants, and about four macaroons and a tea. A total rip-off and also fake advertising in their menu. When we had finished, we still got charged 12.5% service charge, for one of the worst services in London. Once we were leaving, my colleague and I wanted to check out the prices of the boxes of macaroons - my colleague is partially blind and picked up the list of prices in his hand, as otherwise it is difficult for him to see. What we got was a very rude reaction from the gentleman behind the counter, saying quite loudly: SIR, LEAVE THAT LIST WHERE IT IS. This services is appalling, I will be strongly advertising friends and family against going to any of La Duree restaurants or buying anymore of their macaroons. What is more, I will say that the macaroons from Pierre Herme that are sold in Selfridges, are much better quality and by far a better and kinder service.
We wanted to have a nice afternoon break with my wife, but we were first met with an arrogant waiter and then forgotten in our table upstairs. After waiting for quite some time for somebody to take our order we finally walked out.
Also end of love affair with Laduree... on a sunny Sunday we wanted to treat ourselves with a nice lunch on the 1st floor terrace of Covent Garden... the experience was a complete disaster. We ordered champagne to start (a treat, we never order champagne!). The menu annouces it comes with petits fours... and then my partner ordered a menu (starter and main), and I chose the afternoon tea. We waited for quite a while and then suddenly the starter came before we even get to sip the champagne and petits fours. The waitress knew it is not right to get the starter before the aperitif but still came with the plate. We complained, the champagne then came, but without petits fours. The waiter said the petits fours were on their way... and instead of them came the afternoon tea tray! we sent the tray back... then came the petits fours. They must have run out of them because with two glasses of champagne came only 2 petits fours, one each!! Ridiculous. We asked the waiter to bring the afternoon tea tray with the main of my partner... of course the main came... and not the afternoon tea. so he had his main and I then enjoyed the sandwiches and cakes. There is no dedicated waiter per table, we counted 5 waiters just for our table! the staff is not trained and the 1st waiter we saw could barely understand English. While we shared the cakes, a waiter offered to bring a 2nd plate but left and forgot to bring it. So from start to end the service was a complete disaster. and the food was nothing special and overpriced. I love their macaroons but was disappointed with the cakes and croissants which were dry, not very fresh. The salmon was no better than at Bristro restaurant nearby which serves the same for £10 the menu. I do not recommend this place at all, absolutely not value for money, bad service and average food. Laduree is all about looking good but not about quality. and it looks like the policy of the group is to save on quality staff and food and only play on the decor to maximise profits... luckily we were spared the cost of the afternoon tea and the service charge, as a compensation. Still it came to £52.
I went with my family to the Covent garden branch- in all there were about 11 of us. The service was impeccable and charming. Everything was wonderfully presented and the ambience was quietly elegant . I had coffee and the macaroons, which are a delight and unlike any similar looking macaroons. It is pricey but worth the occasional treat and I certainly can't wait to return.
I love the La Duree brand, the food and the experience. It/s a little taste of luxury and quality. Sure the recently opened Covent Garden store has some teething problems at launch but if the target quality is that of the Harrods flagship restaurant or the Burlington Arcade place, then I for one say GO for it. I am taking a party for lunch there in a couple of weeks and will report back then.
Love affair with Laduree ends... I have always loved the gorgeous Laduree , until I had the misfortune to dine in Covent Garden yesterday. Slow, rude and frankly rubbish service. My friend and I ate a very average omelette and downed a tiny, tiny cappuccino which set us back a completely unjustifiably expensive £45. It's the wrong place for Laduree, and yesterday it was clearly the wrong place for me. My advice get a Starbucks and if you want a gorgeous Macaroon go to Paul's on Bedford St.
More venues
Sponsored listings