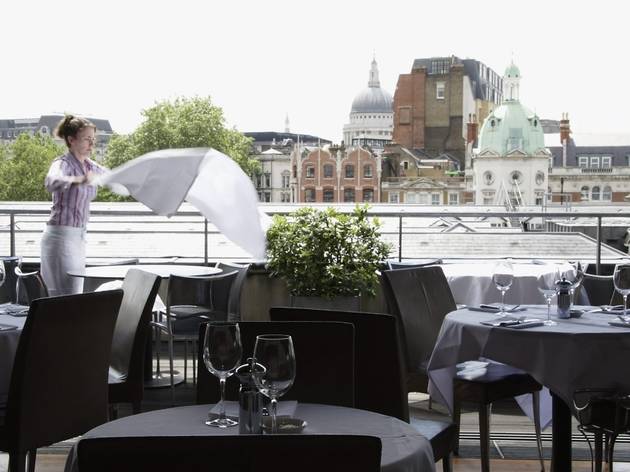 There are four different levels to this Smithfields spot, encompassing a ground floor cafe and bar, a first-floor bar dedicated to craft beer, a second-floor dining room and a third – and top – floor given over to food of a more fine-dining bent. There are private rooms to hire, too.
Largely, the menus here focus on British produce and dishes. Expect bacon sandwiches, full English breakfasts and mushrooms on toast on the ground floor, steaks, burgers and seared scallops with black pudding, bacon and cauliflower purée in the second-floor dining room, and veal sirloin, cod with langoustine and roast monkfish with caramelised cauliflower, leeks, cockles and ham on the top floor.
More than 60 craft beers feature in first-floor bar. Brewers include Five Points, Bru, The Kernel, Hiver and Hammerton. Cocktails, wines and an interesting selection of spirits also feature.
More
Less
SMITHS of Smithfield says
A four-floor venue in the heart of Smithfield Market.
More
Less
Venue name:
SMITHS of Smithfield
Address:
67-77 Charterhouse Street
London
EC1M 6HJ

Opening hours:
Ground floor café: Mon-Fri 7am-5pm; Sat-Sun 9.30am-5pm. Ground floor bar: Mon-Sat 9.30am-11pm; Sun 9.30am-5pm. SOS Craft Market: Sun Tue-Sat 6-11pm; Dining room: Mon-Fri noon-3pm & 5.30-11pm; Sat 5.30-11pm. Top floor restaurant and terrace: Mon-Fr noon-3pm & 6-11pm; Sat 6-11pm; Sun noon-3.30pm
Transport:
Tube: Barbican tube or Farringdon tube/rail
Do you own this business?
You may be interested in:
Rating Breakdown
5 star:

1

4 star:

5

3 star:

4

2 star:

1

1 star:

3
Visited the cafe on the ground floor the weekend just past to partake in their bottomless brunch...and it was one of the worst I've ever had if I base it on the food and drinks. The Prosecco option we chose was a struggle to drink, tasting more like Passion Pop (for Antipodean readers) and never being quite cold. We ordered more lunch food options than breakfast with the chicken burger and lamb kofta. While the chicken in the burger was fine, the bun was so dry that half of it wasn't eaten. The lamb kofta was five measly looking things that were dry as can be with two small cherry tomatoes sliced in half on a bed of hummus and one pita sliced in two, quite a pathetic offering.
In saying all this, the cafe had a great vibe even for the Sunday of a Bank Holiday weekend and the service was fantastic, the only positive things I have to say about this place. It's not often I'll write a review like this but this brunch was an absolute let down and I'd discourage any Time Out reader from taking up the current offer.
The most appalling service I have ever experienced, 3rd floor front of house staff require full training or sacking. Saturday night 8:30pm No sirloin available in the meat packing district on the 1st sitting on a Saturday night!!...,No rioja available ,No pully f available & no bread!! do I need to say more? Well Yes I do, served gents before ladies from the wrong side , spilt wine on main dish and on to the table with no attempt to rectify, main courses arrived to a table full of empty 1st course plates , Manger (Mr andys.... as he said) could not care and when confronted about the despicable service his comment were " We never have complains " "ive been here 2 months and we are still trying to get it right" so he just contradicted himself. With only 7 tables booked for the whole of Saturday night this probably reflects other diners previous experience of shoddy non existence service, I expected a full explication from @JohnTorode1
What a disappointing meal - we were on the 2nd floor. My first choice of starter was unavailable so I chose the Squid - this was pretty good - Now the bad bit - I chose the fancifully described steak and chips - steak was tiny and the chips were so overdone there was no soft bit inside them utter rubbish. How John Torode can criticise people on Masterchef I will never no. If you cannot train your staff to cook a chip then you are in trouble. An utter disgrace for 18 odd quid. My other half had Sea Bass which was very nice but the accompanying salad she thought had rancid oil on it. GIVE THIS PLACE A WIDE BIRTH - you'd be better off going to a Harvester for dinner.
Great food and atmosphere.
Went there weds 7th Dec, table of 9, so we weren't worried about spending money. Used the 2nd floor restaurant, having been to top floor on 6 previous occasions. It was dreadful !!! Meat overcooked, and like boot leather, they'd run out of mash, new potato's and nearly all the veggies. Only brussel tops and a few mushrooms were available !!!! What's wrong with running down to the local Tesco's and getting some emergency rations? Or maybe use the frezzer for some peas and carrots !!! HOW THE HELL CAN A RESTAURANT RUN OUT OF FOOD ???????? That's not the end of it though. Self righteous attitude of the staff, not much in the way of any apology for a restaurant to run out of food, no offer of any free drinks, no reduction on the bill, which was about £750 !!!! My advice, DON'T GO THERE !!!!! There are much better places. The owner, the sanctimonious John Torode should be ashamed of the place. Running like this he has no right to criticise or make judgements of people on his Masterchef programme. I'd like to give a rating of a minus number !!!!!
Last night we returned to Smith's of Smithfield for a second wonderful meal. On around the same date last year, our friend Hannah invited us there for her birthday dinner, having had a real trauma trying to find a good restaurant in London who would accept a booking of ten without a deposit and/or set menu. SOS though were happy to oblige us with a lovely large table in their second floor dining room, and so we returned again this year for Hannah's celebrations. Adam and I are self-named 'ethicureans' and only eat free range meat, and fish that's line caught and responsibly sourced, so dining out for us is often a disappointment as we forego the amazing looking meat and fish dishes in exchange for a vegetarian meal which fits in with our rules. When we first heard we were going to SOS though we checked out their website to find out a little more about their ingredients and sourcing, and then after a quick phone call we found that all their meat is in fact free range….not just 'British' or 'outdoor bred'. One waiter even said to us 'I wouldn't work here if they served any less'. So, that box ticked, we arrived to the buzzing ground floor bar for arrival drinks before heading upstairs (in the trendily red-quilt-lined lift) to our table situated between the open kitchen and a vast well overlooking the floor below. These, and the other busy tables made for a great atmosphere in what is actually a pretty large restaurant (130 covers), and the attentive and knowledgeable staff certainly helped too. Last night, having nearly spoiled our dinner on a rather-too-large lunch, Adam and I opted out of starters….although I couldn't resist a few excellent Rock Oysters with sherry vinaigrette (£2.20 each) whilst everyone had their gorgeous looking Dorset Crab & Cox Apple on Toasted Sourdough (£9) and Cream of Cauliflower with Cheese Puffs (£5). Onto mains though and 'eating light' soon went out of the window as we were determined to make the most of our meaty feast. Adam chose the South Devon Rib Steak (Aged 21 Days), with Chips & Mayo (£17.50) which was served beautifully pink and perfectly succulent. For me, it was the Rosé Veal in Egg & Parmesan, with Rocket & Anchovies (£16) and although it wasn't a pretty plate (I'm not a rocket person, and the veal was completely covered in the egg like a sort of omlettey schnitzel) the veal was tender and tasty….as was my side order of wonderfully silky mash (£2.50). We were too stuffed for puddings, but opposite me, Greg's Sticky Toffee Pudding (£7) made me very envious as the smell of the hot toffee was almost enough to make me place a late order. Adam settled for an espresso whilst I finished my wine (slow drinker) which he tells me was very good. And by the time we'd finished chatting the place was nearly empty, but with no less atmosphere for it….. and so we left pleasantly full and rather jolly, vowing not to leave it so long until our next visit.
More venues
Sponsored listings