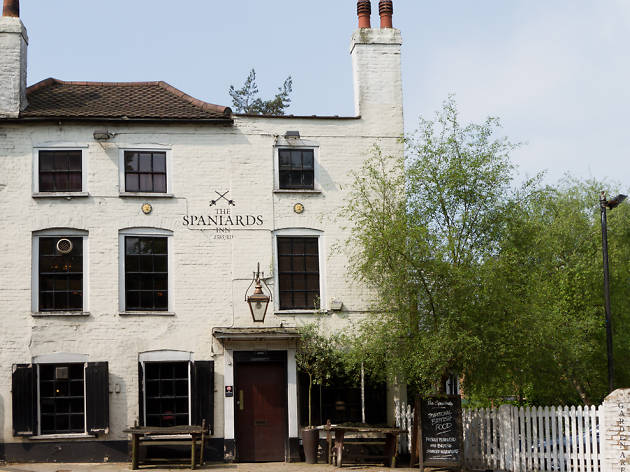 Most Londoners know the Spaniards Inn – it's been a feature of Hampstead Heath since 1585, with Keats and Dickens both former quaffers. Now run by booze behemoth Mitchells & Butlers, it relaunched in 2013 but remains as atmospheric as you'd hope, with dark panels and low beams stretching through the bar and restaurant rooms. The real change is in the menu, which now aims for gastro heights with smart beer pairings for every dish (Czech black lager from Bernard Dark was a great match, as you'd hope at £4.94 a pint). But, all in all, it's pretty conservative – and priced a couple of notches above the norm.
A beautifully tender gigot was among the more exciting options, but its bed of chickpeas (tingly with harissa), parsley, super-sweet tomatoes, black olives and chunks of merguez should have been warmed through. Fish and chips was good – the fish tightly sleeved in batter, the thin chips served in a modish paper-lined cup – but came with over-minted mushy peas and a too gentle tartare. Even bakewell tart was overshadowed by its sumptuous white chocolate and amaretti biscuit ice-cream. The big garden (with twinkling fairy lights at night and a doggie wash) backs right on to the Heath.
Venue name:
Spaniards Inn
Contact:
Address:
Spaniards Road
London
NW3 7JJ

Opening hours:
Open noon-11pm Mon-Fri, noon-10.30pm Sun. Meals served noon-10pm Mon-Fri, noon-9pm Sun
Transport:
Tube: Hampstead tube then bus 603
Price:
Main courses £11.50-£22
Menu:
View Menu
Do you own this business?
You may be interested in:
Average User Rating
3.9 / 5
Rating Breakdown
5 star:

9

4 star:

7

3 star:

2

2 star:

0

1 star:

3
Beautiful pub and great food. A little pricey maybe but the quality is brilliant. Great place for drinks post and pre walking the Heath
Just because it's fun and has a good story to go with.
A wonderful Sunday lunch after a walk on the Heath
Definitely one to bring tourists to
Visited The Spaniards Inn after a lovely, sun-soaked wander around Hampstead Heath. It really is the perfect escape from the bustle of the city without leaving London. Yes, the drinks are a tad pricey, but an evening in the beer garden surrounded by fairy-lit trees, luscious greenery and good company is totally worth it. If you're visiting at the height of summer, and you're prone to mozzie bites, don't forget to lather yourself with insect repellent.
Great building and great garden. Horribly overpriced dreadfully mediocre food. Rude bar staff with terrible attitude problems - be prepared to wait at the bar for at least 15 minutes every time you want a drink as they are always ridiculously understaffed. Waiting staff are aggressive and, really the food is well below sub standard.
One of the first pubs I ever went in London and still one of the best.. so charming tucked away behind the Heath this pub is a winner. Huge outdoor beer garden, great for summer and heated in winter. Incredible Sunday roast and perfect located for a drink after a long walk in the park. Great vibe definitely worth a visit.
Nice food and lovely service! Amazing Sunday roast.:)
i went there recently and i love it the food was great and the atmosphere was great!!!
It's surprisingly hard to find a decent Sunday pub lunch venue in a market where many punters appear not that bothered by poor service or average food at high prices. For 16 months we've been looking for a replacement to our usual haunt (The Holy Bush) - we don't go anymore! The Spaniard gets mixed user revues, but the problems and solutions are relatively simple to make: Our Sunday roast lunch was good but not excellent - beef v good pork dry and roast veg not at its best. It was also a bit pricey at £49 each inc beers or two glasses of house wine for 2 courses. Staff attentive and quick, but I notice 1/3 of the booked tables inside not in use by 1:30pm and new customers being turned away - two set times with a 15 minute table release would solve the issue when those who think they have 'book a table for a day' or simply don't turn up!
Things that did irritate me are: being invited to add a gratuity when one has already been included on the bill - SHAME OF YOU. The outside seating area would benefit greatly from a power wash and wood being oiled once a year. Overall, not unpleasant, but could be so much better with an eye and attention to small details. Will it happen? I doubt it because the place is so popular. Whilst paying customers continue to return there is no incentive to change - same reason as the Holy Bush.
On a summer's day or summer's evening, there is surely no finer place to be. Just a few short steps from Hampstead Heath and with a large beer garden (where dogs are positively welcomed), a drink at the Spaniard's Inn in the warm sunshine is one of life's treats and surely worthy of 5 stars. But wait...it isn't always summer, we can't always get there by foot and sometimes we want a meal with our drinks. On all three counts the Spaniard's Inn falls short. With it's dark and rather murky interior, awkwardly shaped (and often full) car park and over-priced, mediocre food, the Spaniard's Inn suddenly becomes much less appealing than it's revamped counterpart down the road, the Bull and Bush. In the summer-time, the Spaniard's Inn is a definite must for all Londoners; in the winter, head for it's cosier and better quality pubs nearby.
Had the most burnt burger ever in this pub. It was 2 mm of charcoal all over and when I pointed it out to the staff the obnoxious brat snatched the plate from me and said "it supposed to be like that" when I disagreed he shouted across the pub at me "it's supposed to be done that way it's a burger!". Now, this isn't a high class restaurant, but it's not Maccy D's either, and if a customer has a complaint, at the least you behave in a polite and courteous manner in an attempt to resolve it. You don't shout at them across a pub like they're stupid. My friends and I were gobsmacked. Five minutes later he came to the same spot meters away and shouted "come and see the manager!" and trounced off. Other patrons looked as shocked as we were. When I rounded the bar he just thumbed at me without even eye contact and said "this is the guy" and flounced off. The manager, I have to say, was immediately polite, agreed the burger was definitely burnt and refunded me no questions. I an really tired of staff in bars, restaurants, shops who feel they are too good for the job and take it out on the customer. Sadly they seem to be more and proliferate. Be grateful you have a job and quit with the lip, especially when someone is showing you politeness and respect. I will be giving this pub a wide berth for a long long time, at least until i know the bar staff and chef have seen some turnover.
This is my local and have been going for 15 years, lured by the old building the absence of music and lovely food. Recently however the place has definitely taken a turn for the worse. The prices are starting to be silly, the choice of pints has become quite limited and the queues on a sunny afternoon are immense. In fact one unseasonably sunny weekend a few months ago they had completely run out of food which might be an issue to some people who travel far to get here. We were still rather loyal to our local after all that though. What broke the camel's back was an issue about a week ago. It was a Monday night and there were about 8 of us upstairs celebrating my partners birthday. After we finished our meal at about 10pm we were told that we cannot be served any more as we have had too much to drink. I would like to point out that we are all middle aged had a couple of glasses each a big meal and there was no one else upstairs that Monday night, the place was empty. Not even a voice was raised to be honest. It was clear that the stuff just wanted us to piss off early so they can go home. This was slightly insulting as some of our friends had traveled from various parts of London to come to our local and we have been going there twice a month for years not to mention how much we spent there that night. We all thought if they wanted us to leave they could say when we got there or even at the time that they wish to close early. Some of our friends only got there just in time for dinner so had only had 1 glass of wine and they were told they cannot be served any more too. I think we will have to find a new local. Shouldn't be too hard around here...
Lovely old pub, just as dog-friendly as I'd read, good choice of beers and the food was excellent. Friendly staff too.
More venues
Sponsored listings