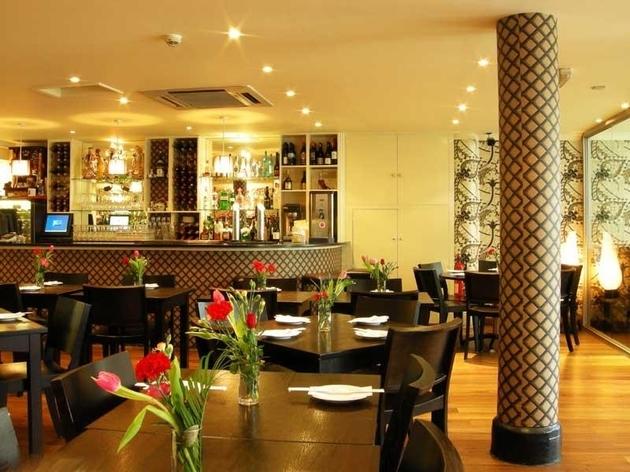 One of a number of Vietnamese restaurants on Kingsland Road, Viet Grill forms part of the 'pho mile', as this area is often referred. It's less ramshackle than many of its neighbours - there's even a cocktail list.
The food menu is authentic, with traditional Vietnamese dishes such as summer rolls, five spiced grilled quail and green papaya salads alongside Vietnamese curries, lemongrass chilli chicken and roasted whole mackerel marinated in tumeric, galangal and lemongrass.
Venue name:
Viet Grill
Address:
58 Kingsland Road
London
E2 8DP

Opening hours:
Open noon-11pm Mon-Thur; noon-11.30pm Fri-Sat; noon-10.30pm Sun
Transport:
Tube: Hoxton rail
Price:
Main courses £8.50-£13.50
Do you own this business?
You may be interested in:
Average User Rating
2.8 / 5
Rating Breakdown
5 star:

2

4 star:

7

3 star:

2

2 star:

0

1 star:

7
Lovely food! I def will go back. Tasty food; good portions.
It may be slightly overpriced in comparison to it's neighbours (of which I've frequented most) but it was one of the best Vietnamese meals we've had in a long time. We tried lots of different dishes, everything tasted fresh and packed with flavour and all three of us were in agreement about how good it was.
Maybe the the owners took heed of the critical comments about service because it was pretty good when we visited. The food, shared monkfish and spicy salad were spot on, too. The only blemish was the music blaring away in the background and reducing the cool factor the restaurant aspires to.
We went for dinner on Sunday (12/4/2015) and decided to try out this restaurant, as we have by now tried most of the others on this street.
First of all, the service is rushed. Second, the seafood Pho was really lacking in flavour (and only had 1 lettuce leaf, a bit of squid and 3 prawns in addition to the noodles - nothing else, not even the tiniest bit of vegetable), only saved by adding lots of chilli sauce or whatever else they can offer you. The barbecued pork was dry.
Third, the prices are higher than in other Vietnamese restaurants for what you end up getting. Moreover, they add at 12.5% service charge but don't really bother delivering decent service.
Fourth, the squid was overcooked and the prawns were not prepared correctly, with all the poo left in them, making them taste gritty. The only complaint we made was about the prawns, but instead of a simple and courteous "sorry about that", the waiter started a monologue about how he used to live near the sea and he knows how to eat prawns best.
They also seem to have a manager who constantly walks around the place staring at everybody, but does not seem to be keen to address any issues or improve service.
Altogether - avoid at any cost, as there are so many much nicer, better priced places with superior food on the same street!
There are so many good Vietnamese places on Kingsland Road and this is NOT one of them. Totally overpriced, tiny portions, not great, cheap wine at expensive prices, plus 12.5% service added when the service is nothing to pay that amount for, a cheap and rundown interior covered with some 'window dressing': broken floor covered with tape, dirty ceiling. For the price I paid I'd rather go somewhere slightly more upmarket. The toilets were fairly clean on the plus side. Left a bad taste in my mouth as I am a local and it seems these places are pushing up their prices because it's a 'trendy' area now...the quality doesn't follow suit.
The food was pretty good, but not perfect. It was slightly overpriced for the small portions. The staff were not rude, but definitely not friendly. The decor and feel of the place is great, it was very very full and very noisy. Overall, I'd say it was good but did it wow me? Not quite..
Portion sizes small, too much msg, staff very unfriendly, felt hurried out the door as bill shoved in our face without asking.
Disappointing service, well overpriced. I went there for lunch a few days ago, ordered a chicken curry. To my surprise there was one potato in there. Not sure now if the dish always comes with potatoes and if so why they only but one in? It looked a bit odd. as also there wasn't much chicken in there at all. The dish was okay though, not great but would give it a 2 star rating. What really annoyed me though was the service. It is lunch time and there is plenty of offers for that time at the other Vietnamese places (who have much better food than this one). The menu I got at first was the normal, very expensive evening menu. Only on my request the waiter then gave me the correct lunch menu. It went further that he gave me an annoyed look as I requested tab water - I dont find that unusual at lunch time. After all the restaurant was completely empty so who bothers. When I was finally eating the tiny overpriced portion the waiter said he will fix the table now. (which was wonky) When I told him that I don't mind that as I am eating he did it anyway and now while eating I find this guy between my legs - what is this? So now the bill comes and they add 12.5 service charge. Of course not compulsory. So I don't put it as I was disappointed three times now and what happens the waiter askes me angrily, so you don't add service charge? No I don't and for some time I won't come back. I highly recommend Viet Hoa for lunch time, they do excellent lunch offers for 6,50 only and do excellent service/ also no service charge. Guess what, I always tip.
The service was so poor I am leaving this review. I would not usually leave a review. We were a table of 10. From the start when only half the table's order was taken I thought there would be trouble. Only some starters arrived to start off with. Some mains arrived before starters. Mains arrived while eating the starters. Orders for other tables. No staff member seemed to care. No one said sorry until we said that no one had said sorry. When the bill arrived, there was no gesture on the restaurant behalf. Only the usual 12 1/2% discretionary service charge, of which we had to ask to be taken off. Some of the food was okay, my lamb was tough and more onion than lamb. Rice was cold and as if pre bowled the day before. The bill was still £45.00 per head. Way to expensive for both the quality and of course service. Totally dissatisfied. I do not recommend this restaurant.
We went for Viet Grill for late lunch yesterday, restaurant was busy at the time, hence the service was great, staff was friendly. Even though it's the first time we here, but waiter was showing their knowledge about the menu and Vietnamese Food and help us to combine all the dishes. Even though the portion is a little small, but tasted perfect. We definitely gonna come back.
Poor, poor, service. Food unquestionably excellent, but as at Cay Tre, the kitchen is let down by the staff, and more recently the greedy management hiking prices and halving portion sizes. New manager Charles listened to comments and did nothing about them. A shame.
I asked for duck, they give me chicken. I asked for rice, they gave me beer, What the hell... They rushed me to eat chicken even though I didnt want chicken and im really upset. Did they not understand me? Im asian too.