Brixton Village Market: shops
Browse the boutiques of Brixton Village Market housed in the former Granville Arcade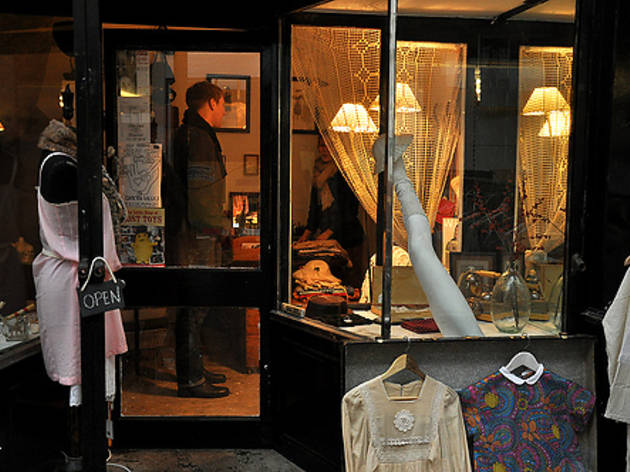 In Brixton, up until 2009, the old Granville Arcade was just another of London's many retail spaces in abandoned disrepair. That was until Lambeth Council and LAP, the building's owners, called in Spacemakers, an agency that specialises in the regeneration of challenging spaces across London. The group launched a competition for local entrepreneurs, foodies, artists, and creatives to apply for a free unit for a period of three months in the newly re-christened Brixton Market.

To the delight of the regulars, many of the market's original applicants – from old fashioned confectioners Sweet Tooth (unit 66) to French vintage purveyors Leftovers (unit 71) – have kept their homes in the arcade, alongside a selection of mouth-watering restaurants. They've been joined by new unit-holders like Emy of lovely interiors shop Brixi (Unit 7), a Brixton local originally looking for shop premises in Stoke Newington, who quickly applied for a space in the arcade when she saw the redevelopment.

By night, the arcade is represented by some (if not all) of its residents at its regular Thursday, Friday and Saturday 'lates', open house events soundtracked with live music – which could have a Latin, urban or just plain noisy bias depending on which unit is playing host – plus workshops, poetry evenings, shopping events and supper clubs.
Brixton Village Market shops
Read more about Brixton Village Market
Compared to the culinary homogeneity of Borough market et al, Brixton is a sensory fiesta. The air is thick with the sizzle of jerk chicken stalls, tinny reggae riddims and yam-based price disputes while the multi-coloured hues of exotic fish displays glimmer like a whiffy rainbow. And for every hipster rammed into one of the (justifiably) rave reviewed eateries in the newly trendified Brixton Village (that's the covered arcades), a stack of bargain basement exotic produce still teeters like a nutritious Jenga set.
Read more
See more about Brixton Village Market
Sponsored listing
Manifesto
Manifesto is a step up from your run of the mill barbers. This modern man's 'grooming salon' offers everything from an 'express tidy up' for £30 to luxury treatments such as 'The Rehab' that includes a traditional wet shave, haircut, treatment and fresh juice to take the edge off after a big night in the city. Situated on Leather Lane, Manifesto may be the perfect way to spend your lunch break, with slick industrial décor, and some comfy-looking retro chairs, settle in for some serious TLC.
Venue says: "A modern man's grooming salon offering the ultimate premium male grooming experience. A place for men to take a break from their busy lives."