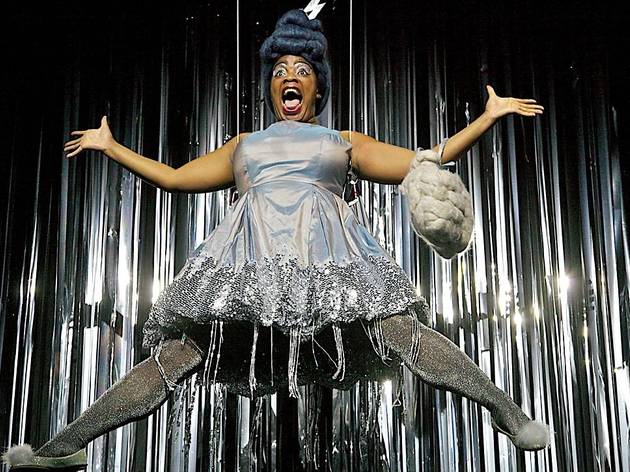 Trish Cooke and Robert Hyman's seasonal shows for Theatre Royal Stratford East may not be the biggest- budget pantos in town, but I'm pretty sure they're the best: funnier, richer and weirder than their rivals, with giddily comic original songs (as opposed to recycled chart pop) and scripts in which all the characters are strong (and not divided into entertaining baddies/dame and boring heroes). Plus, in Michael Bertenshaw, they've got the maddest, baddest, funniest villain in the game.
This year's 'Cinderella' is an even safer bet than usual, being a retooled, recast revival of Cooke and Hyman's Olivier-nominated 2006 show. I didn't see the original, but if Kristen Dempsey and Jenny Tiramani's ravishing Gaudí-inspired sets were there before, then their return is most welcome, while the script is a pure joy.
Book writer Cooke's chief innovation is to banish the drippy spectre of the Disney film and make Ayesha Antoine's Cinderella a gobby ball of energy, quite uncowed by Bertenshaw's unhinged Stepmother, who has to deploy her hulking daughters Sugary and Spicy (the disturbing Marcus Ellard and Darren Hart) to assert her dominance.
There's also a delightful feminist spin, as Shelley Williams's pink-fizz-soused Queen orders her playboy son Leo (Craig Storrod) to find a wife who can take over as ruler so she can bugger off on a cruise.
If anything, the show is too stuffed with good ideas, and perhaps 15 minutes too long. I have no idea what you'd cut though: certainly nothing of Bertenshaw, who is sublime in his simultaneous embodiment and deconstruction of the panto villain role. A scene in which he delivers a rambling parental guidance warning prior to hacking Spicey's foot down to glass slipper dimensions is as perfect a piece of comedy as I've seen on any stage this year.
Average User Rating
3.8 / 5
Rating Breakdown
5 star:

2

4 star:

1

3 star:

0

2 star:

0

1 star:

1