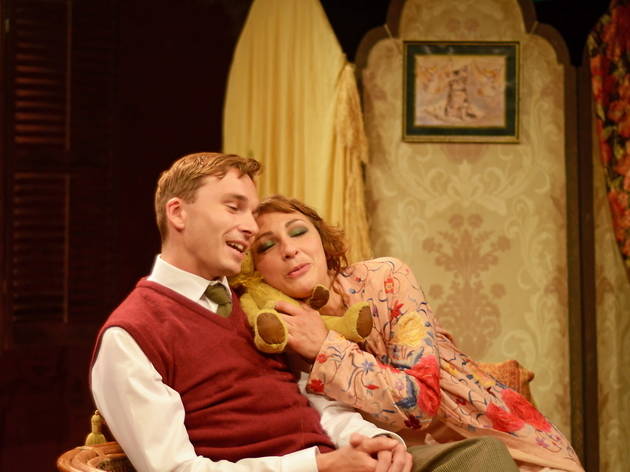 On its 1951 Broadway premiere, John Van Druten's play was panned with memorable brevity: 'Me no Leica', wrote critic Walter Kerr. This stage version of Christopher Isherwood's 'Berlin Stores' does lack the panorama of that era-defining portrait of Weimar Germany. In 'Cabaret', the hit musical based in part on Van Druten's play, the desperate glamour of 1930s Berlin is supplied in music. Without the nightclub numbers, it's just a sentimental portrait of a writer and his green-fingernailed muse, confined to the inside of their rented rooms.
Those rooms and occupants are illustrated beautifully in this meticulously cast production. Mark Jackson is pitch perfect as threadbare would-be-writer, Chris. The 1950s script doesn't emphasise Chris/Isherwood's homosexuality but Jackson's quivering period mannerisms, intonation and sensibility complete the portrait of an outsider who is compelled to tell the truth about the world he observes, no matter how much it intoxicates him.
As champagne-chasing chanteuse Sally Bowles, Vicki Campbell equals Liza Minnelli's vivacity if not her vulnerability: her forceful charm helps drive Owen Calvert-Lyons'production on through the increasingly forced climaxes. You wouldn't notice how overly modern – and tanned – Campbell can seem as Bowles if it weren't for the detail in Amy Yardley's design, a fine achievement on a Fringe budget (her backdrop enlarges the view with a sketch of angry respectable men, cribbed from an early Nazi propaganda poster).
The plight of the Jews is handled clumsily in the subplot romance between Chris's sensible student and his secretly Jewish palon-the-make, Fritz, but actors Natalie Ball and Tom Micklem make them touching and well-nigh plausible. And American generosity and indifference are personified with wonderfully relaxed bonhomie by Stephen Fawke's gift-laden sugardaddy. It's soft-focus Isherwood, but there's a lot to Leica.
Rating Breakdown
5 star:

1

4 star:

0

3 star:

0

2 star:

0

1 star:

0
I completely agree with 'Simon Maximer' because Vicki Campbell completely dazzled the stage and it's a shame the reviewer was blinded by her talent. She is the new actress to watch with her undiscovered talent and was the icing to a beautiful performance. The show had a character created by brilliant actors and perfect directing. The twisted love story of Christorfer and Sally captures the audience and the whole production was unforgettablely perfect.