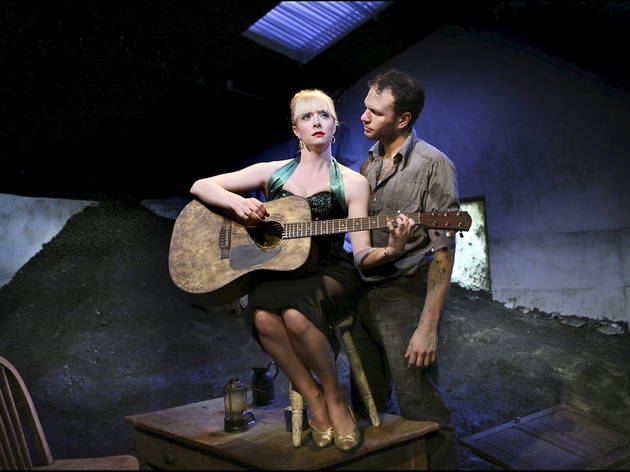 1968 Broadway flop 'Kingdom of Earth' is not Tennessee Williams's best work. But Lucy Bailey's claustrophobic revival shows it's not without cracked power. A small stage suits this slice of American gothic: the Print Room is dominated by Ruth Sutcliffe's stunning set, a heap of foetid earth that represents the Mississippi Delta farmstead of brothers Lot and Chicken.
As the play begins, effeminate Lot flounces back into the home after years away. He is accompanied by trashy Myrtle who, improbably, appears to be his wife. Growling out of the shadows, dirt-covered Chicken demands to know why Lot has returned after renouncing his claim on the farm.
White-clad Lot ascends to the top of the heap where is he sits like a diseased deity, dispatching Myrtle to steal his written promise from Chicken, who squats at the bottom of the heap like some grimy devil. Inevitably, Myrtle finds herself seduced by Chicken's animal carnality and remorseless pragmatism.
At least partly autobiographical, 'Kingdom of Earth' would appear to be about the warring sides of Williams – the brute and the dandy – and the gay playwright's relationships with women and his mother.
Self-indulgent and stylised, it is not classic Williams, but Bailey's production is visceral and nightmarish, the first half a morbid comedy, the second a tense, macabre clash of souls. It's hard to find much humanity in the gloom, but the cast do well, especially Fiona Glascott's Myrtle who eventually finds a much-needed sympathetic note.