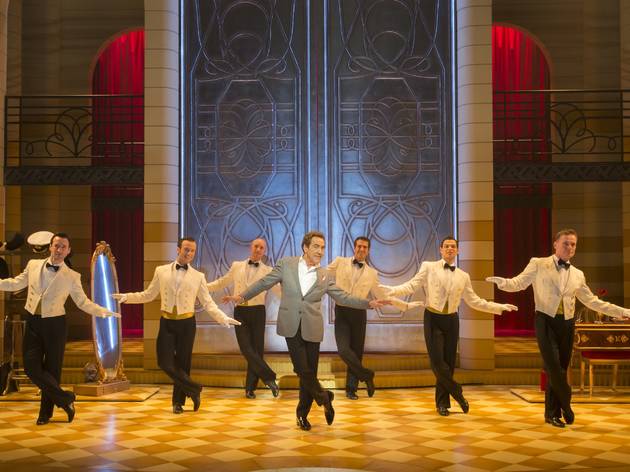 1/3
© Johan Persson
Robert Lindsay and cast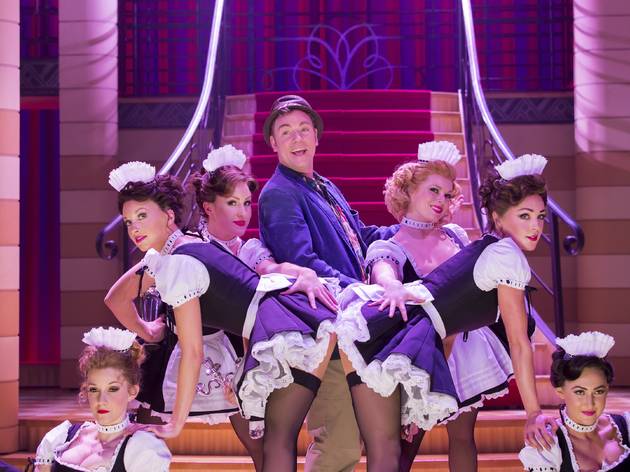 2/3
© Johan Persson
Rufus Hound and cast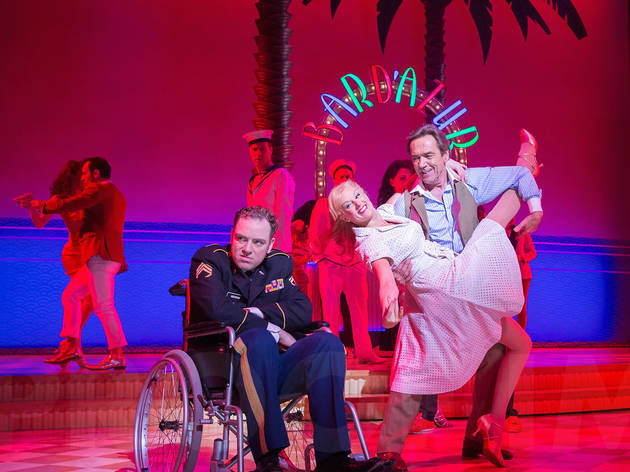 3/3
© Johan Persson
Rufus Hound (Fredd), Katherine Kingsley (Christine), Robert Lindsay (Lawrence)
The cast now includes Alex Gaumond as Freddy Benson, Gary Wilmot as Andre Thibault and Bonnie Langford as Muriel Eubanks. Robert Lindsay and Katherine Kingsley remain with the cast
Rufus Hound plays rookie conman Freddy Benson and Robert Lindsay plays hammy old rogue Robert Lindsay in light-hearted musical caper 'Dirty Rotten Scoundrels', the UK premiere of the Broadway hit adapted from the 1988 comedy film.

Okay, Lindsay notionally plays Lawrence Jameson, a jaded master criminal living it up on the French Riviera. But it's hard to know where character ends and actor begins in a fourth wall breakin', soft shoe shufflin', eyebrow cockin' performance that runs the emotional gamut from suaveness to smugness. Never mind fleecing wealthy heiresses – the man should be banged up for attempted theft of scenes. I liked him a lot.

I also liked the yappy Hound as the puppyish criminal who Lawrence takes under his immaculate predator's pinion. I liked the daffy Katherine Kingsley as their apparently airheaded American 'mark' Christine Colgate. And I liked Samantha Bond, bringing a certain eccentric charm to the thin role of Muriel Eubanks, a wealthy do-gooder who falls for Lawrence but happily takes being fobbed off on his dopey French sidekick, Andrew (John Marquez, likeable). If it wasn't so sweet natured one might accuse 'Dirty Rotten Scoundrels' of being a tad misogynist – it's basically about two men who get off on robbing women – but the whole thing is permeated by a wide-eyed innocence.

It's delightful, then, but I wish there was a bit more to director-choreographer Jerry Mitchell's production.

'Dirty Rotten Scoundrels' is a homage to the golden age of the musical, a semi-ironic doff of the top hat to the days where men were men, women were dames, everybody danced and chorus lines would turn up with no explanation needed. But I'm not sure its UK premiere has the budget to pull it off: with basic sets, a small ensemble and the modest Savoy stage, 'Dirty Rotten Scoundrels' is not a lavish show, and feels outgunned by fancier West End parodies like 'The Book of Mormon' and 'I Can't Sing!'.

The producers have bet the farm on classy leads, and Lindsay – with slick moves, big acting chops and warm Sinatra croon – presents a viable triple threat, while brassy Kingsley packs some real vocal firepower. But for all their charms. Hound, Bond and Marquez feel out of place, a trio of quirky Brits slightly adrift in a slick Broadway export. It's charming, you'll laugh, and there are a fistful of very decent songs. But it lacked the Yankee brazenness to truly win my confidence.
Average User Rating
4.8 / 5
Rating Breakdown
5 star:

5

4 star:

1

3 star:

0

2 star:

0

1 star:

0