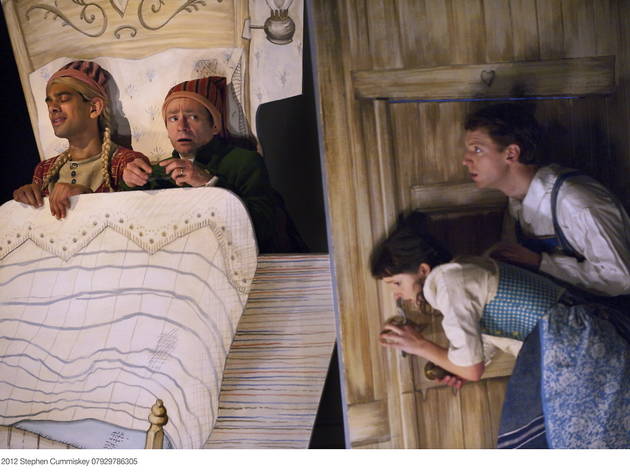 Here's a treat for feminists, traditionalists and all their kids. The National Theatre has a Christmas dream team: feisty young playwright Lucy Kirkwright and rigorous leftfield director Katie Mitchell. Their wild and wonderful version of 'Beauty and the Beast' was one of the best shows of 2011.
This year's cosier take on 'Hansel and Gretel' doesn't scale the same aesthetic heights. But it's got bags of charm and intelligence, plus deftly deployed wonky cardboard sets, sinister animal puppets and a bespectacled child-eating witch (Kate Duchene) who delights Year 3 but brings a touch of real evil to all the gingerbread.
Too much gingerbread is precisely what this witty show – embellished with charming contraptions like a gurgling story machine and a Russian oven – doesn't have. Comic talents Amit Shah and Justin Salinger double up as the Brothers Grimm and the children's dim dad and wicked stepmum. Ruby Bentall and Dylan Kennedy are just the right side of panto as the starving brother and sister, thrown out of their Black Forest home.
Rude, rowdy, and nicely scripted with Roald Dahl-like reckless rhymes ('mattress' with 'actress'), it's only let-down is the bland, poorly amplified music. But nothing can spoil this spiky piece of seasonal fun.
Average User Rating
3.5 / 5
Rating Breakdown
5 star:

1

4 star:

0

3 star:

0

2 star:

1

1 star:

0
This was a real treat for our daughters (5 and 8 yrs) and us! The story was entertaining, the play fast paced and the acting excellent. Our daughters were riveted, and a little bit scared, throughout. Having seen the Snowman severalo weeks ago this was much more fun. Recommended.
It just lacked that richness - I though the Shock Headed Peter look and feel was good to begin with, however, sadly it was like looking at the same piece of wallpaper for an hour and a half. My kids were bored.